*UPDATE* Due to the unfolding situation with COVID-19 the 2020 Clunes Booktown Festival can been cancelled. You can read the full media release for all details.
The annual Clunes Booktown Festival is held on the first weekend of May. This year's festival is 2nd and 3rd of May, in the quaint central Victorian town of Clunes. Located about 90 minutes from Melbourne by train or car it's a perfect weekend getaway for many book lovers.
Clunes is the only officially recognised Booktown in Australia. The historic township has at least six beautiful secondhand/antiquarian bookshops that are open year round. But every year on the first weekend of May the town truly buzzes with literary excitement for the Festival.
There are two major aspects to the Clunes Booktown Festival. The first is [street name], the main street, getting a massive makeover. Book stalls, food trucks, live music and free activities all fill the street with activity. The second is the talks program featuring authors like Andy Griffiths, Garry Disher, Judy Nunn, Ann & Geoffrey Blainey, Chloe Hooper, Don Watson, Robert Gott, Nina Kenwood and more. I'm a huge fan of literary festivals, and having the opportunity to hear directly from incredible authors is always inspiring.
My top reads from Clunes Booktown Festival 2020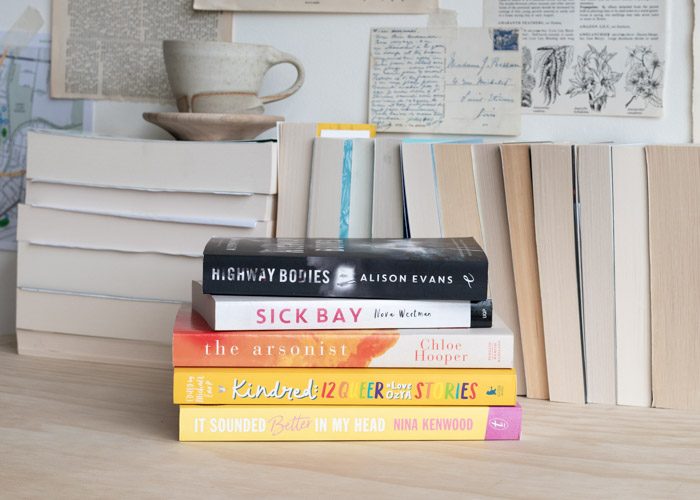 If you can't make it to Clunes Booktown Festival this year, experience a little bit of the festival magic by reading books fromthe fabulous authors featured in the program. My top five books to read from this year's festival are very diverse and I'm sure you'll find something to love.
The Arsonist – Chloe Hooper (Adult, non-fiction)
It Sounded Better in My Head – Nina Kenwood (YA, contemporary)
Highway Bodies – Alison Evans (YA, horror)
Kindred 12 Queen #LoveOzYA Short Stories – Ed. Michael Earp(YA, various genres)
Sick Bay – Nova Weetman (Middle Grade, contemporary)
Top Events of Clunes Booktown Festival 2020
These are my top event picks of the Clunes Booktown Festival. I've included everything from activism and historical fiction, to book reviewing and even fermentation. There truly is something for every reader! If you're planning to attend let me know in the comments below, and please say hi if you spot me at the festival.
How Powerful We Are
LGBTIQ rights activist Sally Rugg will speak with Chloe Hooper about her new book 'How Powerful We Are. An inside look at the Australian campaign for marriage equality, it's at the top of my non fiction to-read pile.
Saturday 2 May 2020 at 2:30pm
Clunes Town Hall
Book online
Ferment for Good
Fermenting has become one of the biggest health and wellbeing trends in recent years. Sharon Flynn, the founder of the award winning, fermented food and drinks company, The Fermentary will deliver a presentation about this ancient practice.
Saturday 2 May 2020 at 10:30am to 11:30am
Clunes Former Free Lending Library, 6 Templeton Street
Book online
Book Reviewers
Professor Christina Twomey will discuss the practicalities and pitfalls of book reviewing with Chris Flynn. As a long-time reviewer I'm fascinated to hear their perspectives on what can be quite a fraught practice. Chaired by Peter Rose.
Saturday 2 May 2020 at 12:30pm
Clunes Former Free Lending Library, 6 Templeton Street
Book online
The Arsonist: Chloe Hooper
Author Chloe Hooper will discuss her in-depth exploration of the Black Saturday Bushfires with Caleb Cluff. One of my top non fiction reads of 2019, The Arsonist carefully examines the social and personal conditions that led to the act of arson that started such deadly fires.
Saturday 2 May 2020 at 3:30pm
Clunes Former Free Lending Library, 6 Templeton Street
Book online
Historical Fiction
Australian author Judy Nunn will be in conversation with her husband, author Bruce Venables discussing historical fiction. Chaired by journalist Kerrie O'Brien.
Saturday 2 May 2020 at 3:30pm
Clunes Former Free Lending Library, 6 Templeton Street
Book online
Fickle Fashion
Historian Robyn Annear and mending advocate and author of Modern Mending Erin Lewis-Fitzgerald will delve into how our relationship with fashion has changed. And how we can approach our wardrobes in more sustainable ways.
On Sunday 3 May 2020 at 1:30pm
Clunes Former Free Lending Library, 6 Templeton Street
Book Online
Writing for Children (A Panel for Grown-ups)
If you've ever dreamt of writing books for children this panel for grown-ups is a perfect chance to learn from some of the best Australian kids writers, Leigh Hobbs, Andy Griffiths, Ann James.
Sunday 3 May 2020 at 2:30pm
Thomas Aquinas Church, 90 Bailey Street, Clunes
Book online
Clunes Booktown Festival Events for Kids & Teens
But Clunes Booktown festival isn't just for adult readers. Each day of the festival weekend is dedicated to a different reader demographic. Kicking things off is Young Adult (YA) day on Saturday. Free YA events will run all day in the Esmond Gallery. It's an excellent program with a range of events for teens, featuring some of my favourite books by local authors. Don't miss Alison Evans, Nina Kenwood, Nova Weetman and more. Check the program for full event details and times.
Following Young Adult day is Kids day on Sunday. There is a lovely range of free sessions for kids in the Esmond Gallery. Some of the workshops, like Creating Characters with Leigh Hobbs and Drawing Stories with Leigh Hobbs are also free but bookings are required, so check the program for all the details and make sure you book to avoid disappointment.
Clunes Booktown Festival Vlog
Want to see what attending Clunes Booktown Festival is like?? Back in 2017 I filmed a vlog about my time at the Festival. Get a little peek into the fun festival atmosphere and see just how many books there are for sale!
I can't wait to attend Clunes Booktown Festival once again. If you'd like to keep up with my festival adventures follow me on Instagram @BabblingBooks.
[AD] The post is part of a paid collaboration with Clunes Booktown. All opinions are my own.
Looking for more books to read? You can find my recommendations collected here. Or you might enjoy one of my festival-specific lists of books to read: