Dear readers, it's time to reveal my top seven reading recommendations for the 2019 Sydney Writers' Festival (SWF). I've selected the 7 best books, from novellas and short stories, to literary fiction and YA. There's something here for most reading tastes, and I encourage you to take an opportunity to read outside your comfort zone. While I continue to despair the lack of genre fiction representation at writers' festivals, each of these books challenged me in some way and I hope they might do the same for you.

Friday Black – Nana Kwame Adjei-Brenyah
Friday Black is a powerful short story collection, filled with vivid, visceral imagery and lots of violence. The stories are a little inconsistent in places, which is common in any short story collection, but overall the collection is really well crafted and explores complex topics in unique ways. I particularly liked the time-loop story about the end of the world, and the opening story about retribution for experiences of racism. Nana Kwame Adjei-Brenyah will appear at SWF in:
#gifted by Hachette Australia. I was sent this book by the publisher, and I'm under no obligation to include it in this or any other content.
What I Like About Me – Jenna Guillaume
Sweet, funny, smile-until-your-cheeks-hurt cute contemporary Australian YA novel. What I Like About Me is all about Summer romance, sisterhood, family, friendships, and body image. It delves into lots of relevant social concerns around different kinds of relationships, romantic and otherwise, and the voice is beautifully realised and unpretentious. Jenna Guillaume will appear at SWF for All Day YA in:
Less – Andrew Sean Greer
I wasn't sure about picking up Less back in August 2018 – it had just won the Pulitzer Prize for Fiction which is often too 'high brow' for my reading tastes. But I'm so glad I gave it a try! It's funny, charming, sweet, literary (without being pretentious) and features round-the-world travel. The focus is one man's attempt to avoid his ex-boyfriend's wedding at any cost. This somehow involves accepting invitations to far-flung locations, and rolling with whatever adventure awaits. Between the jokes there is a gentle story of reflecting on life, love and friendship. I can't wait to hear Andrew Sean Greer talk about it at SWF in:
Everything Under – Daisy Johnson
Rivers, words, boats, mothers, secrets, and lies. Everything Under is a difficult book to describe, it slips through your fingers and defies labels. At the core of the novel is Gretel, a lexicographer, and the mother who abandoned her when she was 16. Drifting between Gretel's isolated childhood living on a river and her time alone as a young adult, the story also explores her current day attempts to reconnect with her mother and uncover the hidden truths about her childhood memories. If you love literary fiction, this is definitely my pick for you! Daisy Johnson will appear at SWF in: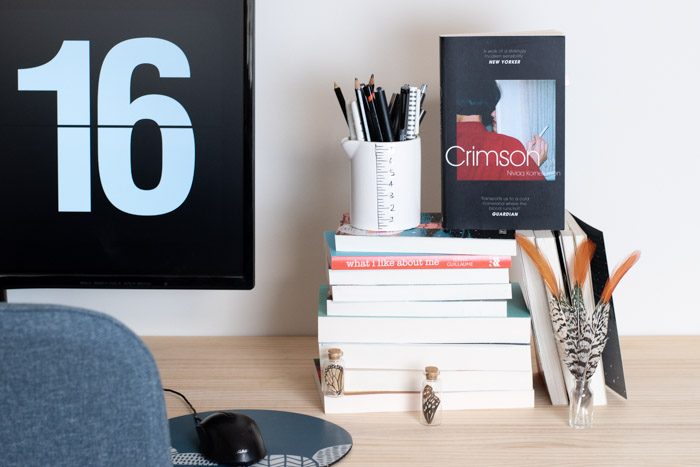 Crimson – Niviaq Korneliussen
A striking debut novel, Crimson focuses on 5 interconnected friends/lovers/siblings all exploring their queer identities. Each of the 5 characters has a section and their voices are vivid and wholly unique, revealing and hiding things about themselves and each other. It's really exciting to see an author who writes in a minority language (Greenlandic) featured at SWF. Niviaq Korneliussen will appear in these events:
The Mars Room – Rachel Kushner
The only book on this list I haven't finished reading yet, but I felt bound to include it because I've made it a priority to read before SWF. The Mars Room is set inside a women's prison where the protagonist is at the beginning of two consecutive life sentences. Billed as a violent and sharply observed look into the darkness and deadpan absurdity of institutional living, the story sounds complex and engaging. Rachel Kushner will appear at SWF in:
The Fish Girl – Mirandi Riwoe
One of my top books to read from 2018, I really adored The Fish Girl. The style flowed beautifully, and the main character's emotions, dreams, fears and struggles were so vivid. It was interesting to read it through the lens of a retelling of the life of one of the characters in W. Somerset Maugham's story, 'The Four Dutchmen'. I'm looking forward to seeing Mirandi Riwoe at SWF in:
I'll be sharing more writers' festival reading lists throughout the year. Sign up to my newsletter so you never miss a post.

Looking for more books to read? Check out my list of 10 books to read from Adelaide Writers' Week 2019

Planning a trip to Sydney Writers' Festival? Check out my Book Lover's Guide to book shops in Sydney

#Gifted This post was created as part of a partnership with Sydney Writers' Festival. I will receive free tickets to attend some events at the Festival in return. All words and opinions are my own.