I'm so excited for Emerging Writers' Festival 2019. The only event of its kind in the world, EWF is a celebration of the future of writing. Emerging and unpublished writers, readers and thinkers across genre and format come together to celebrate a shared love of words. Whether you're able to attend or not, there are some incredible writers featured in the program who should definitely be on your to-be-read pile.
As an attendee of the Festival for the past few years, I'm utterly delighted say that… I'll be appearing at EWF this year! It will be my first ever on-stage gig at a literary festival of any kind. I'm nervous, of course, but I couldn't ask for a more nurturing and supporting environment in which to take my first step onto the stage.
If you'd like to come along to my event it's part of a full day masterclass designed to inspire your creative practice.
Masterclass: Cultivating Creativity,
Influence: Social Media and the Self
(Thur 20 June 10am)
Social media can be an incredible tool for creatives to get your work out there in the world – but it can also be a source of anxiety and distraction. Learn how to harness the connective power of social media whilst keeping yourself sane and safe. With Negro Speaks of Books and Tamsien West
7 must-read books from Emerging Writers' Festival 2019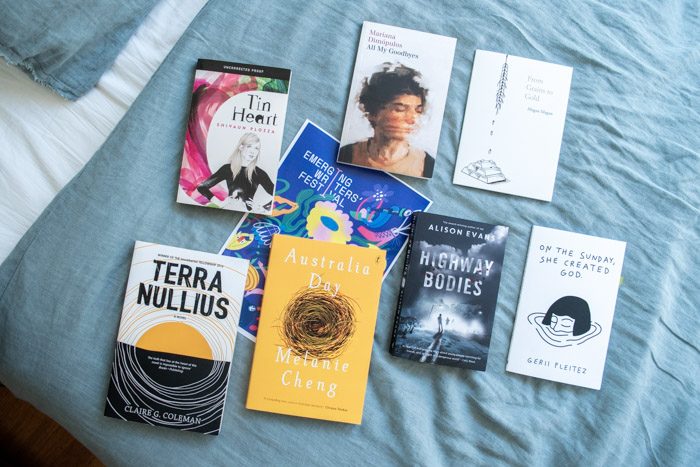 Australia Day – Melanie Cheng
Australia Day is brilliant short story collection by Melbourne author and practicing doctor(!) Melanie Cheng. The stories explore human connection and the spaces in between. Most of the characters are lonely, one way or another, and they seek out others (sometimes succeeding, sometimes failing) in a multitude of ways. If you love character-focused short fiction this is a must-read. Melanie Cheng will appear at EWF in:
Terra Nullius – Claire G. Coleman
A visceral speculative take on the invasion and colonisation of Australia, Claire G Coleman's debut is a powerful and vital book. Terra Nullius is deeply rooted in historical realities, and I can't wait to read her upcoming second novel, The Old Lie. Claire G. Coleman will appear at EFW in:
All My Goodbyes – Mariana Dimópulos (Translated by Alice Whitmore)
I love reading and supporting translated literature, so when I spotted translator Alice Whitmore in the EWF program I knew it would be on my list! Mariana Dimópulos is an acclaimed Argentinian author, and All My Goodbyes is a story told in fragments, past and present mixed together. The translation is lyrical, showcasing the sharp insight of the tale. Alice Whitmore will appear at EWF in:
Highway Bodies – Alison Evans
Zombie fans, this one's for you! I adored all the incredible found-family moments and friendships throughout this YA zombie adventure story. Alison Evans does NOT pull punches though – this is an apocalypse with lots of blood and gore and death. You can catch Alison Evans during EWF at: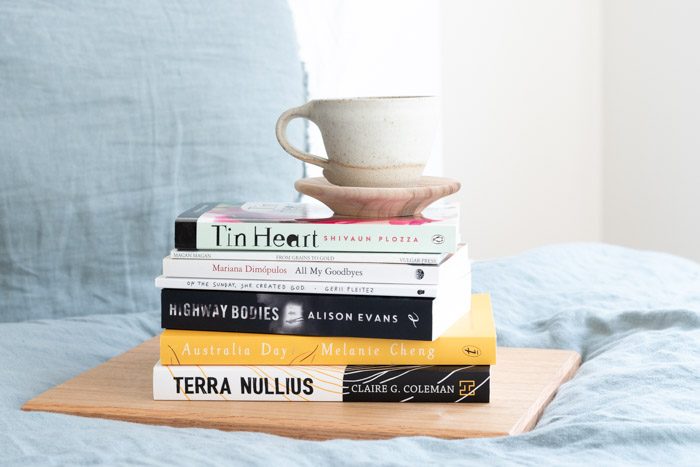 From Grains to Gold – Magan Magan
For lovers of poetry I suggest a moving debut collection. From Grains to Gold is divided into the five stages of grief, and those emotions suffuse the writing. Magan Magan's voice throughout the collection is bold, and carries the weight of so much experience and emotion. You'll find Magan Magan at EWF in:
#gifted The author sent me a copy of From Grains to Gold for review.
On The Sunday, She Created God – Gerii Pleitez
A self-described 'angry writer' Gerii Pleitez's debut novel On The Sunday, She Created God is a fierce, intense read. The protagonist Wren is filled with hurt and rage, searching for meaning in a mostly meaningless world. The visceral image of Wren carrying around her finished manuscript is like the calling card of a writer struggling to find her legitimacy. Gerii Pleitez will appear at EWF in:
#gifted Publisher Kara Sevda Press sent me a copy of On The Sunday, She Created God for review.
Tin Heart – Shivaun Plozza
Would you still be the same person if you had someone else's heart? Tin Heart is a wonderful coming of age story with a lot of heart (pun fully intended) about heart transplant recipient Marlowe. There is so much to love about this book, from the perfectly teen dialogue and the layered family relationships, to the conflicted first love, and the casual and painful school bullying. If YA contemporary is more your thing don't miss Tin Heart. Shivaun Plozza will appear at EWF in:
#gifted Publisher Penguin Australia sent me a copy of Tin Heart.
I'll be sharing more writers' festival reading lists throughout the year. Sign up to my newsletter so you never miss a post.
Looking for more books to read? You can find my recommendations collected here. Or you might enjoy one of my festival-specific lists of books to read:
Pin me for later…