I absolutely adored exploring Berlin to find all the locations in this Book Lover's Guide. The sheer number of incredible bookstores instantly moved Berlin to the top of my favourite-city list. But what I loved most were the diverse suburbs the bookshop hunt took me to. Berlin is a city with layers of history. Each suburb has its own story and vibe.
If you follow the suggestions in this Book Lover's Guide to Berlin it will take you far and wide across the city. And the journey to each location will be just as interesting as the destination. So I urge you to use this guide as a starting point to explore the layers of Berlin's past and present.
Ocelot, not just another bookstore
Brunnenstraße 181, 10119 Berlin, Germany
ocelot.de
Berlin has a lot of very beautiful independent and chain bookshops. But none of them captured my imagination quite like Ocelot. Just like the name indicates, Ocelot really is 'not just another bookstore'. Stepping into the shop is embracing the experience of being enveloped by literature. The space is beautifully designed, with wide open spaces, blonde timber shelves that undulate gently around the walls. There are hidden little seating nooks where you can quietly read beside the windows.
In terms of selection, the range is highly curated with a literary and non-fiction bent, along with an extensive range of childrens' titles. There was plenty to love in English. And they appeared committed to aesthetics, with the most attractive editions of books displayed on their shelves.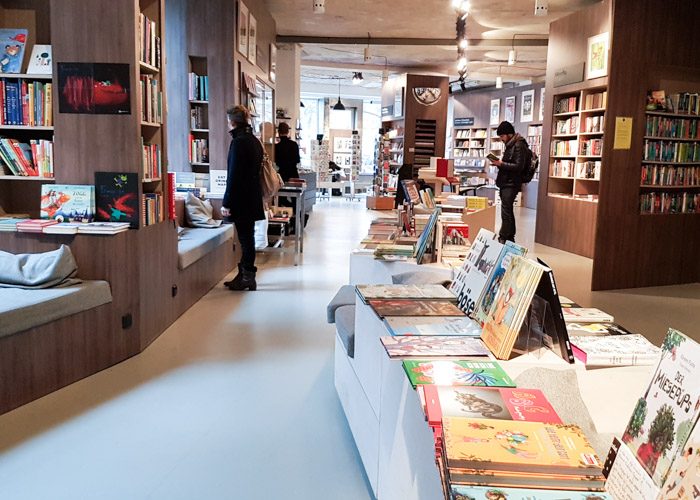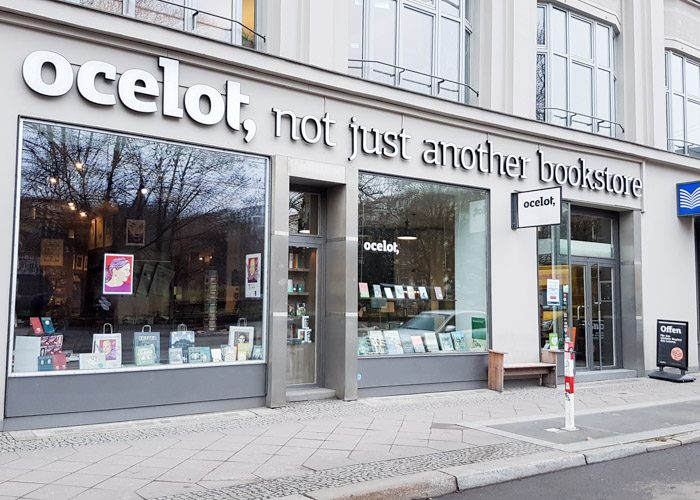 Do You Read Me?!
Auguststraße 28, 10117 Berlin, Germany
doyoureadme.de
A good indication that a city has a thriving cultural scene is the number of speciality bookshops that are not only surviving but thriving. Do You Read Me?! is a perfect example. Only a very small shop, the space is filled from floor to ceiling with a beautifully curated selection of gorgeous volumes. The hand-pick selection has a deeply personal feel about it. Covering topics like fashion, photography and art, architecture, interior and design, illustration, graphic design and typography, cultural matters and society. The books are in a mixture of German, English and other languages. But as many are coffee-table or photo books the language is less important.
Do You Read Me?! is located in a wonderful area to wander around and discover independent fashion designers and unique homewares. It's the perfect bookshop to represent Berlin's deep connection to art and design. Opened in 2008, the bookshop now has an online store where you can buy their selection of titles, along with tote bags featuring their signature bold typography.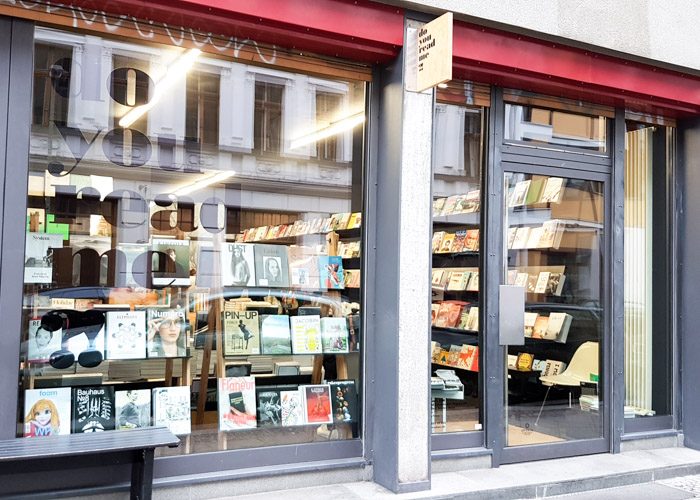 Dussmann das KulturKaufhaus
Friedrichstraße 90, 10117 Berlin, Germany
https://www.kulturkaufhaus.de/kulturkaufhaus
If you want to be truly impressed by the German love of books then Dussman das KultureKaufhaus is not to be missed. This massive bookshop in the Mall of Berlin is 5 storeys of books from every genre imaginable alongside gifts, music, and even a cafe. If you happen to be in need of a book after dark this is the place to go, open until 11pm or midnight daily!
The biggest draw-card for English-reading international visitors is that it has a specialty English bookshop. A sort of mini bookshop within the bookshop. It is double storey with a huge range of English books and at least 10 other languages. New release fiction, crime, thrillers, philosophy, non-fiction, travel, classics. There was so much to choose from it was both overwhelming and exhilarating. There is a big focus on childrens' books, in English and other languages. And space for kids (and adults alike) to sit and browse.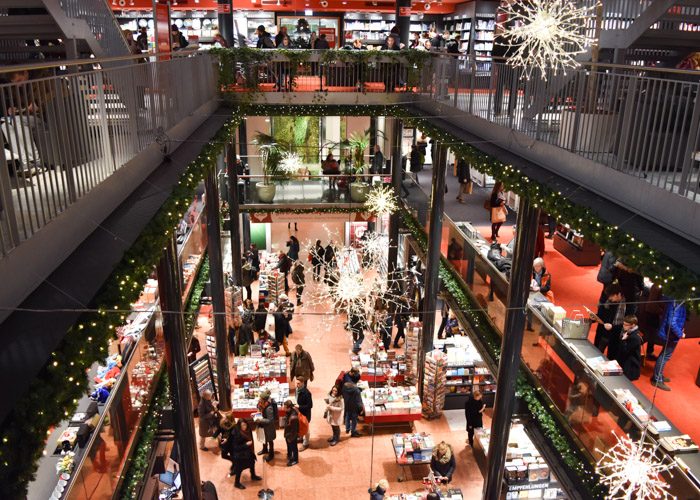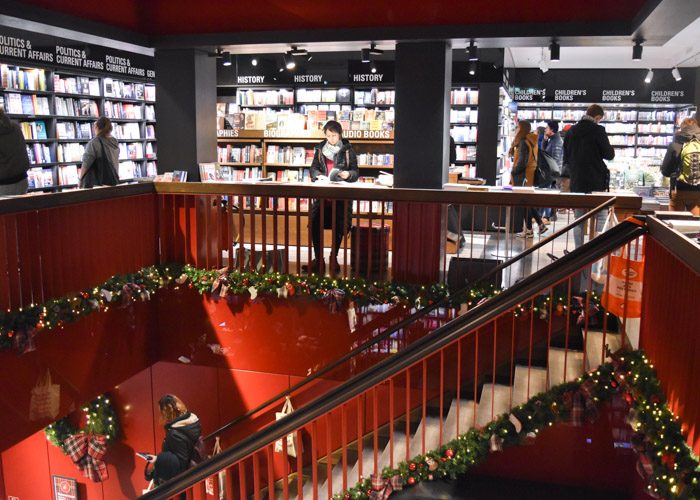 Bibliotecha Culinaria
Zehdenicker Str. 16, 10119 Berlin, Germany
https://www.bibliotheca-culinaria.de/
It wouldn't be a Book Lover's Guide to a unique city like Berlin without mentioning a one-of-a-kind bookshop. Bibliotheca Culinaria is the most unusual and fascinating bookshops I visited in Berlin. The entire bookshop is dedicated to the culinary arts in all their forms. It's the largest cookery bookstore in Germany. Boasting more than 30,000 books covering all aspects of cookery, from recipes and gastronomical theory to cooking techniques and appliances.
All the books are secondhand and appeared to cover the widest range you could imagine. From leather bound volumes to popular recent work by celebrity chefs. Though the majority of the books are in German, there was a comprehensive selection of books in both French and English. Worth a visit even if you are not in the market for a cookbook. There are plenty of kitchenalia curiosities scattered around the shop which makes for rather entertaining browsing.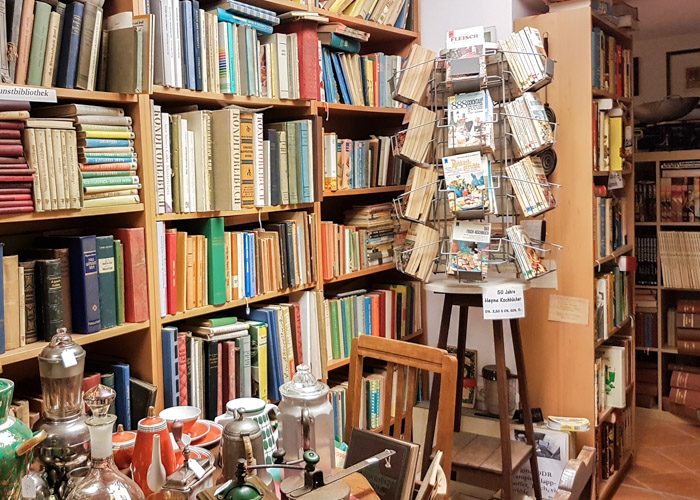 BUCHBOX!
Bötzowkiez, Greifswalder Strasse 33, 10405 Berlin
Boxikiez, Grünberger Strasse 68, 10245 Berlin
Kastanienallee, Kastanienallee 97, 10435 Berlin
Helmikiez, Lettestrasse 5, 10437 Berlin
LoveStory of Berlin, Kastanienallee 88, 10435 Berlin
https://www.buchboxberlin.de/
Buchbox is a lovely little collection of independent bookshops. Each with a slightly different focus but the same sense of joyful love of books. Their different quirks and specialties make them all worth a visit if you have the time.
The Helmholtzplatz bookshop has a delightful little Vegan cafe Vegan Tiger in the same building. So you can seamlessly move from bookshop browsing to eating delicious plant based snacks and smoothies. The Kastanienallee bookshop hosts poetry slams and a regular quiz night.
The part of the Buchbox family that's most attractive to international book lovers is 'LoveStory of Berlin'. It's a dedicated English language bookshop. It was unfortunately not open while I was in the area. But it appears to have a really comprehensive range of popular fiction, non fiction and childrens' books.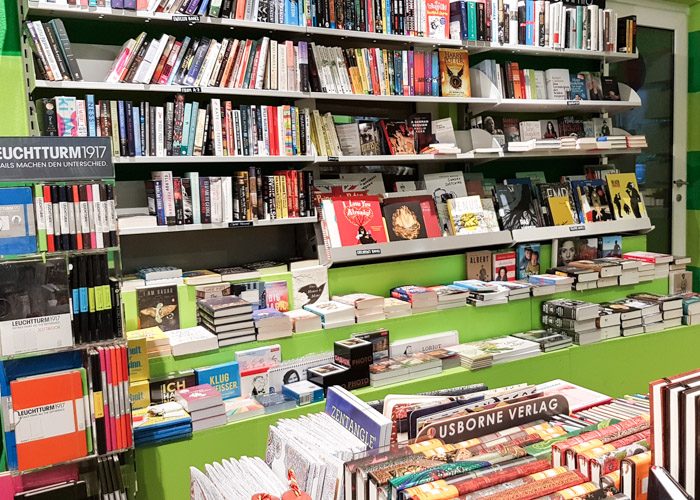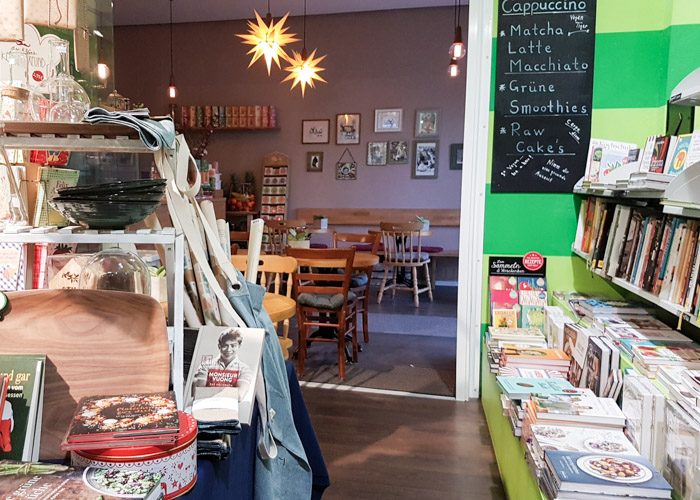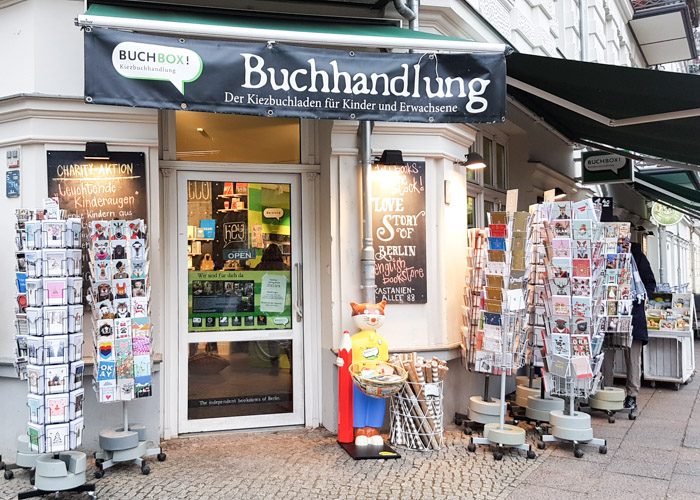 Thalia – Mall of Berlin
Leipziger Pl. 12-14, 10117 Berlin, Germany
https://www.thalia.de/shop/home/show/
https://www.mallofberlin.de/en/stores/thalia
I first came across the Thalia bookshop chain in Vienna, and really appreciated their selection of English books. So I was pretty excited to see the familiar logo while walking through the Mall of Berlin. It turns out there are over 250 Thalia bookshops across Germany, and 20 in Berlin alone. So if you're in need of a book at short notice it's likely you're not too far from one. You can check out their website for up to date locations and opening hours.
The Thalia bookshop in the Mall of Berlin cannot compete in terms of English book selection with the nearby Dussman das KultureKaufhaus. But it nonetheless has a respectable range of popular and classic titles in English. If you're a journaling enthusiast like I am you'll love their selection of notebooks and journals.
So that's it for our Book Lover's Guide to Berlin! If you'd like to read more about our bookish trip across Europe, you might find these guides interesting:
Interested in more worldly locations? check out all the other guides we've written