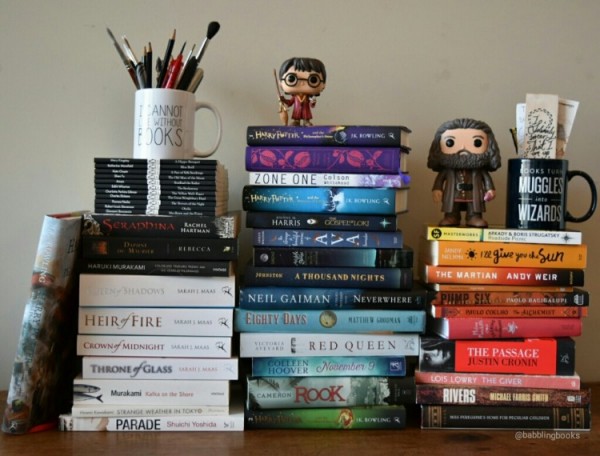 Wow! I can't believe 2016 is upon us. 2015 has been one crazy ride, and who would've thought that my little corner of Bookstagram that I started in May would rocket to nearly ten thousand of you lovely people coming on this journey with me! Thank you, truly, to each and every single one of you. And if you're from the equally-awesome Booklr community, a heartfelt thank you to you too. You are what makes this community so lovely to be a part of!
Anyway, I thought as a way of breaking down my reading habits this year, I'd wrap up 2015 in style by showcasing some statistics and interesting facts about the books I've read and what I thought of them! So without further ado, here's a list of the books I've loved, liked, disliked and did not finish for 2015 (along with links to my reviews!):
Books I loved (4.5 – 5 stars)
Rebecca by Daphne du Maurier 5
The Sacred Lies of Minnow Bly by Stephanie Oakes 5
Seraphina by Rachel Hartman 5
The Strange and Beautiful Sorrows of Ava Lavender by Leslye Walton 5
Station Eleven by Emily St John Mandel 5
I'll Give You the Sun by Jandy Nelson 5
Harry Potter and the Philosopher's Stone by JK Rowling 5
Trigger Warning by Neil Gaiman 5
Colorless Tsukuru Tazaki and His Years of Pilgrimage by Haruki Murukami 5
Neverwhere by Neil Gaiman 5
Harry Potter and the Prisoner of Azkaban by JK Rowling 5
The Passage by Justin Cronin 5
Fortunately, the Milk… by Neil Gaiman 4.5
The Giver by Lois Lowry 4.5
The Martian by Andy Weir 4.5
Aristotle and Dante Discover the Secrets of the Universe by Benjamin Alire Saenz 4.5
Of the above…
4 are straight-up fantasy

3 are authored by Neil Gaiman

9 are YA (wow)

4 are Sci-Fi/Dystopia

9 are authored by women
Books I liked (3 – 4 stars)
November 9 4
Lord of the Flies 4
Dirk Gently's Holistic Detective Agency 4
Throne of Glass 4
Crown of Midnight 4
Heir of Fire 4
Pump Six and Other Stories 4
Red Queen 4
Daughter of Smoke and Bone 4
The Outsiders 4
Days of Blood and Starlight 4
The Three Body Problem 4
Saint Anything 4
A Pair of Silk Stockings (#66) 4
Looking for Alibrandi 4
The Yellow Wall-Paper (#42) 4
Miss Brill (#72) 4
Olalla (#19) 4
Kafka on the Shore 4
Mrs Rosie and the Priest (#1) 4
Strange Weather in Tokyo 4
Madam Bovary 4
Night Walks 4
Eighty Days 4
Miss Peregrine's Home for Peculiar Children 4
A Thousand Nights 4
The Once and Future King 4
Soft Apocalypse 3.5
Magonia 3.5
Clockwork Angel 3.5
Sindbad the Sailor (#54) 3.5
Angelfall 3.5
The Gospel of Loki 3
Lying Out Loud 3
The Old Man of the Moon (#60) 3
The Alchemist 3
Harry Potter and the Chamber of Secrets 3
The Reckoning (#48) 3
We Were Liars 3
Zone One 3
Romy 3
Risk 3
The Natural Way of Things 3
A Hippo Banquet (#32) 3
The Forever Watch 3
Parade 3
Outlander 3
Rivers 3
Roadside Picnic 3
Books I disliked (1 – 2.5 stars)
Rook 2.5
The Assassin's Blade 2
The Bone Clocks 2
The Wrath and the Dawn 2
Neuromancer 1
The Great Winglebury Duel (#37) 1
Books I Did Not Finish
The Stand DNF
The Aeronaut's Windlass DNF
Double Take DNF
The Terrors of the Night (#30) DNF
The Flame Alphabet DNF
Out of all of all the books I've read this year…
10 were audiobooks, equalling 181.5 hours of audio, or 7.5 days!

11 were little black books published by Penguin

There were a total of 22,452 pages read, whether in paper, e-ink or audio format

The longest was Outlander at a whopping 896 pages (which I read in audio, thankfully!)
Hope you all enjoyed this little journey down memory lane! So many amazing books read, yet so many more to go. What were your favourite books of 2015, and what are you most looking forward to reading in the new year?