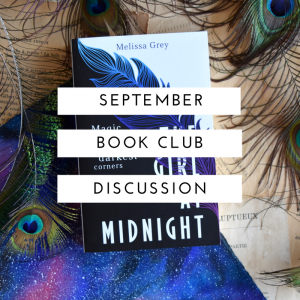 Let's talk about The Girl at Midnight! I'm trying out a new style of discussion questions, so please let me know what you think! Feel free to go beyond the questions and add any of your thoughts, or a link to a review if you have written one. And as always please turn on notifications to see the other comments and replies to yours.
*Warning* The discussion below will contain spoilers for The Girl at Midnight (Book 1). If you haven't read it yet you can check out my spoiler free review here!
How did you experience the book? Were you engaged immediately, or did it take you a while to get into it? How did you feel reading it—amused, sad, disturbed, confused, bored…?
.
Did you find the characters convincing? Were they believable, fully developed as complex human beings—or were they one-dimensional?
.
What motivates the main characters' actions? Do you think those actions are justified or ethical? (Echo/Caius/Ivy/Dorian etc)
.
Did you think the plot was well developed and believable? Did plot events unfold naturally?
.
If you could ask the author a question, what would you ask?
.
Did you have a favourite quote that you liked best? What made it stand out?
.
Did you find the ending satisfying? If so, why? If not, why not…and how would you change it? And will you be continuing with the series?
Next month we will be reading Charles Dickens' novel Oliver Twist, if you will be joining us don't forget to use #babblingbookclub on your photos for your chance to be featured. We will also be collaborating with a group of Bookstagrammers for the discussions, which will take place here and on instagram, so use and check the tag #EekHouseBuddiesWithATwist for details!