Five nights in Belgrade and we're off again, this time to Novi Sad and then Subotica. Up here to the north of Serbia, the architecture shifts and changes, the cultural differences between Hungary and Serbia begin to mix and mingle and turn into something uniquely… Novi Sadian? Subotican? Whatever the correct term is, these two towns proved to be an enjoyable pit stop on the way to Budapest, and they each had something to offer to booklovers such as ourselves.
Nublu Novi Sad
Žarka Zrenjanina 12,
Novi Sad, Serbia
+381 21 525365
This second-hand bookstore came heavily recommended by our many Serbian Instagram friends, and it certainly didn't disappoint! Offering not only a great – if very random – selection of English books, Hygay also offered customers the opportunity to sit and put their feet up at the very bookish café on the premises. Feeling more like the house of some eccentric book collector than your normal bookstore, Hygay is a must-visit if you're in the area.
X-Factor: Cat! This store is famous for its resident cat that likes to lounge on the display table out front. Give her a scratch for me when you visit, will you?
Laguna Novi Sad
Zmal Jovina, Novi Sad, Serbia
http://www.laguna.rs/
Located in the main square, Laguna offers travellers a good range of both English classics and other, modern novels, primarily sci-fi and fantasy genres. As an added bonus, its basement gives off your typical bunker vibe, if communist bunkers were normally adorned with teapots and doilies!
X-Factor: For you King lovers, an entire shelf has been dedicated to the works of Stephen King. Dig in!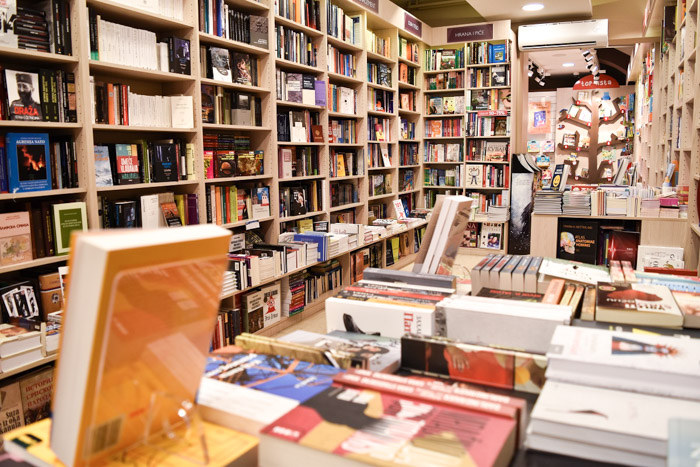 Subotica Library
Cara Dušana, Subotica, Serbia
+381 24 553115
Housed in one of the many iconic Hungarian-influenced art nouveau buildings that Subotica is famous for, this library's entrance is flanked by huge statues and is well worth the visit for the photo opportunity alone. Inside, it contains a small, plain selection of English books for reference and study, but it's clear the library's chief focus is on encouraging children to read.
X-Factor: The exterior architecture is incredible.
Laguna Subotica
Korzo, Subotica, Novi Sad
http://www.laguna.rs/
While small by Laguna standards, this bookstore nonetheless contains the impressive range of Wordsworth Classics that Laguna is famous for. In addition, they also stock a good amount of sci-fi and fantasy much like the Laguna in Novi Sad, though this chain has a great range of Ray Bradbury novels.
X-Factor: This Laguna has a cute mezzanine reading area for those who just feel like tucking into a good book.
While we didn't spend as much time as we would've liked in either of these two towns (something which is rapidly becoming a frustrating trend) we had to pack and make ready for our trip to Budapest. What does the Hungarian capital have in store for us? Stick around next week and find out!
If you'd like to read more about our bookish trip across Europe, you might find these guides interesting:
Interested in more worldly locations? check out the other guides we've written