During our five nights in Budapest, the Hungarian capital truly lived up to its nickname as the Pearl of the Danube. A city of two parts, Buda and Pest, we spent every waking moment exploring both halves of this culturally rich and magnificent city. Straddling the Danube and representing countless centuries of history, it comes as no surprise that Budapest contained incredible choice and variety for all visiting booklovers. Be warned, a bumper 'Book Lover's Guide to' post is coming, but even with all these words, and all these locations, we could only capture the briefest snapshot of the literary delights Budapest had on offer.
Alexandra Bookstore
Budapest, Andrássy út 39, 1061 Hungary
http://www.alexandra.hu/
EDIT: According to Google Maps, this bookstore has sadly closed down.

Modern, spacious and bright. Alexandra contained a good variety of English books, as well as German and French across a respectable range of genres. This shop had two shelves dedicated to translated works by Hungarian authors, so if you're looking to read something local, don't skip this one.
X-Factor: Ascend the escalator and enjoy lunch at a hidden restaurant under an incredible painted ceiling.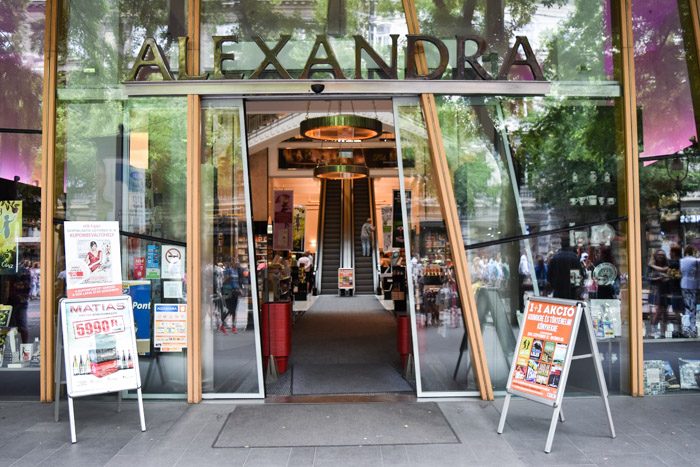 Massolit Bookstore and Café
Budapest, Nagy Diófa u. 30, 1072 Hungary
https://www.facebook.com/MassolitBudapest
Without a doubt our favourite bookish destination of Budapest, this second-hand bookstore and café combo is utterly unmissable for anyone wanting to enjoy a chai latte while tucking in to a good book. Located on a rather unassuming street, we visited Massolit twice during our short time in this city, and both times we found a book off the shelves to lose ourselves in. Homemade cakes, good selection of coffee and tea, incredible range of English books and not to mention the free wi-fi makes this the go-to destination for the American or British diaspora living in or near Budapest.
X-Factor: Apart from the fact that it's a wholly-English bookstore with loads of charm in the middle of Budapest? Well, being able to browse the tiny art gallery showcasing works from local artists if you tire of reading makes this shop a worthy addition to our Book Lover's guide!
Alexandra Bookstore Nyugati
Budapest, Nyugati tér 7., 1055 Hungary
http://www.alexandra.hu/
Similar to the Alexandra we visited and reviewed earlier, this store contained three whole levels of books. Its English range was slightly smaller and reserved mostly for classics and general bestsellers, but if you're seeking a bookish oasis after exploring the sights, it's worth a quick visit.
X-Factor: This store boasts a huge range of notebooks and stationery items.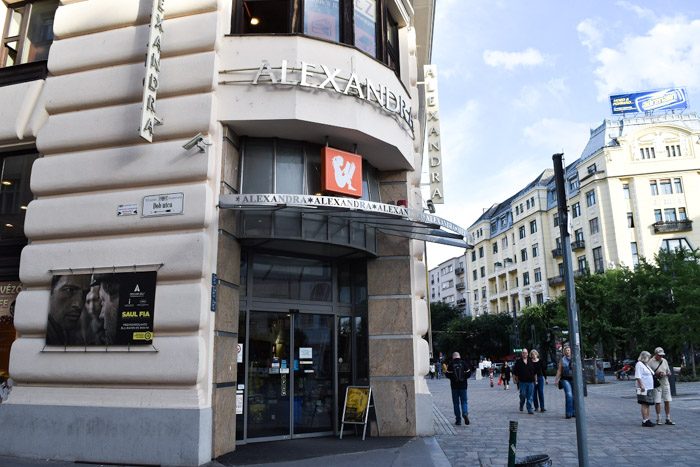 Antiquarian Bookshop Street
Muzeum Krt, Budapest
For this entry it's worth reviewing the street as a whole, rather than every individual store we visited (because there were way too many). Dozens of antiquarian and second-hand books line this street, some tucked away behind scaffolding, others boldly facing the road, every single one worth a visit. Located across from the Hungarian National Museum, you can always visit a few that catch your eye after soaking in some Hungarian history across the road.
Below are three bookstores on this street that really stood out to us when we visited.
Kozponti Antikvárium
Budapest, Múzeum krt. 13-15, 1053 Hungary
http://www.kozpontiantikvarium.hu/
+36 1 317 3514
Boasting an impressive collection of antique maps and books, as well as small selection of second-hand English classics, this store was neatly laid out and made maximum use of its available space. Almost a hybrid between book museum and bookstore, this Antikvarium also contained a great number of tomes that you could view.
X-Factor: The collection of very old bibles enclosed in glass cabinets and available to browse.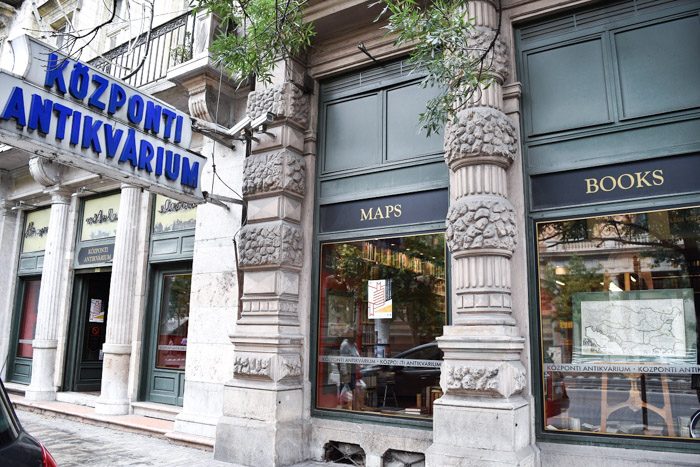 Europa Antikvárium
Budapest, Múzeum krt. 25, 1053 Hungary
Google Maps link
Much smaller and cosier than the store above, Europa is a two-room bookstore with tall shelves and haphazard displays. You'll find three shelves dedicated to English books, and of those most are classics from the first half of the 20th century.
X-Factor: English range of books are comprised mostly of the popular orange Penguin classics.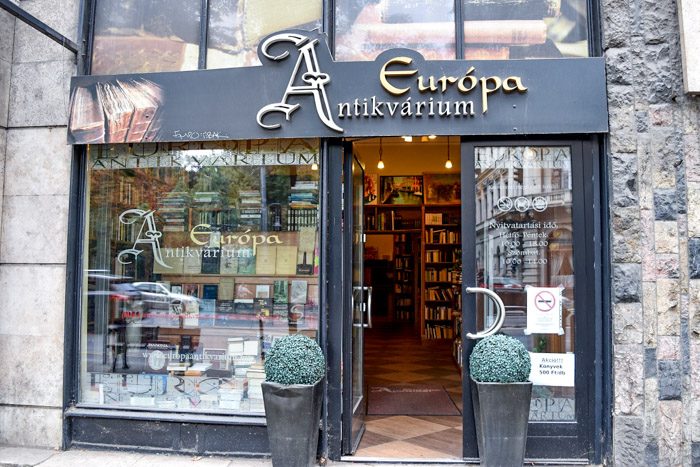 Weores Sandor Antikvárium
Budapest, Múzeum krt. 27, 1053 Hungary
Google Maps link
+36 1 337 2525
Probably the smallest of stores we visited on this street, this second-hand bookstore (named for famous Hungarian author and poet Weöres Sándor) is absolutely crammed with paperbacks and hardbacks across every square inch of surface. Books piled high, books stacked three deep on shelves, books threatening to topple and drown you as you pick out a novel that catches your eye, this place is less like a store, and more like some great literary jungle.
X-Factor: While we didn't spot any English books here, channel your inner explorer and go hunting through the bookish jungle in search for one!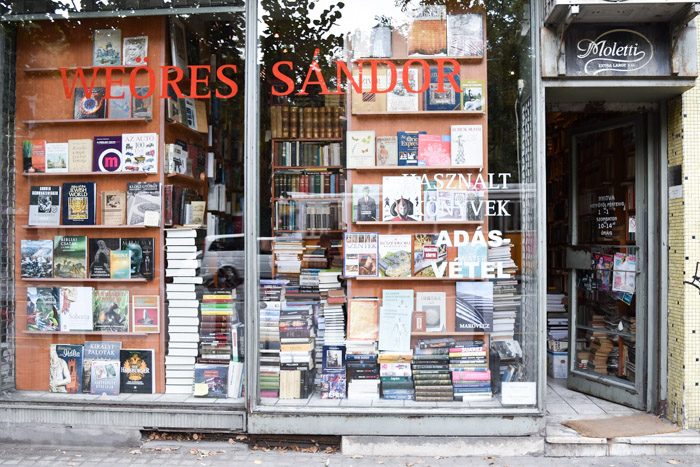 Minosegi Konyvek
Budapest, Kálvin tér 10, 1091 (next to Hidden Library)
Google Maps link

A short walk from the antiquarian street in a small square opposite a garden is a quaint little book cart. While we didn't spot any English books, as it mainly stocks second-hand, all you need to do is ask!
X-Factor: It's a street cart and an adorable photo opportunity!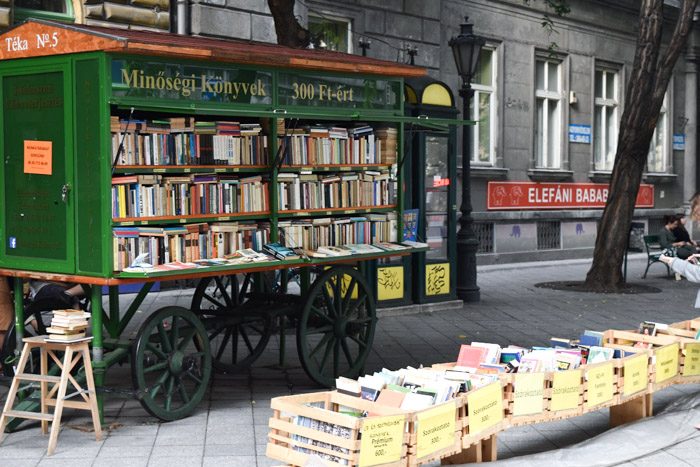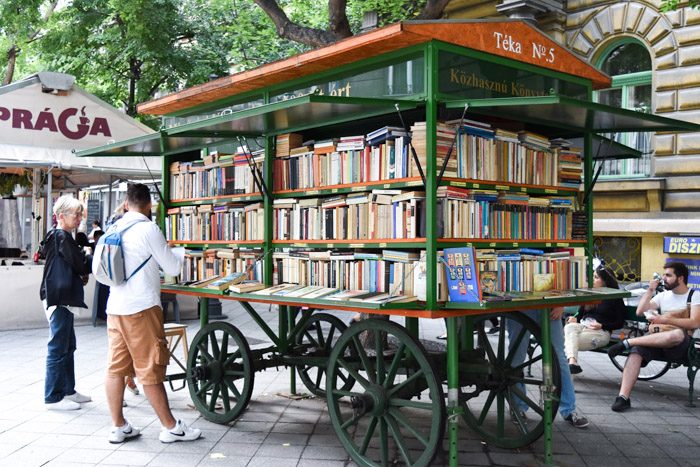 Metropolitan Ervin Szabó Library (Hidden Library)
Budapest, Szabó Ervin tér 1, 1088 Hungary
https://www.atlasobscura.com/places/szabo-ervin-library
+36 1 411 5000
Inside an old palace resides a modern city library, filled with shelves and reading areas and oozing Communist-style utilitarian charm. Up a couple of floors, however, is a hidden series of beautifully-restored reading rooms built in the style of the original era. There is a 500HUF entry fee per person, however in our opinion it was worth it to view this wonderful building.
X-Factor: The old smoking room is the only one with bookshelves stacked with books, and also contains the added bonus of a spiral staircase, which unfortunately you cannot climb up.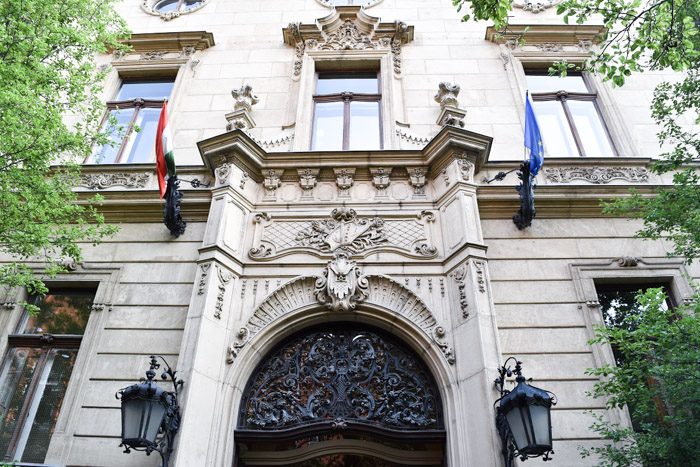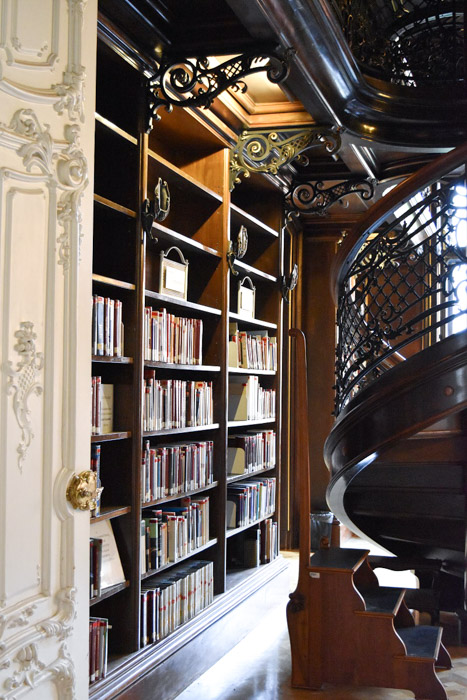 Atlantisz Konyvsziget (Book Island)
Budapest, Anker köz 1-3, 1061 Hungary
http://www.atlantiszkiado.hu/
+36 1 235 0065
A gorgeous bookstore with mezzanine balcony, you'll find many niche books with a 'hipster' vibe, modern classics alongside cult classics and as an added bonus, they're all in nice paperback editions – no movie tie-in covers here!
X-Factor: A large range of English coffee table books covering topics such as movies, music, art and architecture.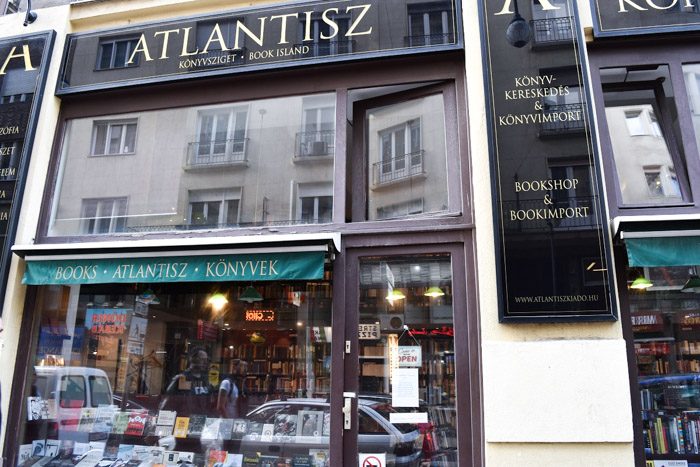 Irok Boltja
Budapest, Andrássy út 45, 1061 Hungary
http://www.irokboltja.hu
+36 1 322 1645
This Art Deco icon on the main thoroughfare is located opposite the Budapest State Opera House, and is utterly impossible to miss on the corner with its distinctive Art Deco sign. Inside is just as striking as the exterior, complete with book ladders and ceiling-high bookshelves. They regularly host book launches and author talks, and there was one in progress when we visited, which prevented us from exploring the first floor that contained their range of English books.
X-Factor: Great atmosphere enhanced by bookshelf ladders!
National Széchényi Library
Budapest, Szent György tér 4-5-6., 1014 Hungary
http://www.oszk.hu/en
+36 1 224 3700
Most visitors to the old town are likely to walk right past the library on their way to the palace museums. Temporary exhibitions alongside permanent ones tell the story of the library, from its origins to its current iteration. There's a 500HUF entry fee per person, which is worth it for the exhibits, but you could probably give the upper floors a miss if you're pressed for time.
X-Factor: Glass bookcases containing old and original tomes from the founding of the library.
Bestsellers Books
Budapest, Október 6. St 11, 1051 Hungary
https://www.bestsellers.hu/
+36 1 312 1295
International bookstore a stone's throw away from the famous – and must see – St Stephen's Basilica. Specialising in books in at least five different languages other than Hungarian, you can be sure to find something to read in English, German, Italian, French or Russian. The English section is the largest, ranging from classics and crime to sci-fi and fantasy, alongside popular new releases.
X-Factor: Best selection of English YA we've seen in Hungary.
Phew! What an article! If you've stuck with us up until now, thank you. Budapest was a blast and we've added it to our ever-growing list of Places We Want to Visit Again.
That's it for our Book Lover's Guide to Budapest. If you'd like to discover more locations for lovers of literature in Eastern Europe read these other guides:
If you're interested in more locations, check out the other guides we've written!
Pin me for later…