It's time for a Book Lover's Guide to Belgrade! Continuing our adventures across Eastern Europe, we spent 4 nights in the Serbian capital of Belgrade. We learned about Tesla, Yugoslavia, and Serbia's troubled history during the Balkan Wars of the early 1990s. Despite its rocky history, however, we were spellbound by hipster cafes, fortresses, churches and bookstores. A patchwork mash-up of old and new, Hungarian and Serbian, Catholic and Orthodox, Belgrade was a city full of surprises, both bookish and otherwise.
Belgrade City Library
Kneza Mihaila 56,
Beograd 11000, Serbia
http://www.bgb.rs/english/home.html
Housed in a vibrant ink and white neo-classical building opposite the main entrance to the fortress, this delightful library was small, yet cozy and inviting. Nestled at the end of Belgrade's main pedestrian street, only two main rooms were open to the public; one room was filled with very battered paperbacks, all in Serbian and clearly frequently borrowed and well-loved, while the other contained computers and some lovely old leatherbound volumes sealed in glass cases.
X-Factor: In addition to the two rooms, this library also contained a small exhibition space that circled a mini courtyard with accompanying skylight. When we visited, the exhibit contained a collection of beautiful watercolour paintings of Meteora, Greece.
Book Cart Street (Ulica Hiljadutrista Kaplara)
Off Kneza Mihaila,
Belgrade, Serbia
We came across this delightful little diversion completely by chance as we meandered down the Belgrade pedestrian street. A series of small book carts comprised this side street, with each cart groaning under the weight of second-hand books, posters and vinyl records.
X-Factor: The lucky-dip nature of second-hand stalls means you never know what you'll find!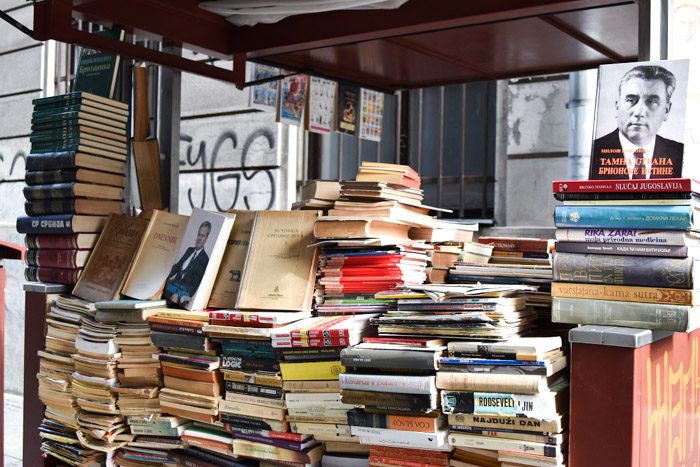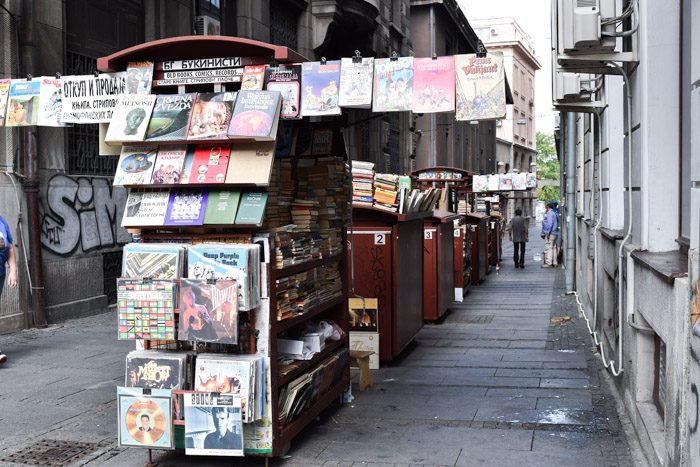 Delfi Laguna
Kralja Milana 48,
Beograd 11000, Serbia
www.delfi.rs
Smaller than some of the other bookstores on this street, it's nonetheless worth a visit if you're searching for a classic English novel. There wasn't much else available in the way of English-language books, but there was a cute range of home and lifestyle products with a bookish slant in the basement.
X-Factor: Delfi contained as close to the entire range of Wordsworth Classics editions that we've ever seen. Also keep an eye out for some clothbound special editions of classics!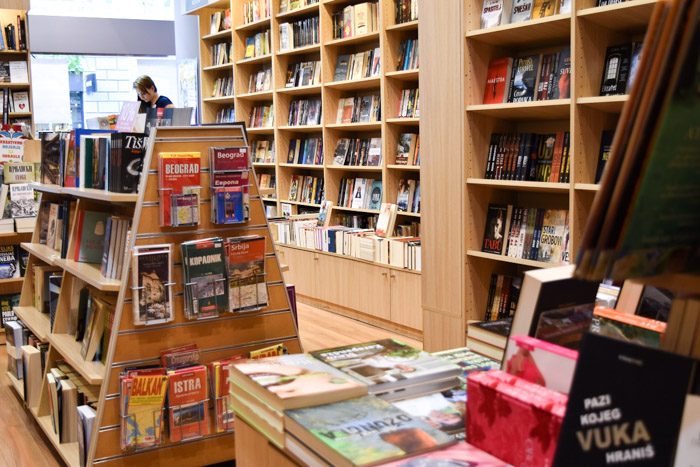 Dereta Bookstore
Kneza Mihaila 46,
Beograd 11000, Serbia
www.dereta.rs
Built into what appears to have once been an old-style storehouse, the arched ceilings will have you feeling like you are browsing through a bunker. Unfortunately, the English section was quite small, with only 28 titles when we visited, and only a single copy of each!
X-Factor: In addition to the décor, it's clear the English range of books has been chosen with deliberate care. You'll find Murakami next to Garcia-Marquez, Orwell to Ishiguro, Coelho to Golding. A couple of YA titles complete the selection, though I would have liked to see some female authors!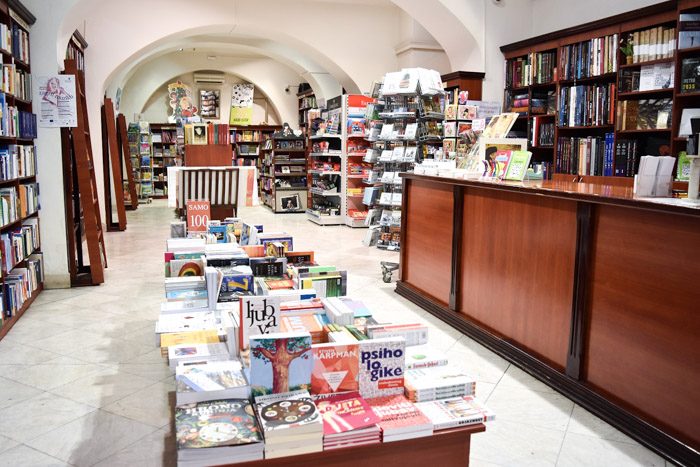 Knjizara Akademija
Akademski plato 35,
Beograd 104105, Serbia
This impressive corner bookstore is worth a visit to admire the great chandeliers illuminating the bookshelves and the interior balcony with books on every topic to be found. Unfortunately the English section was rather small, however if you're a lover of fantasy, don't be dissuaded: it's almost exclusively fantasy novels.
X-Factor: Feel like Belle from Beauty and the Beast as you browse on the balcony above the chandeliers, or relax in one of their leather couches.
National Library of Serbia
Skerlićeva 1, Beograd, Serbia
www.nb.rs
No book lover's guide to Belgrade would be complete without featuring a national library! The biggest library in Serbia, the National Library is located near a park, next to the absolutely gargantuan temple of Saint Savva. Tick both must-see destinations in one go! Established in 1832, the National Library – through some quirk of law – retains the legal right to a copy of all materials published either in Serbia, or by people of Serbian nationality residing abroad. This makes its collection of books vast, and steadily growing. Here you'll find a lesser-known history of Serbia, a history where many important and irreplaceable books were destroyed during bombings in both World Wars. Perhaps due to this history, very few books are actually on display, and photography is not permitted.
X-Factor: Exhibition space in the foyer displays some very old manuscripts and books, plus a dedication to Ivo Andric, a nobel laureate for literature who donated his prize money to the libraries of Serbia to expand their collections.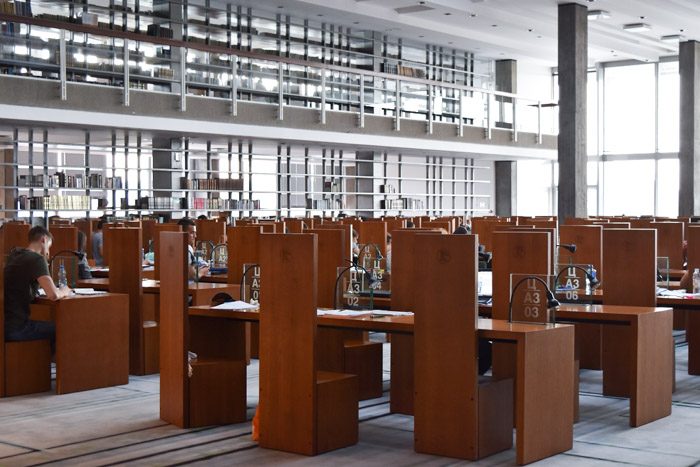 Vulckn (Book store chain)
Sremska 2, Belgrade, Serbia
knjizare-vulkan.rs
We've decided to combine all three Vulkan bookstores we visited into a single entry, as there wasn't enough variety between each store to warrant its own unique review. Vulkan is a typical chain bookstore, one of the most popular in Serbia. Regardless of where you go, if you pop into a Vulkan you can be guaranteed a good selection of English books, some bookish merch and, occasionally (if the store is big enough) electronics such as headphones and book lights.
X-Factor: Dependability. When you enter a Vulkan bookstore, you know exactly what to expect – a good range of English books and merchandise.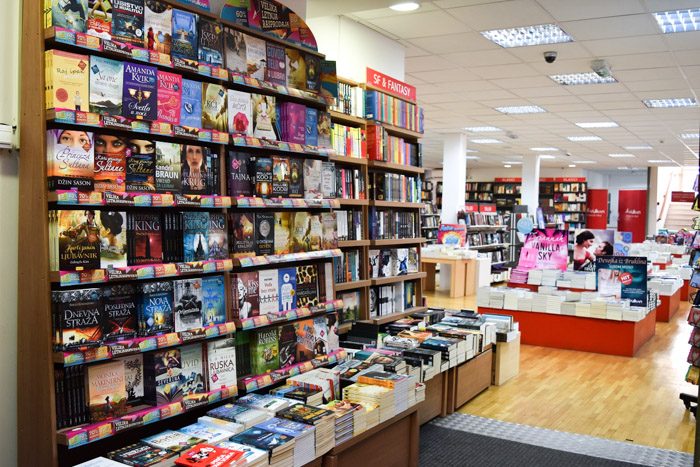 Zepter Book World
Kneza Mihaila, Beograd 11000, Serbia
+381 11 3284857
A lovely little bookstore with shelves up to the ceiling and exuding the kind of atmosphere normally reserved for someone's personal library. Modest selection of English books, but includes a good range of titles by Serbian authors translated into English.
X-Factor: Ladders! That is all.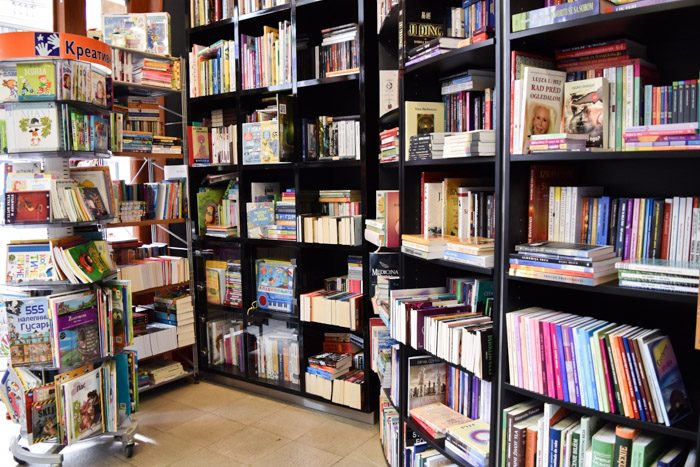 Don't be fooled by… The English Book, Belgrade. After a 40+ minute walk, we were looking forward to seeing what this hopefully-named bookstore had in stock. Sadly, we were let down by how small this store was. To us, it seemed, this was more of a wholesaler than a retailer, selling English text books to schools and universities and stocking little else in the way of fiction. Save yourself the time and effort and don't make the same mistake we did!
That's it for our Book Lover's Guide to Begrade. If you'd like to discover more locations for lovers of literature in Eastern Europe read these other guides:
If you're interested in more locations, check out the other guides we've written!
Pin me for later…