A city with a rich and complicated past, Vienna stands out as a literary highlight of our trip across Europe. A gorgeous, pedestrian-friendly place, with wide plazas, classy cafes and bookshops as far as the eye can see, we were lucky enough to visit Vienna just as the first dustings of snow began during late autumn.
While Vienna has its fair share of chain bookshops, a diverse range of independent bookshops and bookshop cafes call this city home as well. Top that off with one of the most beautiful libraries in the world, and Vienna is nothing short of a booklover's paradise. So let's dive in to our official Book Lover's Guide to Vienna.
Österreichische Nationalbibliothek (Austrian National Library)
https://www.onb.ac.at/en/
Josefsplatz 1, 1015 Wien, Austria
No book lover's guide to Vienna would be complete without including the largest library in Austria, the Austrian National Library! It is home to over 12 million books, documents, manuscripts, and other texts. A great way to spend the day, this library has a very modern information centre with reading rooms and research facilities for academics, the beautiful State Hall, and five separate museums within the library complex (including a Literature museum and a Globe museum!).
The State Hall was by far the biggest attraction for me, It's an incredible baroque hall with towering painted ceilings and ornately carved balconies. My inner child was positively overwhelmed with joy! It was built in the 18th century, and under its gorgeous decorated dome and frescoes are over 200,000 old tomes and four beautiful Venetian globes. It's considered one of the most beautiful library halls in the world, so you simply can't miss it if you're in Vienna!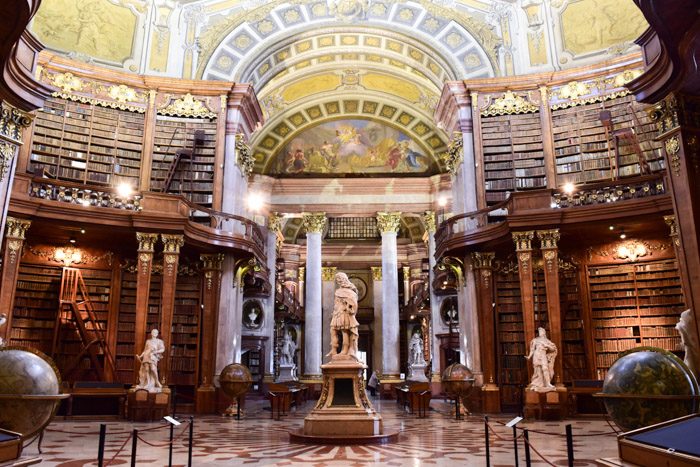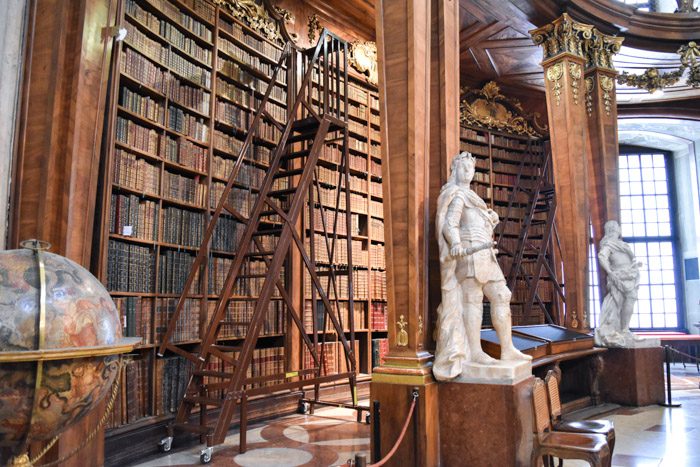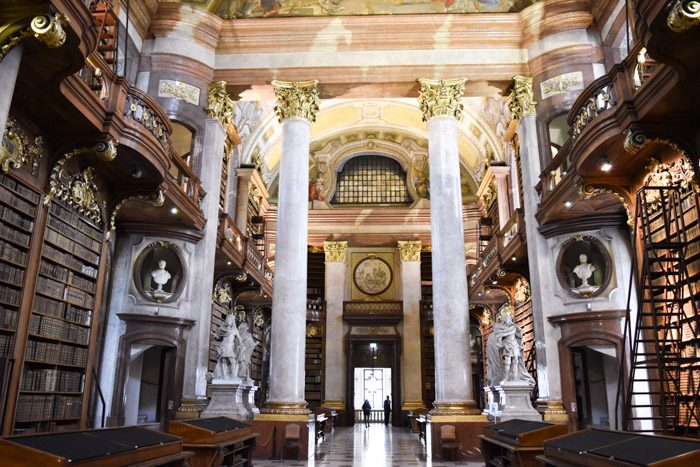 Shakespeare and Company Booksellers
https://www.shakespeare.co.at/
Sterngasse 2, 1010 Vienna
An eccentric, winding, crowded and cozy English language bookshop with an excellent selection of classics, literary fiction, new and popular releases from the last decade or so. They also have a huge range of childrens books in the back room if you're on the hunt for a book for the younger reader in your life. Books are stacked in messy piles over every surface, filling every square centimetre of the tall bookshelves that are accessed using those tall, sweeping ladders of my dreams. Browsing this store was such a joy, and every minute felt like a treasure hunt. Located in the oldest part of Vienna, the surrounding area is not to be missed. They also regularly hold events with authors both local and international, the details of which can be found on their blog.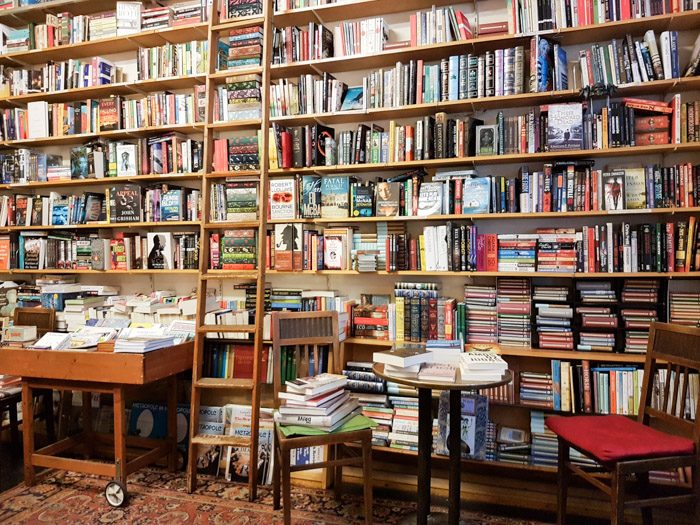 Phil
https://phil.business.site/
Gumpendorfer Straße 10 – 12, 1060 Wien
Quirky and oddly-named, Phil is one part modern hipster coffee shop, one part bookstore, and one final part bar. They sold a large range of books, from glossy art and design to philosophy and other non-fiction, but mostly in German. A great modern design and free wifi makes it easy to linger over a book or catch up on some work, like many were doing when we visited. The music is appropriately chill, the couches appropriately comfy, making Phil a great place to sink into and wile away the day. On the way out, keep an eye open for their range of gift books found on the counter when we visited – small editions with humorous or insightful themes perfect if you're looking for a present for someone who has everything.

ChickLit
http://chicklit.at/en/
Kleeblattgasse 7, 1010 Wien, Austria
ChickLit is a subversive and absolutely essential feminist bookshop in the heart of Vienna. Although small, they stock an incredibly diverse selection of feminist and queer texts, both fiction and non. I especially loved the diverse picture books and their parenting section. They stock a mixture of English and German language books, and I encourage anyone who visits Vienna to check this shop out.
Der Buchfreund
http://www.buch-schaden.at/
Sonnenfelsgasse 4, A-1010 Vienna
They're the largest antiquarian bookshop in Vienna, with 9 employees and a 50 year history of selling books in Vienna. They stock a large range of antiquarian books in a variety of different genres and topics, from art and architecture to philosophy and history. They sell both fiction and non-fiction, and provide a deep selection of books on Austrian and Viennese history. Their range of English books is small, with no discernable theme. The building itself displays some fascinating architecture reminiscent of a vault or cellar but at street level. It's also very close to the overwhelmingly beautiful Jesuit church, so it's worth stopping by if you're in the area. As a side – yet very much relevant – note, their name translates to 'The Book Friend' which I find adorable.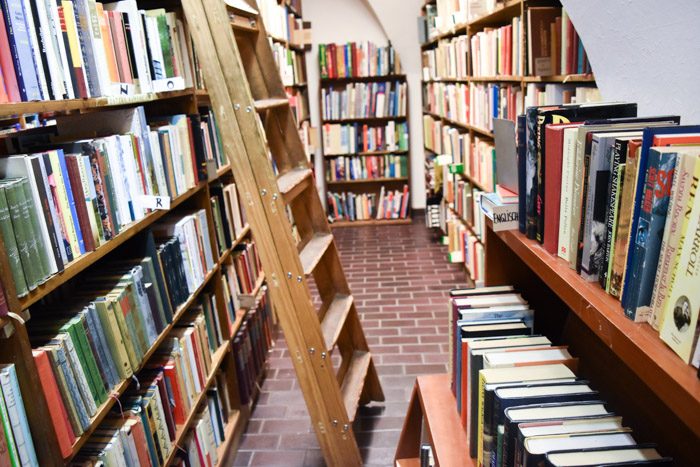 OBV
https://www.oebv.net/Wir-ueber-uns
Schwarzenbergstraße 5, 1010 Wien, Austria
First established in 1923 in the headquarters of OBV publishers, OBV is a large, sprawling bookshop set in a grandiose old building. This bookshop is worth a visit simply for the architecture alone, which is good, because (for us English speakers, at least) they don't seem to stock any English books at all, except text books for language learners. Nonetheless, this is a beautiful bookshop and it's an absolute joy to walk through the rooms and corridors surrounded by hundreds of thousands of pages of literary adventures.

Thalia
https://www.thalia.at/
Mariahilfer Straße 99, 1060 Wien, Austria
Thalia is a huge chain bookshop in Vienna, with an impressive range of English language books. While on the surface Thalia might seem to lack the awkward charm of independent bookshops, there's just something weirdly comforting about walking into a large chain bookshop to browse its shelves. Thalia occupies multiple storeys, and in addition to the books on offer they also sell the typical selection of stationery and gift items you can expect from other large chain stores. They also have a Coffee Fellows cafe set across two storeys, with a great view of the city if you can grab a window seat.
Morawa Wollzeile
www.morawa.at/home
Wollzeile 11, 1010 Wien, Austria
Another large chain bookstore similar to Thailia, Morawa Wollzeile is large enough to have two separate street frontages. Their range of English books is modest, but they more than make up for it with their substantial range of travel-related books and maps. You could spend ages wandering through the rooms of this old building and still not discover all its book-filled corners. As it's a chain, keep an eye out for their shops in other locations.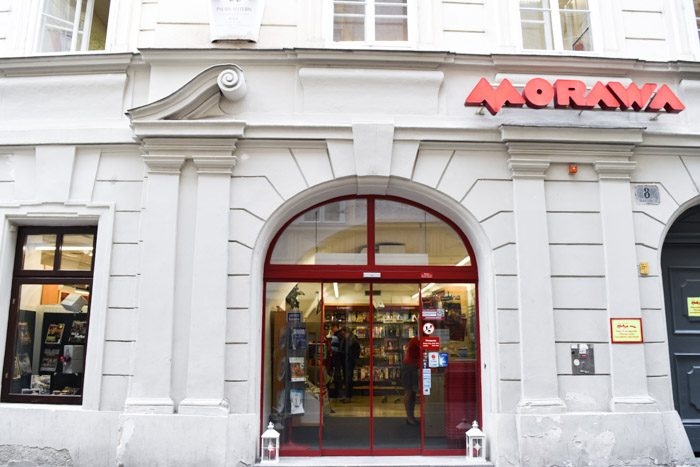 Frick
http://www.buchhandlung-frick.at/
Graben 27, 1010 Wien, Austria
The first bookshop in Vienna, according to the history page on its website, Frick is a Viennese institution. First opening doors in 1752, the business has changed names, hands, and buildings, but has all the while continued to diligently sell books to the public. Visiting it now, it's a modestly-sized bookshop across multiple floors in the Graben shopping district. It stocks a large range of English language books considering its size, in a number of genres such as contemporary literary fiction, classics, and crime/thrillers.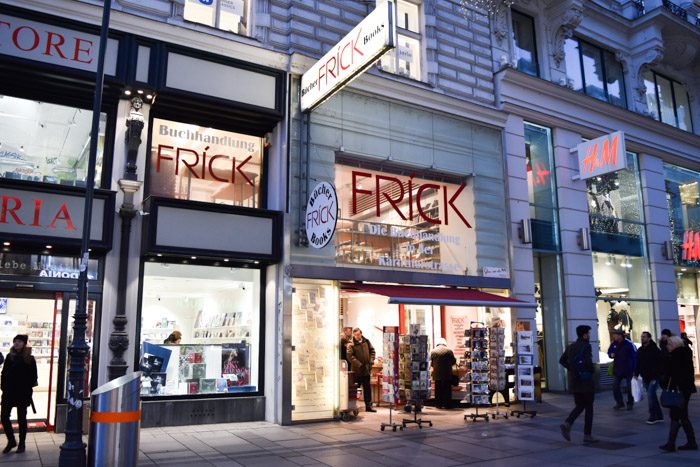 Comic Treff
https://www.comictreff.at/
Barnabitengasse 12, 1060 Wien, Austria
A bright, tidy, and well-stocked comic book shop. They stock a great range of English comics, and according to their website they receive the latest issues of popular English comics direct from the US each week. I was particularly impressed with their selection of English graphic novels. If you're looking for a comic book or pop culture themed costume for a special occasion, they also have a range of costumes for both kids and adults. They also have two other stores, one in Wiener Neudorf and the other in Vösendorf.
Comics Hutterer
http://www.comicshutterer.at/
Landstraßer Hauptstraße 126, 1030 Wien
Rotenturmstraße 21, 1010 Wien
A crowded and at times overwhelming comic and fandom store, Comics Hutterer is filled with merchandise from many different fandoms. They sell plushies, trinkets, statues and more, in addition to comic books and graphic novels. Can be tricky to dig through if you're looking for a specific item, but so much fun to browse and look for something that catches your eye. Everything from Marvel to Harry Potter to Fortnite can be found on their shelves, if you look hard enough. They have two stores which appear to stock similar items, though we were only able to visit one.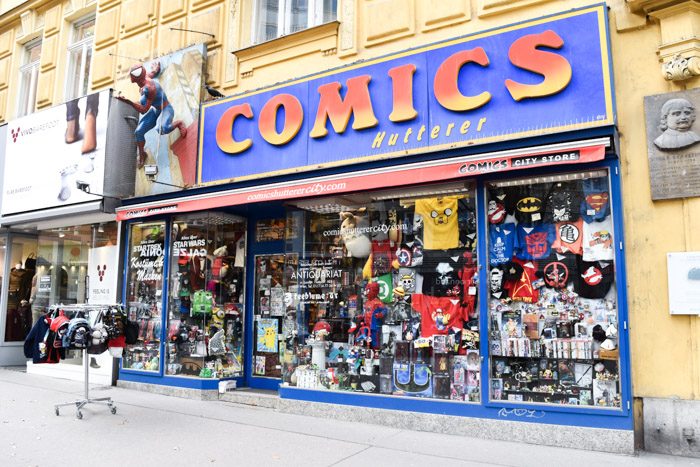 Das Literaturbuffet
Rotensterngasse 2, 1020 Wien, Austria
www.literaturbuffet.com
Another lovely bookshop cafe. Das Literaturbuffet is a cosy little place, with an affordable price menu, mellow atmosphere perfect for reading or writing, and a range of interesting books to browse. Sadly I have lost most of the photos I took in this cafe, so you'll have to use your imagination a little bit. I whiled away a lovely cosy afternoon drinking a pot of hot chocolate, reading, and journaling. Discovering little hidden gems like Das Literaturbuffet is the reason I love writing guides like this Book Lover's Guide to Vienna.
That wraps up our Book Lover's Guide to Vienna! If you'd like to read more about our bookish trip across Europe, you might find these guides interesting:
Interested in more worldly locations? check out the other guides we've written
Pin me for later…