Funny, sweet and oh so very readable! If you follow me on Instagram you might have seen me gushing about The Flatshare by Beth O'Leary. After falling head over heels for this quirky love story, I was delighted to interview Beth via email. She kindly answered all my questions about the experience of writing and publishing her book, AND recommended some great reads.
Synopsis:
Tiffy Moore needs a cheap flat, and fast. Leon Twomey works nights and needs cash. Their friends think they're crazy, but it's the perfect solution: Leon occupies the one-bed flat while Tiffy's at work in the day, and she has the run of the place the rest of the time. 

But with obsessive ex-boyfriends, demanding clients at work, wrongly imprisoned brothers and, of course, the fact that they still haven't met yet, they're about to discover that if you want the perfect home you need to throw the rulebook out the window…
The Flatshare features some really wonderful, nuanced friendships and lots of publishing industry jokes. And what I appreciated most was the really mature exploration of the impact of emotionally abusive relationships.
The tag line, 'Tiffy and Leon share a bed, Tiffy and Leon have never met' could easily have become very silly very fast. But it really worked!
#gifted I recieved a copy of The Flatshare from Hachette Australia
Read on for the interview…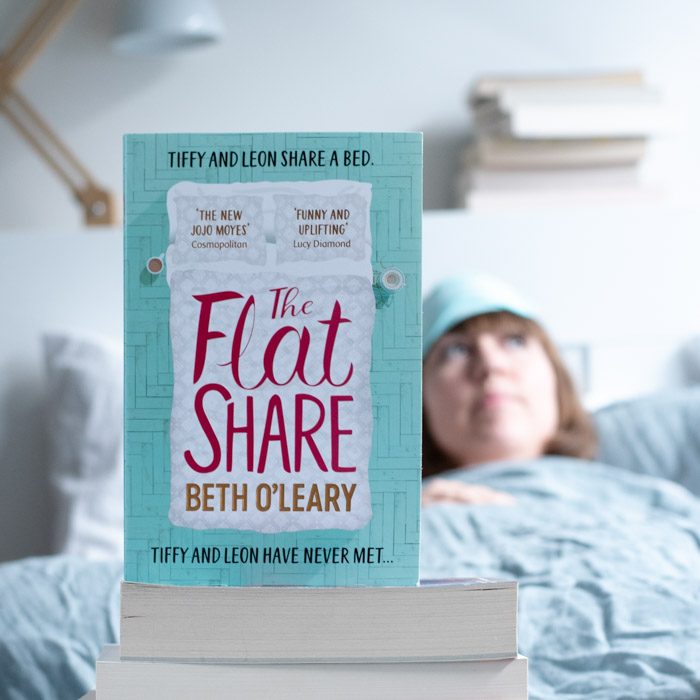 The Flatshare is your debut novel, what was the experience of writing it like?
Writing stories is something I've done for as long as I can remember – it's my hobby and my passion, really, and if I don't do it for a long time, I start to get antsy, like when you've not been for a run in too long or you need to wash your hair! That said, writing The Flatshare was tricky as I was working a full-time, full-on job and it was really difficult to make time. In the end I wrote The Flatshare on my commute to and from work – I had an hour train journey each way and almost always got a seat (crucial!). I wrote the first draft in around six months or so, then spent another six months redrafting and editing.
And what has the experience of being published for the first time been like?
It's been… a fairytale, really. I've wanted to be an author ever since I was a child, but it never felt like an achievable goal – it was a dream, rather than an ambition, because I never believed it could come true. I won't ever forget the phone call from my literary agent (I mean, even having a literary agent is a total dream!) when she told me that Quercus Books had offered me a two-book deal. It took me so long to take it in. In the end I put on my playlist that I wrote The Flatshare to, drank a large gin and tonic, and then it started to sink in… and I started to cry.
The main character, Tiffy is a huge DIY fan. Was that drawn from your own experience? And can you share your most memorable DIY project?
I wish it was drawn from my own experience! I would love to be good at DIY and crafting, but alas, I am no Tiffy. That said, we do share a love of baking.
My most ambitious baking project was a yule log that I made for a 'Bake Off' at work. I did about five practice runs (it was a very competitive Bake Off, this one) – even my boyfriend, who never turns down food, was getting a bit sick of eating chocolate log. I had the idea of making the log that the Pontipines live on in In the Night Garden, the kids' TV show. So the icing was all textured like wood, and I made ten little tiny Pontipines out of icing to sit along the top. I came second, in the end! (Robbed of victory by someone who made the most INCREDIBLE cake shaped like an open book…)
All the characters in The Flatshare are so vivid, not just Tiffy and Leon our bed-sharing duo, but the whole cast of friends, colleagues and even ex-partners! If you had to share a flat with one of the characters from your book who would it be and why?
I'm so glad you feel the characters are vivid! That was something that was really important to me while writing.
I would say… I'd like to share a flat with Tiffy. I think she'd be good for me – she's so bubbly and positive, whereas I'm a real worrier, so she'd stop me from getting too in my own head. Plus I'd totally leave her to do all the decorating so the flat would look fabulous (/chaotic and over-the-top).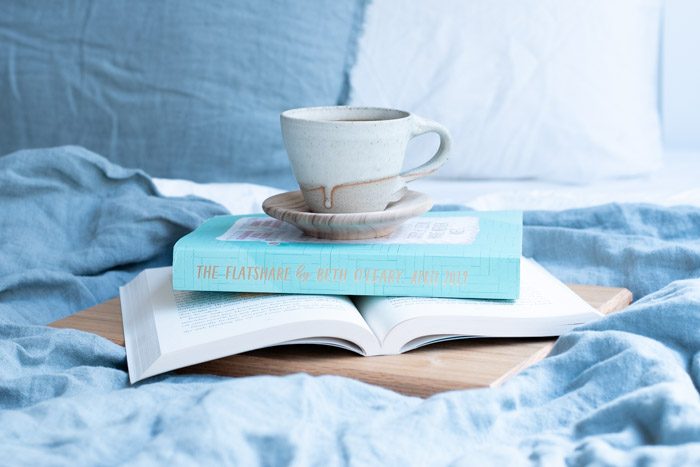 While a lot of the book is joyous and sweet, there are serious themes as well. Gaslighting and emotional abuse are an important and sensitively written part of the story. How important was it for you to name these experiences on the page?
You're right, there are some serious themes that are touched on in the book too – and absolutely, I think it's really important that we talk about and name emotional abuse and gaslighting. Gaslighting is by nature so hard to identify, because the abuser is manipulating the victim's perception of reality – so how are they meant to spot what's happening to them? It's been very moving how many women have reached out to me since reading The Flatshare and said that they felt a connection with that element of the story. I think the more we talk about these issues, the more we're helping people to recognise them, and that's a huge first step.
Do you have any advice for aspiring writers on crafting love stories with chemistry and heart?
Ooh, I'd say… look for the best in people, but don't idealise them. I think that's the key to writing really believable stories with heart. We want characters that we can see ourselves in – which means they shouldn't be perfect – but we also want characters we can root for, especially in a love story, which I think means they need to be good, kind people, in their own way.
My main piece of writing advice more generally is to finish what you're writing. So much of the work of writing is editing and rewriting, and you don't get to really practise that until you've finished something.
What book/s have you been reading and enjoying lately?
I recently read/devoured Helen Hoang's The Kiss Quotient, which is one of the best romance novels I've read in years. It's just so sweet and heart-warming and original. I can't gush about it enough. (Also, god, it's hot.)On a very different note, I really loved After The End, Clare Mackintosh's next book, which is out in June. It's the story of a couple who have a heart-wrenching decision to make about their child… but they don't agree. It's both very moving and SO gripping, which is really unusual, I think. Definitely one for your TBR list!
Thanks Beth!
Looking for something else to read? Check out all my reviews and recommendations here.
Pin me for later…