From whale sightings and nature walks, to waterfalls and rainforests, there are countless different reasons to visit the Great Ocean Road. One of Australia's most famous travel destinations, this iconic road offers something for everyone, and combines the majesty of windswept cliffs and towering rock formations with deep temperate rainforests and colourful coastal villages.
We've put together a suggested itinerary if you're planning a visit to the Great Ocean Road but don't know where to begin, and we've also reviewed all the best bookshops along the way.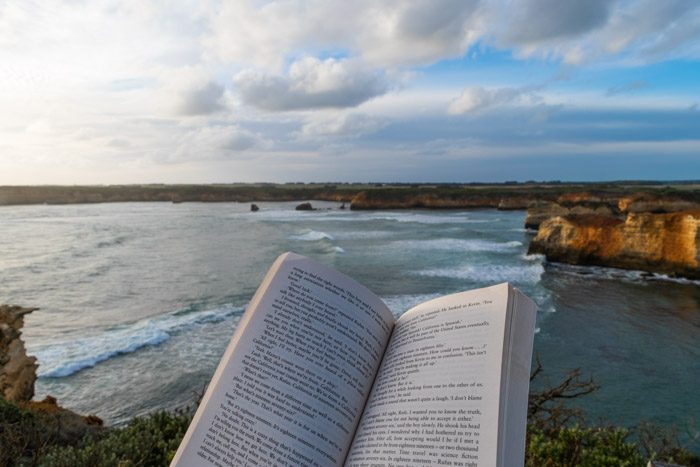 Suggested itinerary for a long weekend escape from Melbourne to the Great Ocean Road:
Day 1: Melbourne to Port Fairy via inland route.

Stop for lunch in Campertown – try a local cafe or bring a picnic to eat in the Botanic Gardens
Explore Port Fairy, including the bookshops mentioned in this post, and stay the night
Total 3.5 hours driving

Day 2: Port Fairy to Apollo Bay via the Great Ocean Road

Start your day with a short drive to some bookshops in Warrnambool. From May – October check out the Logans Beach Whale Watching Platform.
Continue along the Great Ocean Road, stopping to see the iconic Twelve Apostles and other rock formations.
Total 3.5 hours driving

Day 3: Apollo Bay to Melbourne

Tucked away off the main street of Apollo Bay is Icaro Wholefood Cafe if you're looking for vegan breakfast to start your day.
Head to Lorne via the Great Ocean Road, stop to check out the bookshop and have a walk along the beach front.
Next stop on the Great Ocean Road should be Aireys Inlet for another great bookshop and the famous Split Point lighthouse.
If you're not too tired, on the way back to Melbourne you can visit the beautiful Geelong Library.
Total 3 hours driving

If you love to drive, or are happy to spend less time in each spot this trip could be condensed into 2 days. On the first day Melbourne – Port Fairy – Apollo Bay. And on the second day Apollo Bay – Lorne – Melbourne.
https://goo.gl/maps/6Yth37iSoBf39Nta8
Blarney Books and Art
37 James St, Port Fairy VIC 3284
https://www.blarneybooks.com.au/
A gorgeous, spacious bookshop and art gallery located in an old Masonic Hall, Blarney Books and Art is everything I want in a bookshop and more. Colourful shelves and walls, a large yet well-curated range of new and secondhand books, and soft couches perfect for curling up with a good book makes this an absolute must-visit if you're ever in the area. In fact, even if you're not, I wholeheartedly recommend you make the detour to visit. I just cannot overstate how colourful, vibrant, and eclectic Blarney Books was, and Jo (the owner) is both lovely and more than happy to help you pick that perfect book for you.

X-Factor: There are so many! How about the children's area with a bright and lively fishtank to admire? Or the art gallery with upholstered, repurposed and themed vintage furniture? Or the fact that it's located in Port Fairy, an adorable little coastal town with an equally adorable name? I just can't pick one, you'll need to visit and decide for yourself.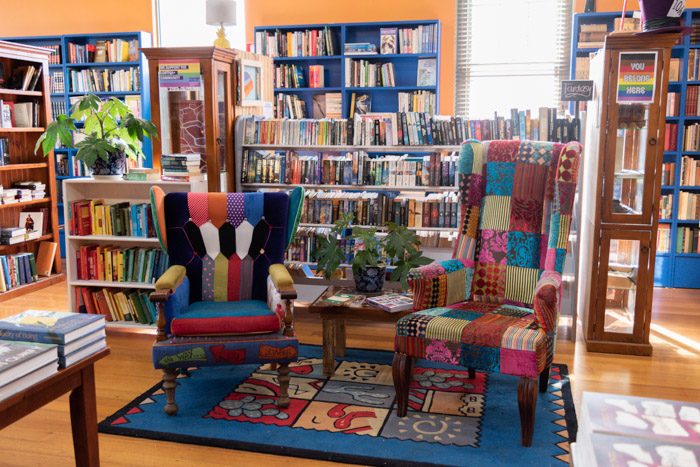 Ironbird Bookshop
44 Sackville St, Port Fairy VIC 3284
https://facebook.com/Ironbird-Bookshop-191410117543104/

Another cute coastal bookshop in Port Fairy, Ironbird is smaller than Blarney Books and Art. They stock a good range of new books (though no secondhand books) and the shop is quite located near the centre of town. There's a room at the back dedicated to children's' books and YA, and oddly, a whole shelf of toy animals and figurines. They also stock a small yet well-curated range of books on modern gardening and permaculture. As an aside, look out for the little library/free book exchange on the same street, in among all the cool shops and cafes.

X-Factor: A well-stacked selection of new/recent release crime and thrillers, if you're looking for a beach read with a side of murder!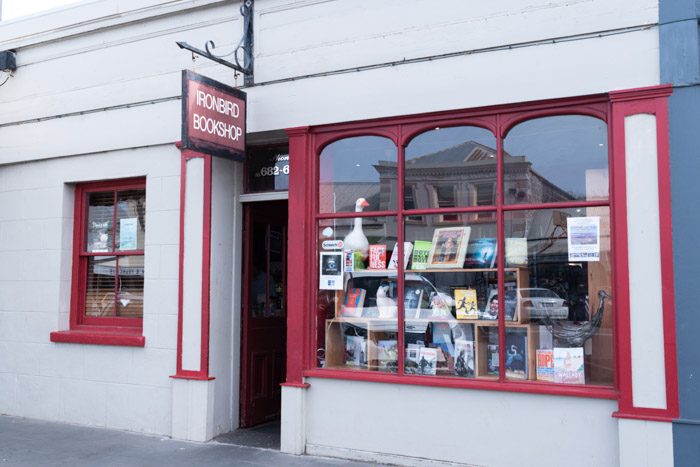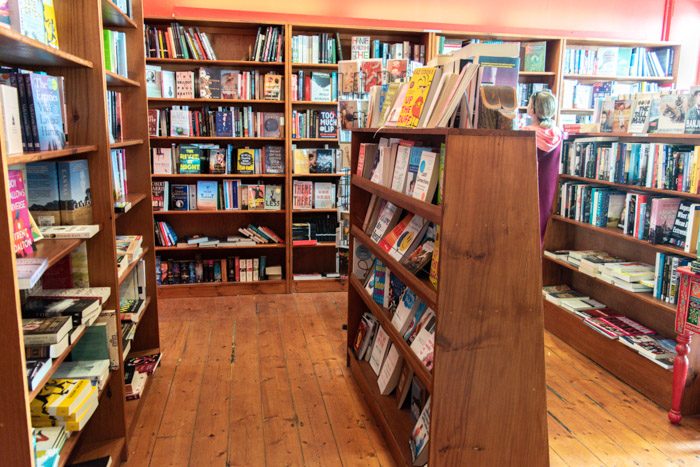 Warrnambool Books
169 Fairy St, Warrnambool VIC 3280
https://www.warrnamboolbooks.com.au
A classic example of not judging a book(shop) by its cover, the exterior is a bit plain and unassuming, but inside you'll find a huge range of educational and children's books. Set in a single large, spacious room filled with natural light, it's both warm and welcoming. Interestingly, Warrnambool books primarily looks after the school book lists of thousands of students across regional Victoria. Half of the shop is dedicated to educational texts, and one wall is divided into sections by year level, with relevant books sorted in a way that makes it easy to find what you're looking for. The other half of the shop has the largest range of children's and YA fiction I've seen outside Melbourne.

X-Factor: If you love YA, or you know someone who does, this bookshop is a must-visit.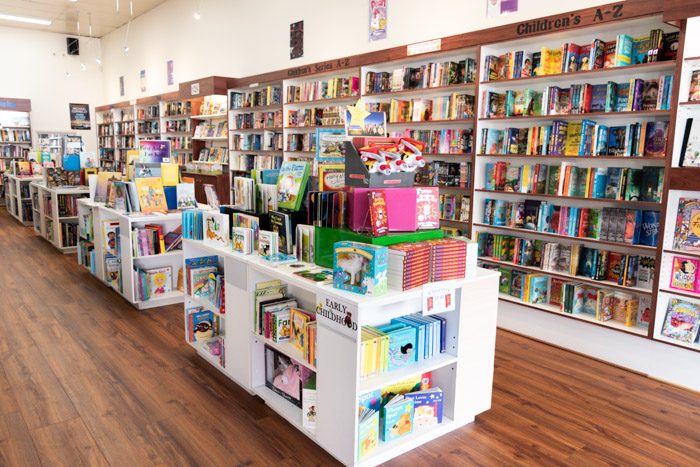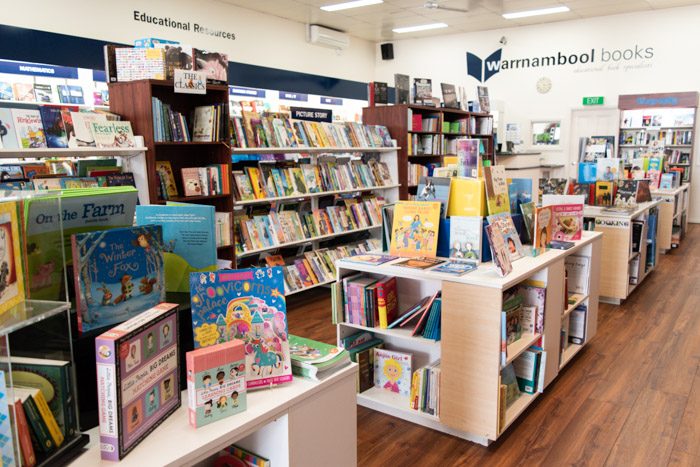 Spectrum Books
377 Raglan Parade, Warrnambool VIC 3280
http://www.spectrum-oz.com/
Spectrum Books is a secondhand bookshop with high ceilings, orderly shelves divided by genre, and a fascinating backstory. One of the owners (Lorraine Smith) collects books from her childhood, and started selling them when her collection grew too large. It's easy to see this personal passion in the comprehensive selection of children's books and comics. I was blown away by the huge collection of hardcover Enid Blyton books, all in very good condition. Her passion for collecting led to her discovering a 16th century parchment in a copy of Alice in Wonderland. She has since written a book about that discovery and her research. They also offered professional printing services, so if you need to print out some banners or business cards, make sure you drop by.

X-Factor: They have not one, not two, but three bookshop pets! Two beautiful Burmese cats and one small, well-behaved dog (with literary names, of course) all looking forward to meeting you.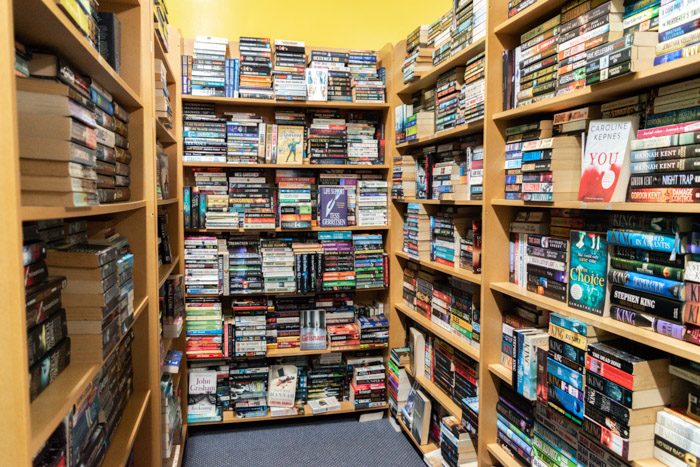 Lorne Beach Books
http://lornebeachbooks.com.au/
108A Mountjoy Parade, Lorne VIC 3232

No Great Ocean Road trip is complete without a stop in Lorne. And no stop in Lorne is complete for a booklover without a trip to Lorne Beach Books. This bookshop holds a special place in my heart, primarily because I spent much of my childhood in Lorne. I spent more than some of my pocket money in this bookshop as a child, and now as an adult. This small shop is absolutely packed from floor to ceiling with a great selection of books. They have popular beach reads, such as the latest crime, thriller, and popular fiction, alongside new literary fiction from around the world. They also stock a solid collection of books for kids of all ages, fancy cookbooks, and plenty of high-end coffee table books on design, travel, and interiors.

X-Factor: It's perfectly located if your ideal day involves bouncing between bookshop, bakery, and the beach – and back again!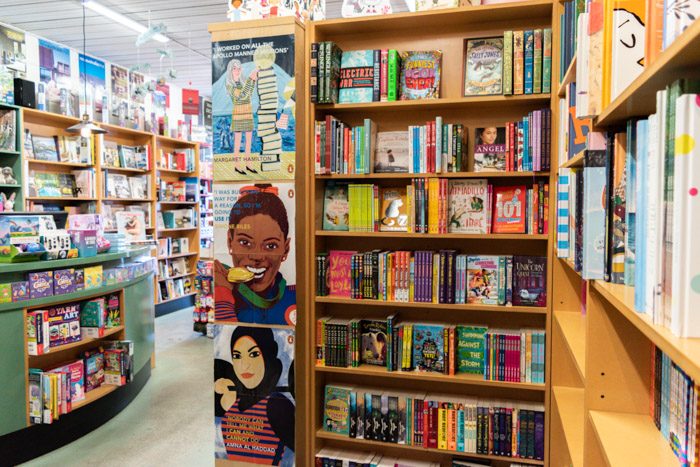 Great Escape Books
75 Great Ocean Rd, Aireys Inlet VIC 3231
https://www.greatescapebooks.com.au/

A surprising last-minute addition to our adventure, Great Escape Books is a beautiful, bright, and modern bookshop. With comfy couches and colourful displays, this bookshop is a worthy stop if you're in Aireys Inlet. They have an eye-catching way of displaying books – tiered rather than spines facing out – which makes browsing an absolute joy.

X-Factor: Keep an eye out for their regular events calendar. The night before we visited they had Graeme Simsion of The Rosie Project fame in the store for an event.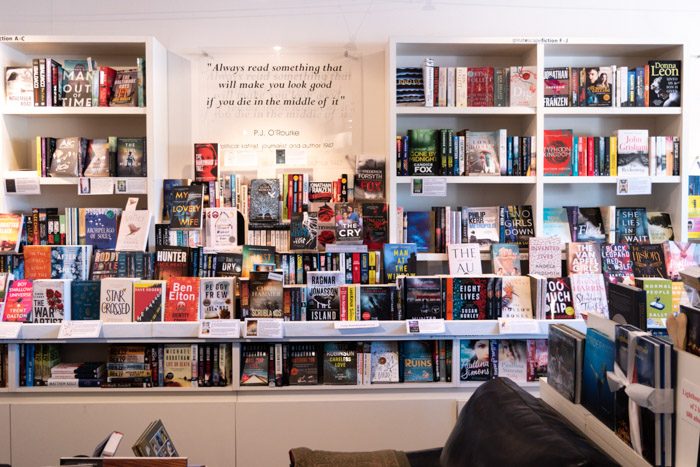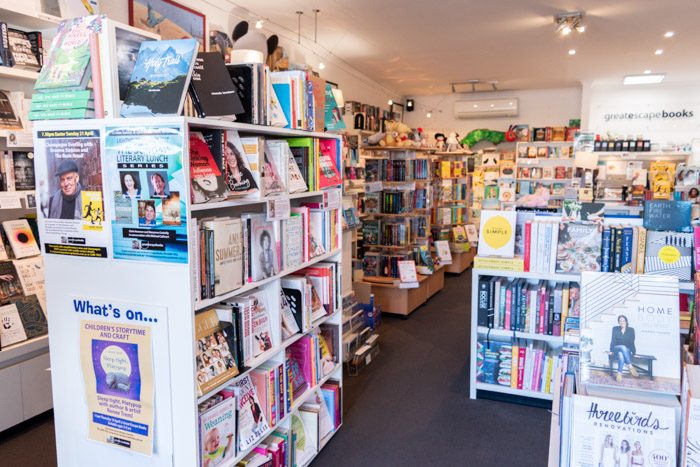 Read on…
If you'd like to learn more about Victoria and read our other guides for nearby locations, these should whet your appetite:
Book Lover's Guide to Macedon Ranges & Trentham
Book Lover's Guide to Daylesford & Castlemaine
Melbourne Bookstores – Babbling Abroad

If you're interested in more worldly locations, make sure you check out the other guides we've written for places we've traveled to in the past.
Pin me for later…