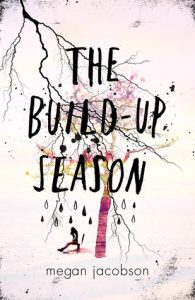 My rating: 4 of 5 stars
A confronting but compelling exploration of domestic violence and the legacies of abuse set against the gathering storm clouds of Darwin's 'build up season'. Definitely one of the best Australian YA releases of 2017.
Following rebel teen Iliad during her final year in high school, the story charts a path through a new relationship which has dark clouds looming over it, and the breaking and rebuilding of family ties. It ends with lessons learnt, relationships with friends and family set right, and an overall feeling of empowerment in the face of great challenge.
Though not central to the plot, Jacobson deals frankly with sex. The notion of virginity is deconstructed, explained as both something of personal significance in the pathway to adulthood but also not something which someone can be lesser for having 'lost'. This was so refreshing to see in a YA novel, and is definitely a key reason I would recommend this book to teen readers.
This book is also a useful starting point for conversations about family violence, and respectful relationships between teens. Violence and the threat of it hovers over every page and shapes all of Iliad's interactions with others around her. The abuse is presented as categorically unacceptable, and the victims are not blamed for their plight. Iliad's shifting perceptions of her Mother's decisions is a really important way of showing common misconceptions about abuse and how harmful (and wrong) those are.
The protagonist has a very poor record at school in all subjects except Art, falling behind because of anxiety and the upheaval of moving frequently. Having a lead character who is not academically successful, and yet still has talents and value is another subtle but validating thread to the story.
I really enjoyed the casual language and easy-to-read style. There were many Australian-isms and the role of local slang in shaping friendships is briefly explored, though I don't think it would be confusing for international readers.
Perfect for fans of Looking for Alabrandi, and suitable for mature readers aged 15 and up. Warnings for graphic physical violence.