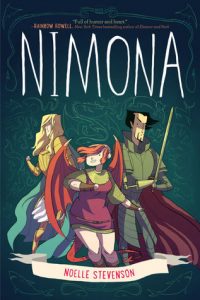 Is it possible to love a book too much? No? Well, I adored Nimona from the first page to the last, and it was an instant addition to my 'favourites' shelf. Even if you don't read graphic novels or comics I can't recommend this book highly enough. There is adventure, dragons, magic and dastardly plots, a morally ambiguous cast of characters and a whole lot of heart.
Nimona is a delightfully chaotic shapeshifter who nominates herself for the position of 'sidekick' to supervillain Lord Ballister Blackheart. Together they have adventures, hatch evil (or not so evil) plans, play board games, attend science fairs, and maybe save the world. The world in question is a fantasy/sci-fi mash up with a corporation inventing advanced technology alongside a typical medieval style township. Blackheart's sworn enemy is Sir Ambrosius Goldenloin, a former friend who was responsible for Blackheart's missing arm. The evolving relationship between Ballister and Ambroisius was such a perfect sub-plot which gave both characters so much depth.
The best part about Nimona is how Stevenson plays with the tropes of sci-fi and fantasy novels. Neither of the main characters are what you could call 'good' but they both have good qualities and very different sets of morals. Each of the central characters plays the part of 'antagonist' in the story, without the plot becoming convoluted or ridiculous. In doing this Stevenson demonstrates the complexity of morality by showing, rather than telling, readers that the world is a complex place and your decisions make you who you are.
While reading Nimona I laughed out-loud more times than I can count, and despite the relatively short length became very invested in the characters. This is without doubt my favourite graphic novel that I have read to date, and it will be very difficult to usurp.