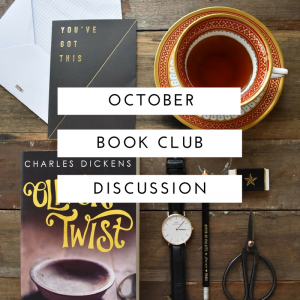 Let's talk about Oliver Twist! It's been great fun this month, collaborating with the Dickens Buddies group on Instagram. I hope you had a chance to add your thoughts to the weekly discussion posts, and are ready to sum up the whole book below! Answer any or all of the questions in your comment, and remember to check back to see if you have received any replies.
*Warning* The discussion below will contain spoilers for Oliver Twist by Charles Dickens. If you haven't read it yet please look away.
Overall what were your feelings/impressions of this book? Did you enjoy it?
.
Women: How did you feel women were portrayed? Was there anything in particular that you liked or disliked about the representations of women?
.
Favourites: Did you have a favourite character, scene or quote? What made them/it stand out to you?
.
Language & style: How did you find the language? Were there any aspects of the style that you enjoyed or disliked?
.
If Oliver Twist was set in the present day, what social issues or issues do you think Dickens would have set his sights on instead of orphanages & workhouses?
.
Next month we will be reading Dark Places by Gillian Flynn, if you will be joining us don't forget to use #babblingbookclub on your photos for your chance to be featured.