I'm utterly delighted to be sharing my Book Lover's Guide to Ubud with you! Literary locations probably aren't the first thing most people think of when planning a trip to Bali in Indonesia. But the town of Ubud, with 74,000 residents and more than 3 million tourists who visit each year, has not only lovely bookshops and book-themed cafes, but also boasts one of the world's top international literary festivals.
I spent 10 days in Ubud, exploring the gorgeous sites, buying too many books in the various bookshops, and expanding my mind with incredible discussion at the Ubud Writers and Readers Festival. If you're looking for a tropical paradise that indulges your love of literature make sure Ubud is on your wishlist.
*Note* I've included the prices of books purchased at the bookshops mentioned. These prices are a guide only, and may be different at the time of your visit.
Ganesha Bali Books
https://www.ganeshabooksbali.com/
Corner of Jalan Raya (the main road) and Jalan Jembawan, Ubud
My top pick of the bookshops in Ubud, Ganesha has a wonderful cosy feeling and a brilliant range of books. They specialise in books about Indonesia in English.Which makes it a great place to stop by if you're hoping to get to know the country a bit better during your stay. Ganesha's main focus is a large range of secondhand books. You can buy them and return for credit once you're finished. I love this approach, especially if you're a fast reader with limited luggage space!
Their range of new books in English was smaller than the secondhand section, but very well curated. I spotted international bestsellers and prize nominees, as well as books by authors appearing at UWRF. I purchased a copy of Harry Potter and the Chamber of Secrets from the section of books in Bahasa Indonesia. It cost RP140,000, or about AUD $14 at the time of purchase.
They also stock and source rare books for interested customers, and they have a charitable project called Books for Bali. Focused on fostering a love of reading amongst the Balinese community, in particular with children. You can find out more about donating books online or in store.
Periplus
https://www.periplus.com/
Jl Raya Ubud No. 23 (Opposite to Lotus Restaurant), Ubud
Periplus is your one-stop-shop for new, imported English language books in Ubud. The main bookshop on Jl Raya has an enormous range of English publications, from cookbooks to yoga magazines, children's illustrated books to popular new release literary fiction. They also have very refreshing air conditioning – a rarity among shops on the main street.
According to the Periplus website there are two stores in Ubud, with the other located near the Monkey Forest. I didn't have a chance to visit that one, but did stumble across a sort-of kiosk version of Periplus also on Jl Raya. You might spot it when you visit too. Periplus is also the official bookseller for UWRF and have a pop-up shop for the duration of the Festival selling both books by Festival authors and other popular titles.
I briefly glimpsed a large and well-stocked Periplus as I was racing to the security check-point in Denpasar airport. If I had more time, I would've loved to browse and pick something up to read in the air. Periplus is a huge chain of bookstores with locations all over Indonesia. So if your travels take you outside Ubud check their website for location details.
I bought a few books from Periplus. The most expensive was Renditions of My Soul for RP250,000 (About AUD$25). The cheapest Love Spelled in Poetry for 90,000 (about AUD$9).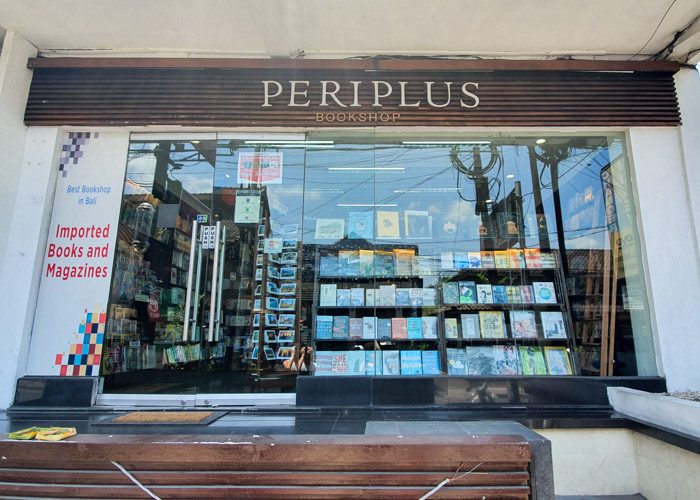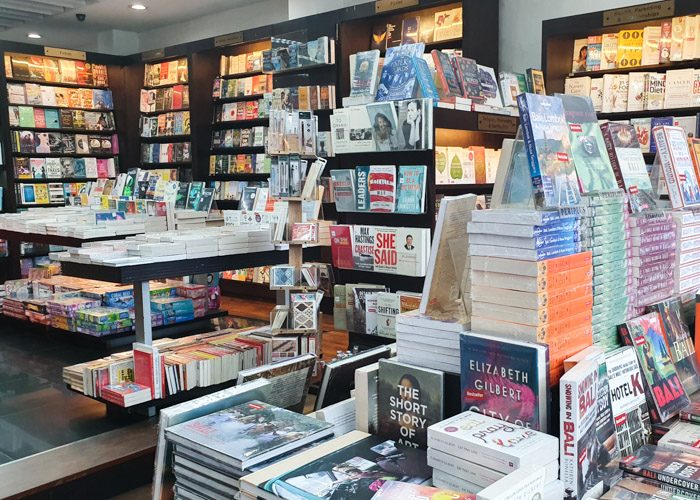 Little Talks
https://littletalksubud.com
Jl. Campuhan, Ubud
Little Talks is a truly delightful little bookish cafe. Open daily from 8am to 8pm it's the perfect place to drop in for a drink or a meal, or to linger and enjoy the view. The cafe is on the ground floor of Ani's Villas and has a beautiful view of Gunung Lebah Temple and Campuhan River below.
With free wi-fi, a quiet setting and limited number of tables, it's a great spot for co-working or catching up on emails. The book selection around the room and in the little library wall is limited but interesting, with an obvious passion for travel and world issues. They have a monthly book club, which might coincide with your visit, so check the dates on their website or social media. They also hold regular workshops and exhibitions. When I visited there was a visual art exhibition as part of UWRF that was particularly interesting.
The food and drinks menu is fairly standard Ubud cafe fare. Breakfast includes pancakes, smoothie bowls or eggs on toast, while lunch and dinner are traditional Indonesian dishes like Nasi Goreng and Gado Gado. I didn't have a chance to try the food. Instead I enjoyed a delicious ginger and lime iced tea for just RP20,000 (Approximately AUD$2 at the time of purchase).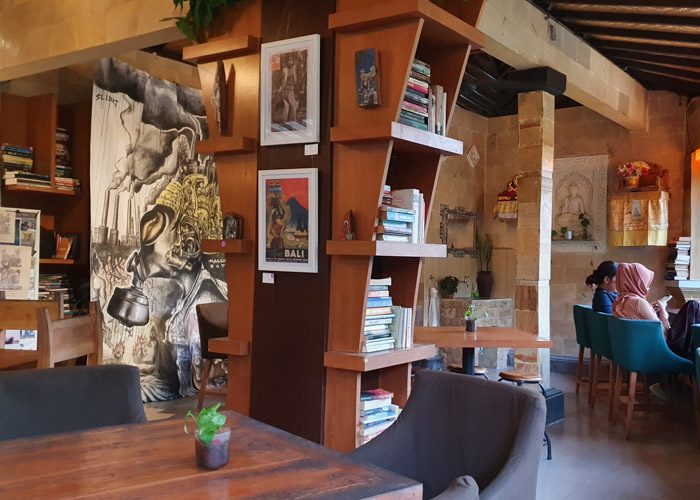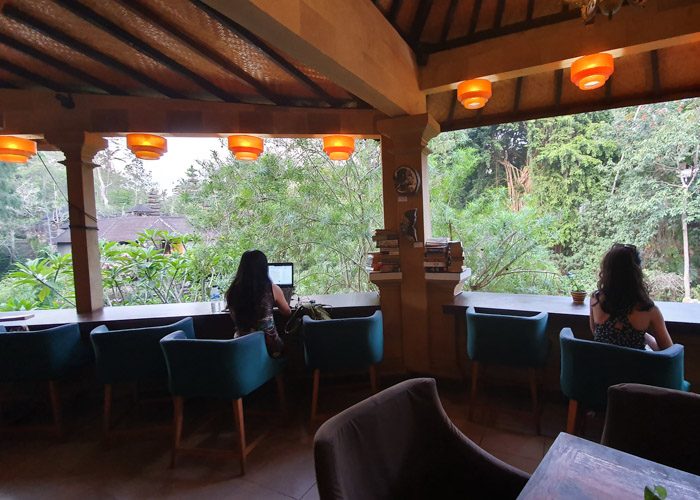 Ary's Book Cafe
+62 361 982393 (No website available)
Jl. Raya, Ubud
Not far from the Ubud Palace along the crowded and chaotic Jl Raya is a rather unassuming little shop front. Covered in plants and set back from the main street, Ary's Book Cafe is not a place you're likely to spot unless you're looking for it. But if you're in the area it's definitely worth dropping in for a drink.
The inside of the cafe is shaded and cool. Books are stacked on shelves around the room and you are allowed to read the books in the shop – but they are not for sale or taking home. The selection was very eccentric and mostly in English. I spotted Twilight, nonfiction history books, multiple copies of self published novels, and an unofficial biography of Justin Beiber. Though I wouldn't suggest visiting for the book selection, they have made the decor really cosy and welcoming. I felt comfortable to sit and read my own book while looking out at the beautiful, lush tropical courtyard garden at the back of the cafe.
They have a moderately priced Asian fusion food and drink menu. There seemed to be a decent range of vegetarian options, but they were unsure if anything was gluten free when we asked. I chose an iced tea and my friend a fruit smoothie, both were refreshing and cool on a hot afternoon.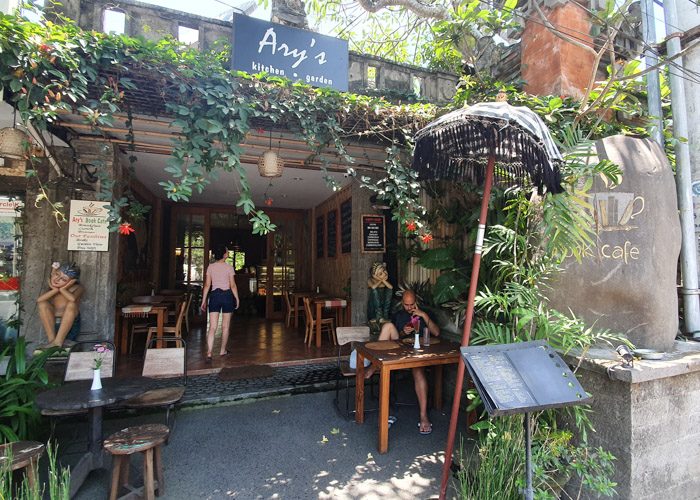 Ubud Writers and Readers Festival
http://www.ubudwritersfestival.com/
Held in the final week of October the Ubud Writers and Readers Festival is one of the top literary festivals in the world. Each year more than 150 speakers from dozens of countries come to Ubud to delve into a wide range of topics from poetry to politics and everything in between. The events are spread across 5 days and multiple locations around Ubud. I found myself really getting to know the town as I moved between the venues. In addition to seeing panels I tried a traditional batik painting class, one of the cultural workshops they offer each year. I can't recommend this festival highly enough! If you're a book lover planning a trip to Bali, try to attend UWRF for a richly immersive experience.
You can read my guide to the best books to read from the 2019 Festival program here. Or check out my interview series with authors during the Festival on IGTV here.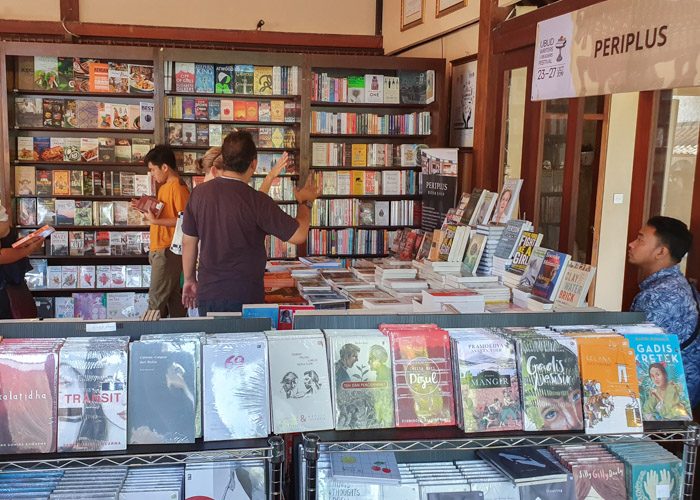 That wraps up our Book Lover's Guide to Ubud! If you'd like to read more about my literary travels around the world you might find these guides interesting:
Interested in more worldly locations? check out the other guides we've written
Pin me for later…