We had a wonderful time writing this Book Lover's Guide to Montenegro. Only recently split from Serbia, the newly-independent nation of Montenegro is something of an oddity in Eastern Europe. The Montenegrin people possess a strong sense of cultural pride that's visible everywhere you look. But Montenegrin language, culture and history is inextricably linked to Roman and Ottoman occupation and more recently, Yugoslavian nationalism. There's a world of history in this tiny country, with countless museums, fortresses and old towns to explore. While we travelled across this fascinating landscape, we took the time to stop into a few bookstores and get an idea of what kind of literary pathos Montenegro has to offer.
Bookstore Budva
Budva Waterfront, Budva
This bookstore, called 'Bookstore,' can be found on the Budva waterfront. Little more than an oversized kiosk, it nonetheless offers a surprisingly large selection of English paperbacks at reasonable prices. Here you'll find books across a wide range of genres, from romance and YA through to thriller and fantasy. As a bonus, I enjoyed browsing the Montenegrin edition of Harry Potter, even though I couldn't understand a word.
X-Factor: Location, location, location! Situated right at the forefront of the Budva pedestrian road, you could step in, buy a summer read and enjoy the sun on the sand in the span of a single breath.
Gradska Podgorica
Trg republike 40,
Podgorica 81000, Montenegro
This was the only bookstore we could find in the Montenegrin capital of Podgorica with the criminally short time we had. It's a gorgeous store, flooded with light. Gradska Podgorica stocks books in both English and Montenegrin. Located in the middle of the central shopping district, Gradska is an easy bookstore to find.
X-Factor: Their classics section was unusually diverse. The collection included works by popular authors that are typically harder to find. For example, they didn't have 1984 by George Orwell, but they did have Homage to Catalonia, another lesser-known work by Orwell.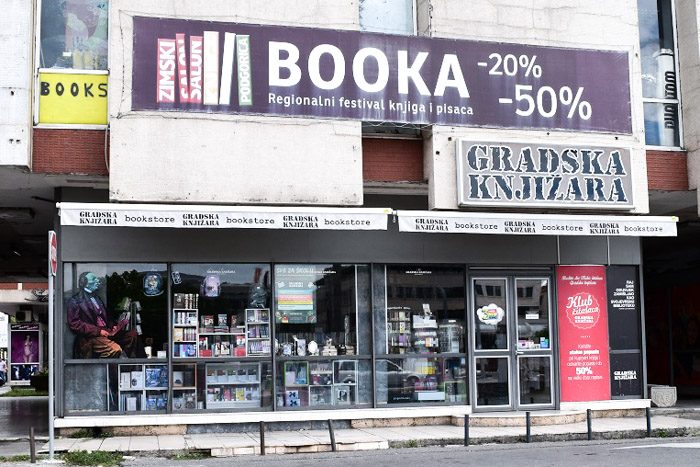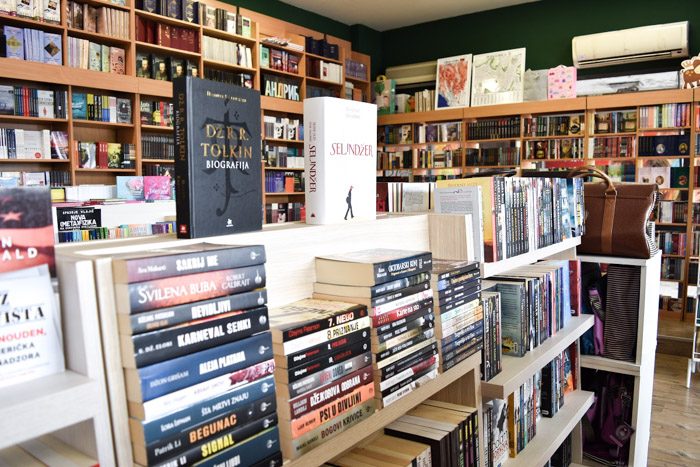 Luca Cetinje
Njegoĺąeva, Cetinje, Montenegro
https://www.facebook.com/knjizaraluca/
I'll be honest, the main reason for including this bookstore is the town of Cetinje. It's an absolute must-visit if you're in Montenegro! The city is filled with quaint streets, incredible historical sights and beautiful views. Luca is an example of a more typical Montenegrin bookstore. It stocks a range of fiction, along with stationery and school supplies.
X-Factor: If you need to stock up on basic art supplies, notebooks or stationery, Luca has got you covered!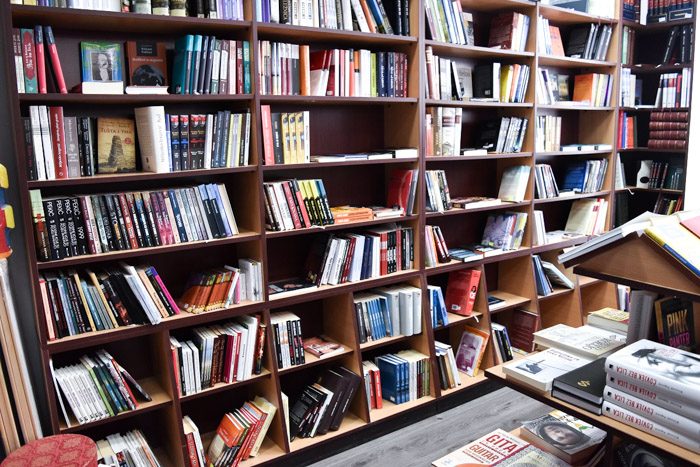 Budva Maritime Library
Citadela, Budva, Montenegro
My favourite bookish destination in Montenegro! Located inside the citadel in the heart of Budva's incredible old town. There is a modest entry fee to explore the citadel, but it's worth it. The library is a single, light-filled room packed with glass-fronted bookcases and displays. Everything in the room is maritime-themed. You'd be forgiven if you believed for a moment that you'd stepped into the captain's quarters of an old sailing ship! There are comfy leather sofas to rest in. I loved the model boats with descriptions in English as well as Montenegrin, telling stories of pirates, mutiny and shipwrecks!
X-Factor: The model ships, painstakingly assembled, and their backstories on display.
Uliks Kotor
Kotor Old Town, Montenegro
A second-hand bookstore in the stunning old town of Kotor, this odd little shop is both small and sweet. If you need four copies of Harry Potter and the Deathly Hallows, or a thriller by John Grisham, you might find something in the tiny, eccentric collection they stock.
X-Factor: The cave-style décor will make you feel like you're browsing a bookstore in an old communist bunker.
That's it for our Book Lover's Guide to Montenegro. If you'd like to discover more locations for lovers of literature in Eastern Europe read these other guides:
If you're interested in more locations, check out the other guides we've written!
Pin me for later…