After a whirlwind roadtrip across Ireland (and another brief layover in Amsterdam!) we finally arrived in Cologne. Home to a sizeable community of Greek expats, we were lucky enough to stay with extended family while we explored the region.
We met some wonderful people from Bookstagram and BookTube in Frankfurt and Bonn, and filmed a little vlog of our adventures in some of the bookshops mentioned in this guide.
Make sure you check these lovely people (and their respective accounts) out:
Michelle (MadamesCozy Corner), Lea (Liberiarium),Philip (Book Walk), Laura, Steffie, Sandra (TheDarkestPartsOfSnow), Sleepless Bibliophile & Tatiana (Lavidenquotes).
While they're not an obvious pairing for a travel guide, Frankfurt and Cologne are only a 2 hour drive, or 1.5 hour train trip apart. We've included them together, along with a bonus suggestion to look out for in Bonn.
Ludwig – Cologne
https://www.buchhandlung-ludwig.de/shop/
Trankgasse 11 Im Hauptbahnhof Köln – B-Passage, 50667 Köln, Germany
If you're passing through Cologne main train station make sure you drop into Ludwig. This bright modern bookshop has a respectable range of English language books. For stationary and journaling lovers like me, there is also a very tempting selection of notebooks, pens and other ephemera.
X factor: Location location location! Ludwig is a chain bookstore, and their stores can be found in more than 50 locations across Germany. Most of them are in train stations, so if you're a book loving traveller like us you're sure to become familiar with their bright blue signs. Check out all their locations here.
Mayersche Buchhandlung – Cologne
http://www.mayersche.de/Buchhandlung-Koeln-Neumarkt/
Neumarkt 2, 50667 Köln, Germany
This enormous bookshop is well worth a visit if you are in the area. Spread over multiple levels it has a wide range of books, games, stationery and more. There is even a cafe, and a desk (KölnMusik Ticket Shop) that sells tickets to the Cologne Philharmonic, if you are looking for another cultural activity to enjoy in the city. Best of all for me, as an English-speaking traveler, was their range of English language books. Covering a diverse range of genres, there was so much to choose from, and it was well stocked with new releases from around the world.
X factor – It might be just for kids, but there is a pirate ship in this bookshop! Cute play area if you have small children with you and would like a fun place for them to play and explore while you chill out in the cafe right next to the play area.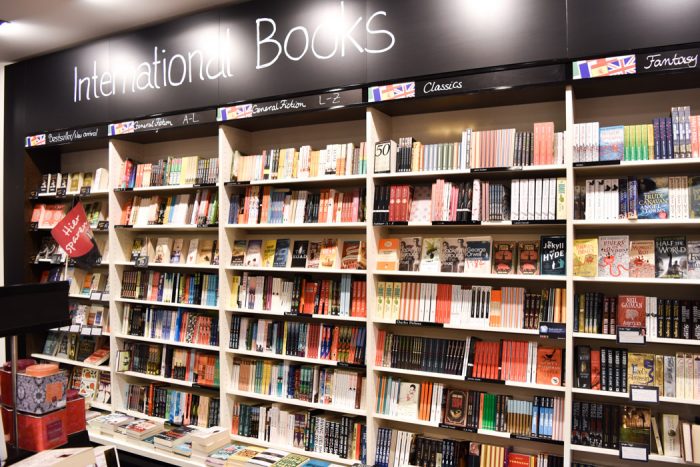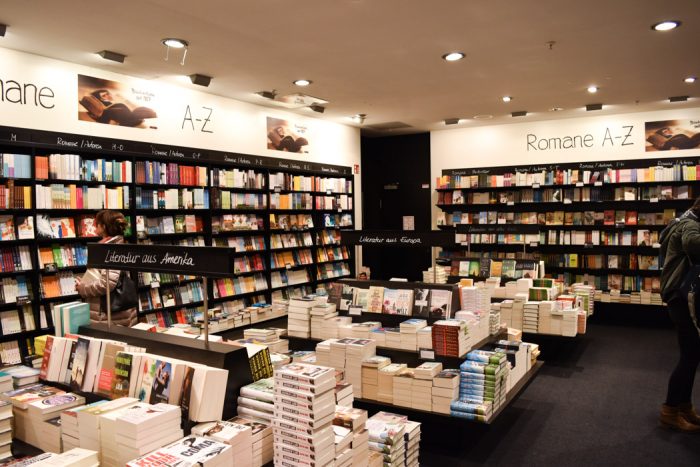 Cologne Library
https://www.stadt-koeln.de/leben-in-koeln/stadtbibliothek/
Josef-Haubrich-Hof 1, 50676 Köln, Germany
The Cologne Library is a wonderful example of a functional, city library. There were plenty of comfy seating areas with people quietly reading, which was a wonderful sight for a weary traveler. There was a large section of English language books, filling at least 2 rows. I spotted everything from classics to popular fiction and young adult titles. While borrowing a book wasn't on the cards when only staying for a few days, I appreciated the chance to rest my feet and read a few chapters of a book from their shelves.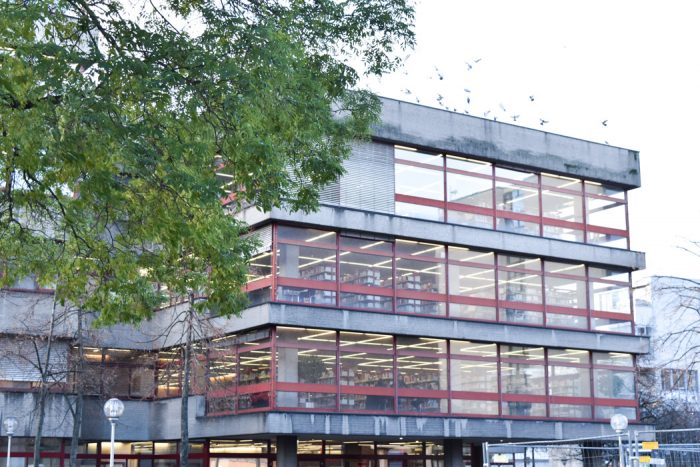 Hugendubel – Frankfurt
https://www.hugendubel.de/de/branch?branchId=9804
Steinweg 12, 60313 Frankfurt am Main, Germany
I was a little bit speechless walking into Hugendubel in central Frankfurt. The store is enormous, spread over multiple levels with lots of light and open space. I was reminded of the feeling of entering a large department store, except that it was almost entirely books. There were, of course, sections dedicated to movies, music, gifts, and stationery, but the sheer volume of books was more akin to a library than a typical bookshop. Now one of the largest chains of bookstores in Germany, Hugendubel was founded in 1893 by Heinrich Karl Gustav Hugendubel in Munich.
X factor: If you get overwhelmed by all the books to admire and floors to explore there is a cafe to rest and prepare to dive back into hunting for your next great read.
Oxfam Bookshop – Frankfurt
Oxfam bookshop
Töngesgasse 35, 60311 Frankfurt am Main, Germany
If you've read any of the other guides in this series you'll know I'm a huge fan of secondhand bookshops. There is something about discovering a title you have been searching for, or just smelling all the lovely old pages that makes me happy. The Oxfam bookshop in Frankfurt satisfied all my secondhand bookshop cravings. Light and airy, the books are arranged neatly by genre and the whole shop was very well stocked. It's hard to say what you would find if you went there today, but that's the joy of secondhand bookshops.
X factor: A lovely collection of antiquitarian books at very reasonable prices was on display. Pretty gilt bindings and lovely old spines grabbed my attention, and I wished I had a little more space in my luggage for these treasures.
T3 Terminal Entertainment – Frankfurt
https://t3ffm.com/
Große Eschenheimer Str. 41a, 60313 Frankfurt am Main, Germany
Need a nerdy fix? T3 Terminal Entertainment is Frankfurt's haven for comic book fans. They stock a huge range of comics, manga, graphic novels, board games and fandom merch. They had options in both English and German, and according to their website are open to ordering things if you're planning to stay in the area and are looking for something in particular.
X factor: Events! The store regularly hosts events, the perfect way to meet fellow comic book, manga or board game fans. Check out their Facebook page or website for upcoming dates.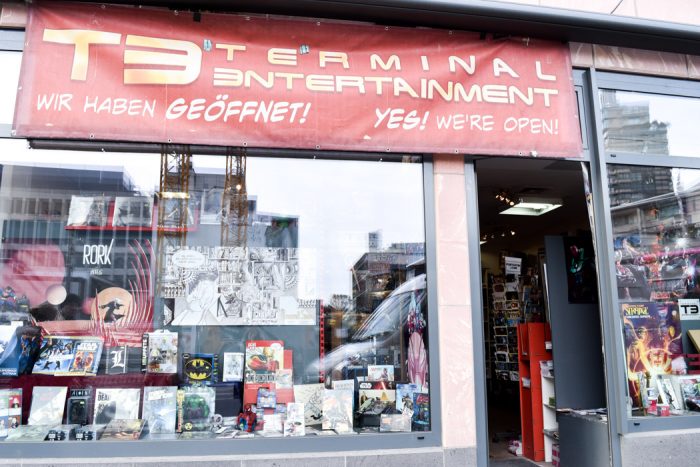 Südseite: Internationale Buchhandlung – Frankfurt
https://zambon.net/
Kaiserstraße 55, 60329 Frankfurt am Main
I adored this little international bookshop, and I think it was my favourite bookshop in Frankfurt. They sell a wide range of books in languages like Spanish, English, Italian, French and Arabic. If you read in a language other than German and/or English this is your best bet for finding books in your language.
The details are not clear from my research, but Südseite appears to be a collaboration or partnership between the bookshop and German publisher Zambon, which means the store has an interesting connection to the world of publishing.
There are articles online which suggest that the bookshop has perhaps closed since we visited. If you have visited recently please let us know, so we can keep this information up to date.
Little Library – Bonn
Various locations. https://littlefreelibrary.org/ourmap/
While I didn't actually visit any bookshops in Bonn, I did stumble upon this very cute 'little library'. Rumour has it there are actually quite a lot of these libraries for swapping free books all across Germany, and indeed, the world. The contents depend entirely on donations and goodwill, so there is no predicting what you might find. This one had mainly popular German fiction along with some reference books.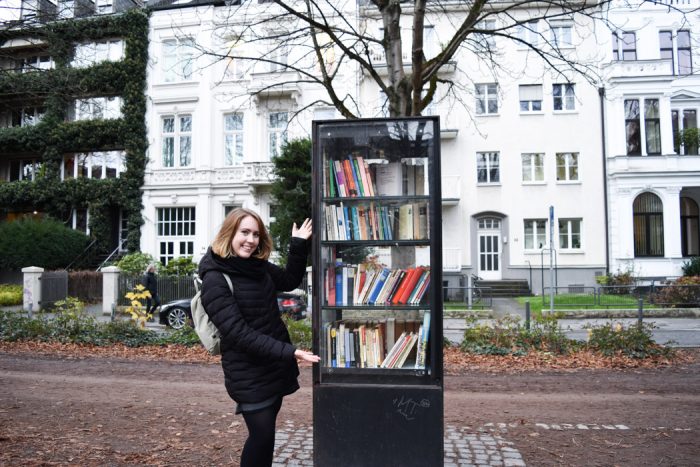 That wraps up our Book Lover's Guide to Southern Germany! If you'd like to read more about our bookish trip across Europe, you might find these guides interesting:
Interested in more worldly locations? check out the other guides we've written
Pin me for later…