"Camping? In Ireland? In November?" That's how we were greeted when we landed at Dublin airport, by an incredulous customs agent wondering if we were serious. After all, who in their right mind wants to go camping in Ireland just as the cold weather sets in? Camping was exactly what we had in mind, but before we set off on our wintery journey around the Emerald Isle, we spent a couple of days in Dublin. We visited incredible libraries, caught up with a friend (Vy from @thelibrocubicularist), and of course visited as many bookshops as we could in this beautiful UNESCO City of Literature.
Trinity College, Old Library
College Green, Dublin 2, D02 VR66, Ireland
https://www.tcd.ie/library/old-library/
The number one literary location in Dublin is without doubt the famous Book of Kells and Old Library at Trinity College. The Book of Kells is an incredible 9th-century gospel manuscript. Filled with beautiful handwritten and embellished pages, it's incredibly well-preserved for its age. Next up is the 'Long Room', the real name of the beautiful library you'll be familiar with from photos. Nearly 65 meters long, it houses 200,000 of the library's oldest books in its beautiful oak bookcases. It's like being whisked away to the Hogwarts library, and even though it wasn't used as a filming location the similarities are uncanny! It's important to note there is a €11 entry fee for adults, so make sure to factor that into your budget.
If you can't make it to the library, or have visited and want to see more, the entire book of Kells has been scanned and is available to view online.
X factor: Take as many photos as you like! Photography is forbidden in many of the old libraries across Europe, or permitted only by paying an additional fee. We couldn't see any such restrictions in the Old Library, so snap away to your heart's content.
The Winding Stair
Ormond Quay Lower, Dublin 1, D01 R9Y5, Ireland
http://winding-stair.com/bookshop/
The Winding Stair Bookshop is named after a famous W. B. Yeats poem and is positioned right by the riverfront overlooking the even more famous Ha'penny bridge. They stock a unique combination of new books in the front and secondhand books in the rear, which makes for an interesting and enjoyable browsing experience. The atmosphere is delightfully cosy with dark red carpet and lots of little corners to explore. The layout of the shop, from the comfy old chairs to the mismatched shelves, make it the kind of place you want to linger, and slows you right down to a casual wander.
X-factor: It's also a restaurant! The Winding Stair is open for lunch and dinner, serving classic Irish dishes with elegant modern presentation. We didn't dine there as it was a little beyond our backpacker budget, but it's one for our bucket list.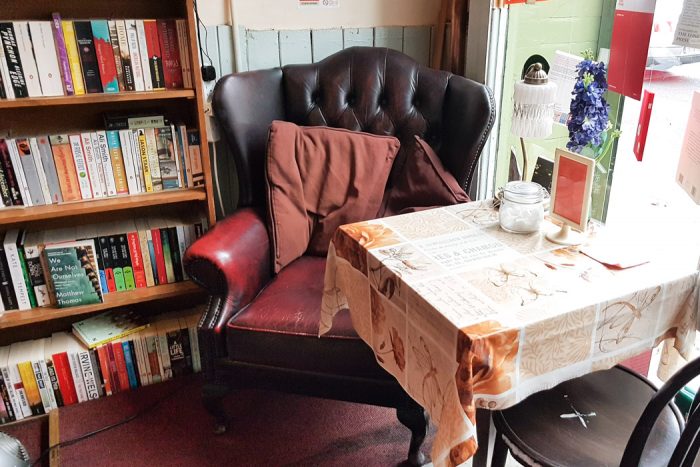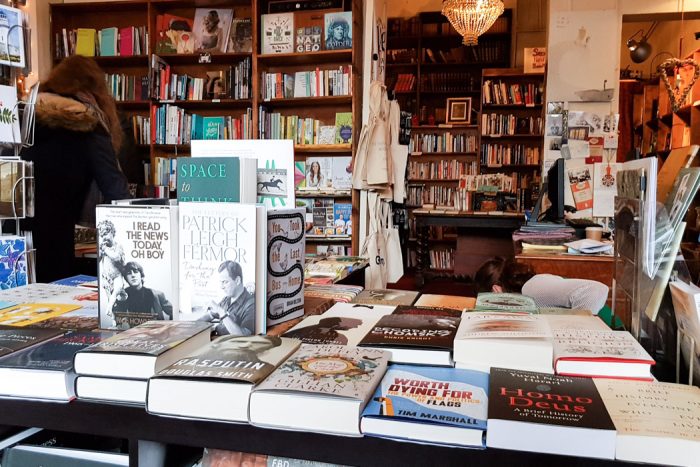 Dubray Books
36 Grafton Street, Dublin, D02 X560, Ireland
https://www.dubraybooks.ie/
Dubray Books is a lovely modern bookstore, and one of Ireland's leading independent booksellers. Proudly family-owned, they stock a wide range of popular titles, new releases, and classics. I was particularly impressed with their selection of sci-fi and fantasy books! To top it off, Dubray Books has 8 stores across Ireland, so whether you're in Dublin, Galway, Kilkenny or Wicklow, you're not far from a delightful bookshop.
X factor: The third floor of the Grafton Street shop has a small cafe for you to sip a cup of tea or coffee while you dive in to your next read.
The Gutter Bookshop
Cow's Lane, Temple Bar
Tel: +353 1 6799206
http://gutterbookshop.com/
The Gutter Bookshop is a beautiful independent bookshop in the Old City part of Dublin's popular Temple Bar area. The name comes from Oscar Wilde's famous quote "We are all in the gutter, but some of us are looking at the stars." I was really impressed by their range of books by Irish authors, discovering many titles I hadn't come across before. This bookshop also hosts many local events, so check out their website to see if there's something on when you visit.
X factor: The Gutter Bookshop has a wonderful childrens' book area, complete with decorations and a wide range of excellent books for young readers.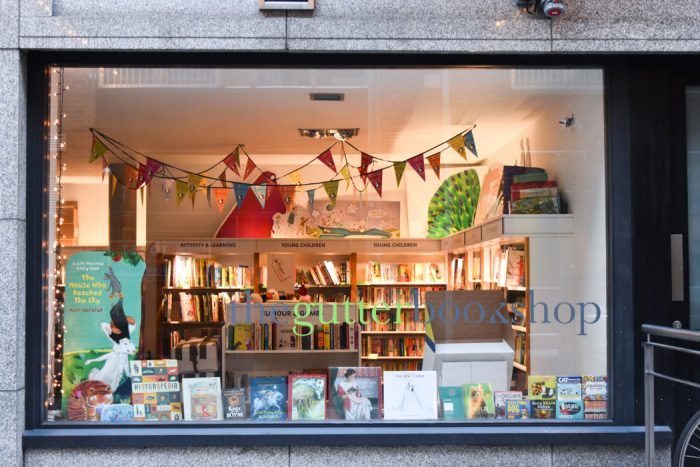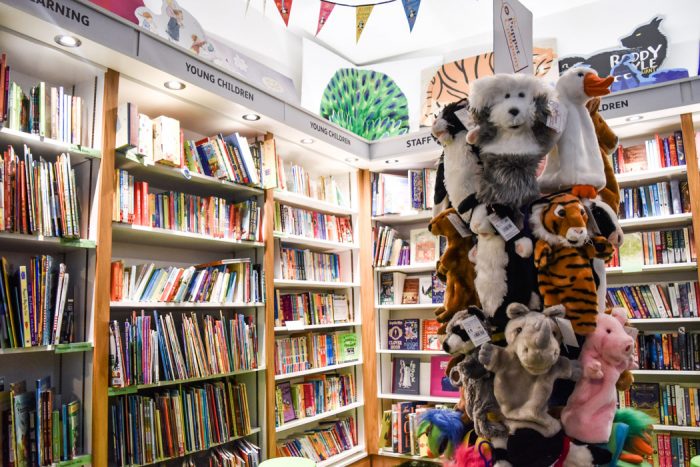 Hodges Figgis (Waterstones)
58 Dawson Street, Dublin 2, Ireland
https://www.waterstones.com/bookshops/hodges-figgis
Hodges Figgis is part of the Waterstones chain and retains much of its original independent bookshop charm. Founded in 1768, Hodges Figgis is Ireland's largest bookshop and is packed with a huge range of books, from travel to sci-fi, thriller to romance. There are three floors to browse, so make sure you plan accordingly if you want to explore every corner of this lovely bookshop. Make sure you check out the basement for some bargain books!
X factor: James Joyce mentioned Hodges Figgis in his iconic novel Ulysses! Reach out and touch a little piece of literary history, and don't miss this bookshop!
Ulysses Rare Books
10 Duke St., (off Grafton Street), Dublin 2, Ireland
Tel: +353 (0)1 671 8676
https://www.rarebooks.ie/
Ulysses Rare Books, as the name suggests, stocks an incredible collection of rare books. There's a particular focus on old volumes, first editions and signed books. I was enamoured with a beautiful yellow leatherbound first edition of Bram Stoker's Dracula. Their speciality is 20th century Irish literature, and considering the deep literary history of Ireland, you can expect to find some familiar names on their shelves. Ulysses Rare Books is family-owned, founded in 1969 by Enda Cunningham and run by his children.
X factor: Descend into the basement and gently peruse a room filled with old maps!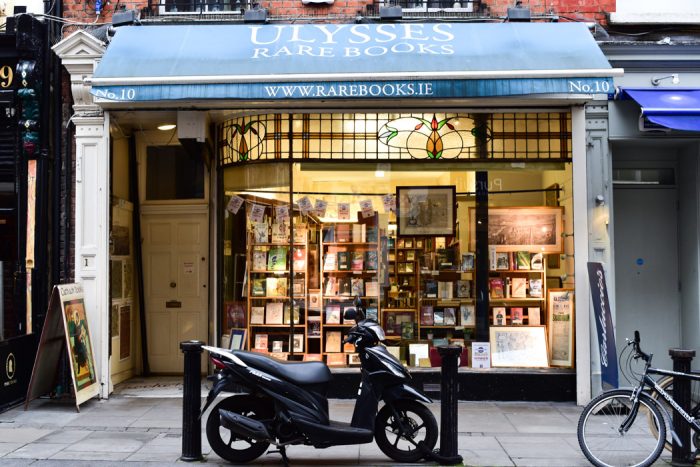 Oxfam Books
23 Parliament St, Temple Bar, Dublin, Ireland
https://www.oxfamireland.org/shop/oxfam-books-parliament-st
If you're looking for a secondhand book at a bargain price you can't go past Oxfam. When we visited, the Parliament Street shop had a terrific selection of secondhand books, ranging from childrens' books to classics and crime. I picked up Reading in the Dark by Seamus Deane for a couple of euros, a perfect read to start our Irish road trip. At the time of writing there are 9 Oxfam shops in county Dublin that sell books, and more than 40 in total throughout the Republic of Ireland and Northern Ireland, so you're never far from a secondhand book fix.
X factor: All proceeds from the Oxfam shops go to supporting the charity work of Oxfam. You can read more about their current campaigns and past impacts on their website.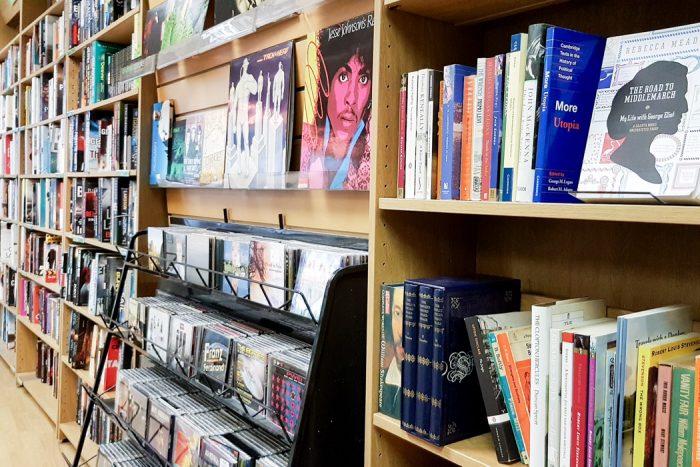 Chester Beatty Library
Dublin Castle, Dublin 2, D02 AD92, Ireland
https://www.chesterbeatty.ie/
The Chester Beatty Library is as much museum as it is a library. Housing eccentric collector Chester Beatty's extensive manuscript and book collection, you'll find texts from all over the world on display. Focused on Beatty's interest in understanding world cultures and religion, the collection showcases artifacts from Europe, the Middle East, North Africa and Asia. It also takes you on a journey back in time, helping you piece together the history of the manuscripts on display. If you're intending to visit, make sure you give yourself enough time to browse all the exhibits at your leisure. You'll need a few hours at least, especially if you want to look through the Chester Beatty Reading Room as well (which, if you do, you'll need to book in advance!). Sadly, you're not allowed to take photos inside the exhibition area. Admission is free but there is a suggested donation of €5.
X-Factor: The location! Part of the wider Dublin Castle complex, any visitor to Dublin is sure to find themselves near the library. However as a less popular destination than the Castle proper it's the perfect retreat on a busy day.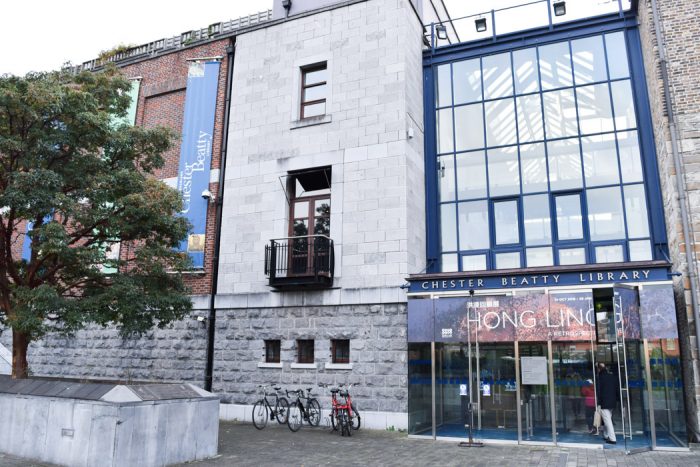 That wraps up our Book Lover's Guide to Dublin! If you'd like to read more about our bookish trip across Europe, you might find these guides interesting:
Interested in more worldly locations? check out the other guides we've written
There were also a few things we weren't able to do while we were in Dublin, due to limited time. But if you're a lover of literature they may be of interest to you:
Pin me for later…