Hello fellow Babblers! As you may or may not have guessed, Babbling Books went on a whirlwind 2-week adventure through New Zealand. In amongst the hobbits, the sulphur pools, the glowworms and the redwoods, we found some time to indulge our secret vice: books! Okay, maybe it's not that secret, but nonetheless during our journey from the top of North Island to partway down the South, we took every opportunity to duck into little corner bookstores and somewhat larger public libraries. And while all of New Zealand was amazing and beautiful and so much more than words can describe, one city stood out above the others in being truly reader-friendly: Wellington.
Often described as the 'Melbourne of New Zealand,' Wellington culture and atmosphere is equal parts refined and bohemian – there are alleyways, there are boutique hipster stores, and at the heart of all this is the famous Cuba Street. However, while we do enjoy our fancy food and quirky shops as much as the next person, what we sought were books, and Wellington had that in spades. Below is a list of the ones we managed to visit, with a couple of bonus locations that we felt were too bookish to leave out!
Unity Books
57 Willis Street, Wellington
www.unitybooks.nz
Large independent bookstore, lots of books on art/design/photography. Well lit, spacious, well-organized, and a solid range of pretty much every genre you could think of. Located in central Wellington meant it's an easy stroll between it and one of the numerous cafes that call Wellington home.
X Factor: The range – Unity Books had something for everyone
Arty Bees Books
The Oaks, Manners Street, Wellington
www.artybees.co.nz
Selling a combination of both new and used books, Arty Bee is as different to Unity as night is to day. Where Unity is the epitome of open-plan design, Arty Bee is all corners and angles and pillars. Where Unity is bright, Arty Bee is moody. But don't hold that against it, this is the kind of bookstore you visit to escape from reality for a few… hours.
X-Factor: A whole bookshelf dedicated to the Forgotten Realms! (of Dungeons and Dragons fame)
Ferret Books
110 Cuba Mall, Te Aro, Wellington
www.ferretbookshop.co.nz
An unassuming store on Cuba Street, Ferret Books' focus is second-hand books. Boasting an interesting range of local literature as well as your standard genre fiction, Ferret felt like a cozy little corner on one of the busiest and liveliest streets in Wellington.
X-Factor: The collection of gorgeous slip-case Folio Society books near the counter.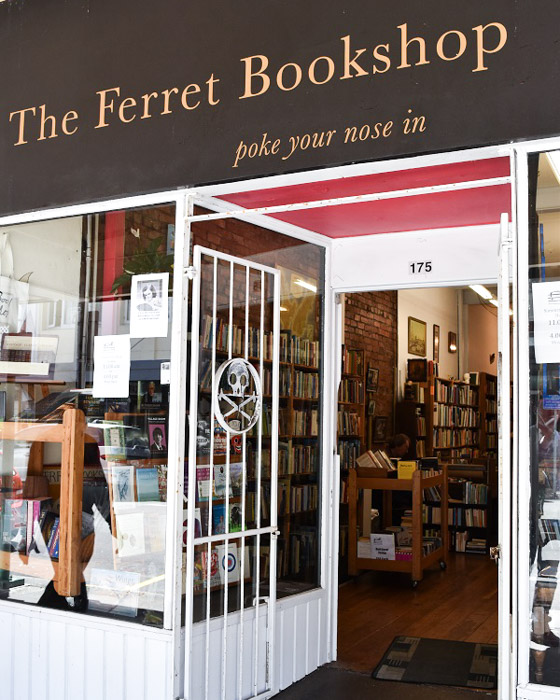 Graphic
106 Cuba Street, Wellington
www.graphiccomics.co.nz
Not your typical bookstore, Graphic specializes in (as the name suggests) graphic novels, as well as comics and comic-centred merch. They stock everything from the popular Lumberjanes and Rat Queen, to classics such as V for Vendetta and Watchmen, all the way down to obscure titles by independent authors. If you're after something a bit more visually stimulating than your regular run-of-the-mill novel, look no further than this store, located once again on Cuba Street.
X-Factor: The massive range of Funko-Pops and other figurines will definitely put a strain on your travel budget if you're not careful.

And now for our bonus venues!
Wellington Library
65 Victoria Street, Wellington
www.wcl.govt.nz
A multi-story bubble of silence, the Wellington Library was a surprising – yet welcome – addition to our trip. Surprising because we stumbled upon it completely by accident, and welcome because, well, it's a library. Books as far as the eye could see, as well as free wi-fi if you need to orient yourself and keep in touch with friends and family.
X-Factor: Check out the cafe that's on the second floor, nothing better than sipping hot chocolate while looking over the sea of bookshelves below.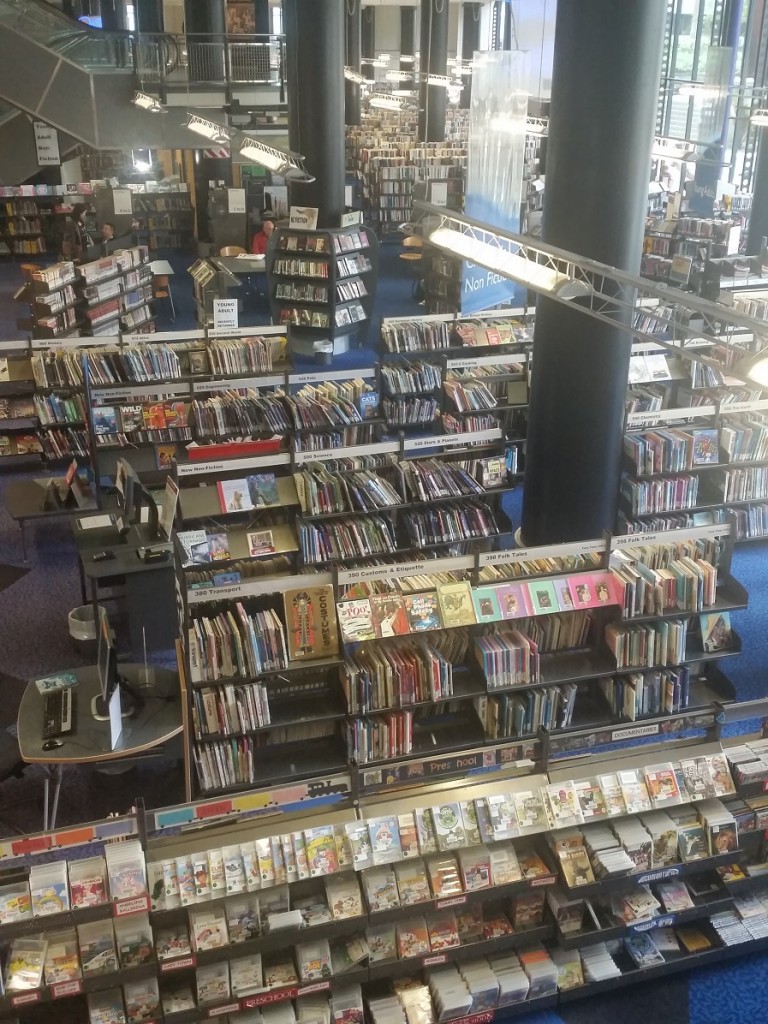 Library Bar
Level 1/53 Courtenay Place, Te Aro, Wellington
www.thelibrary.co.nz
It's a bar. With books. What more could one ask? Fancy food and fancier drinks, the Library Bar is decked out in books of all shapes and sizes. What better way to close off a day spent exploring this lovely city than to lounge back in a reading nook with a good book and a pot of peppermint tea?
X-Factor:See if you can spot the ornate bathtub in one of the back rooms – suitably fancy!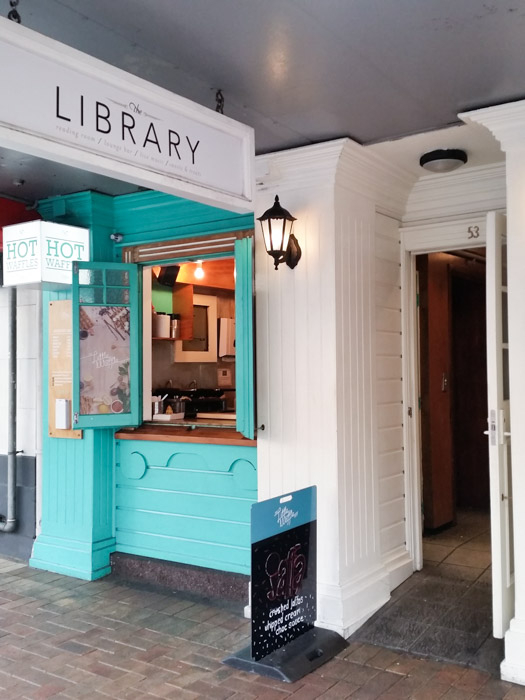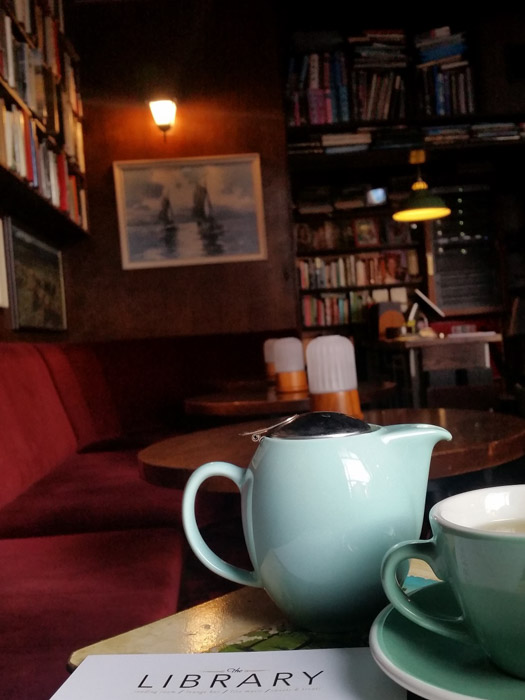 Well that's it! Hope you enjoyed our brief rundown of our favourite bookish places in Wellington. Do you have any favourite bookish places of your own? What are they, and what makes them special?
If you'd like to read more about our bookish adventures around the world, you might find these guides interesting:
Interested in more worldly locations? check out the other guides we've written