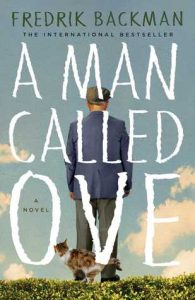 My rating: 5 of 5 stars
Deeply touching novel about love, grief, and a neighbourhood that warmed the heart of a grumpy old man. I can't think back on this story without some tears in my eyes, but they are bittersweet tears because while there is so much loss and sadness in this story there is hope, love and kindness in equal measure.
Ove is a very grumpy old man. Recently 'retired' from his life-long career he has set his affairs in order and is ready to end his life. But there are just a couple of things getting in the way. One of which is a colourful family which has just moved in next door. Ove finds it impossible to sway the heavily pregnant Iranian woman who shows up unannounced with her hopeless husband who can't back a trailer and children who seem determined to latch onto Ove. The story shifts between the mad-cap present, as one event after another pulls Ove out of his shell and into the world, and the past which tells the story of Ove's life from childhood to life with his greatest love.
Grief:
"Something inside a man goes to pieces when he has to bury the only person who ever understood him. There is no time to heal that sort of wound."
At its core this book is about grief, about the space left in our lives when someone who made us whole is no longer a part of it. Almost everyone knows this feeling to a greater of lesser extent, but Backman shines a light into the dark and fearful corners it. I cried for the loss experienced by these fictional characters, because they were written with such heart they came alive on the page.
"People said Ove saw the world in black and white. But she was colour. All the colour he had."
Love:
"Love is a strange thing, it takes you by surprise."
Alongside the grief is a beautiful love story. Not the heart-racing titillating romantic kind of love, but rather the quiet, deep and enduring kind of love. I was reminded of the beautiful little story at the beginning of the film 'Up' because it follows a similar path and touched my heart in a similar way. On love that is all I shall say, because this love is best experienced between the pages of this book.
"…he wanted to hear her talking about the things she loved for the rest of his life."
Family:
"You're the funniest thing she knows. That's why she always draws you in colour."
The Man Called Ove is, amongst many things, incredibly funny. Many of the funniest moments come with the interactions between Ove and his new neighbours. I adored the family who threw themselves into his life and who accidentally gave him a whole lot more things to do before his time was up. Mixed in with the neighbourhood tale was the complicated nature of male friendships, immigration and acceptance of race, sexuality, domestic violence, disability, and so much more. All handled with a light, thoughtful touch.
"'One upon a time there was a little train,' reads Ove, with all the enthusiasm of someone reciting a tax statement."
Aging:
"He can't understand people who long to retire. How can anyone spend their whole life longing for the day when they become superfluous?"
One of my favourite things about this book was the ruminations on 'usefulness' and purpose in society. The battles with 'white shirts' armed with paper forms trying to take away family members to be put into care struck a chord, as did the skilled worked fired by their children's generations. These things were addressed in such a personal way, through the distinctive lens of Ove's worldview, and there were some important messages hidden between the grumpy old man jokes.
Overall I adored this book. It made me cry, but it made me laugh far more, and both were equally important. In short, it touched my heart. If you read it, I hope it will touch yours too.
Suitable for ages 15 and up, but targeted at adults. Warnings for attempted suicide, non-graphic death and mentions of domestic violence (non-main characters).