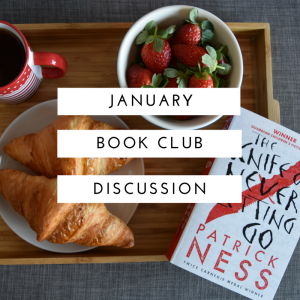 2017 is off to a flying start with the fast-paced sci-fi adventure from Patrick Ness. It wasn't a short book by any measure but for many of your it seemed to fly past! As always if you have not read The Knife of Never Letting Go yet please look away! The discussion questions and comments will contain spoilers for the first book in the Chaos Walking trilogy.
*Please Note* If you HAVE read past the first book in the trilogy please limit your comments to plot points in the FIRST book only, as many will not have read the later books yet!
Remember: These questions are a guide only, feel free to answer them in any order or not at all. And email notifications can be a bit haphazard, so please check back to see if you have received replies from your fellow readers!
What were you overall impressions of The Knife of Never Letting Go? And star rating if you gave it one?
.
How did you find the unusual spelling and representations of the 'Noise' in the text?
.
Did you find the characters convincing? Were they believable, fully developed as complex human beings—or were they one-dimensional?
.
The title is The Knife of Never Letting Go. How did you feel about the Knife's presence in the story?

.

Did you find the ending satisfying? And will you be continuing the trilogy?
.
Did you have a favourite quote that stood out? What made it meaningful for you?
Don't forget to add a link to your review if you wrote one, or include your Instagram account name if you wrote a mini review there, so others can check it out.
In February we will be reading The City of Woven Streets, or The Weaver as it is known in the US. It is the first of the 2017 #readtheworld novels focusing on stories by authors from around the world. For a full list of the 2017 reads announced so far click here.