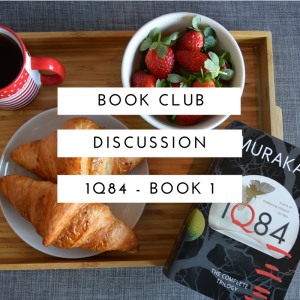 Let's discuss Book 1 of 1Q84! Read through my discussion prompts below, then add your thoughts on those or anything else you felt was important to you. Feel free to ask a question for me (or other book club buddies) to answer. And remember to check back to see if people have replied to your comments.
**WARNING** The discussion prompts and comments below will contain spoilers for 1Q84 Book 1. Only continue if you have read book 1!) And if you have read further please limit your responses to content covered in book 1.
How do you feel about the first book overall?
I'm really enjoying it, and though there are a lot of pages still to go I am flying through. Dual perspectives rarely hold my interest, but I am finding Aomame and Tengo's chapters equally enjoyable.
Do you have a favourite character so far?
I really like Fuka-Eri, she is mysterious and strange, but she has a particular charm about her and I love that she is 'walking through the forest' rather than 'along the road'. I'm definitely looking forward to unraveling more of her story.
Music appears frequently throughout the first book, does this add to your enjoyment of the story? Why do you think music is highlighted in this way?
I don't recognise any of the music mentioned in this book, expect perhaps one 80's pop song, but I know from some of the reading that I have done about Murakami that he is a great lover of music and in fact once owned a jazz/music bar in Tokyo. Music appears throughout many of his other novels that I have read, and I have come to expect it. Though I think I would appreciate the references more if I could listen to the music! I need a 1Q84 playlist, but to get started I've linked to the key piece that is referred to the most.
"The moment she heard the opening bars, all her knowledge of the piece came to her by reflex, like a flock of birds swooping through an open window"
Loneliness and isolation seem to be emerging as themes, did you notice these or any other themes as you were reading?
Many of Murakami's novels feature lonely or isolated protagonists, so I didn't find it surprising when they began appear as themes. I like the way he explores the idea that one can be lonely but generally satisfied with life, and that isolation is sometimes a choice. Whether that becomes a personal prison or not depends on many factors.
"Aside from a little chatting with his colleagues at the cram school, he hardly spoke with anyone."
What are you hoping to see in parts 2 and 3?
I am looking forward to learning more about the mysterious Little People, and what/who they actually are. I would also like to learn a bit more about the moon-base that has been mentioned a few times so far.