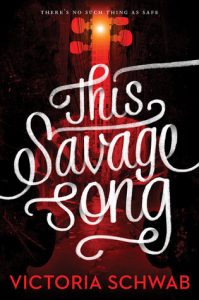 My rating: 4.5 of 5 stars
A truly monstrous novel that reminds us that sometimes the real monsters are not really monsters at all. One of the best YA fantasy/sci-fi novels I have read this year.
There are lots of books that ask questions about what it is to be human. Exploring what makes us uniquely 'us' has been a favourite question of authors for hundreds of years and will be for hundreds more. What This Savage Song brings to the table is a desperate urgency to answer that question that will keep you turning the pages long after dark.
"It was a cruel trick of the universe, thought August, that he felt human only after doing something monstrous."
Our protagonists, Kate Harker and August Flynn are the children of leaders on opposite sides of a divided city besieged by monsters both within and without. The starting point for understanding the monsters in this tale is to ask yourself what would happen if the phrase "Violence breeds violence" was taken literally? Acts of violence manifesting as monsters. It's a brilliant premise, and one which is executed with finesse. There is an air of repressed violence about every single scene, as the threat of it, and an even greater than usual understanding of the consequences of it, hangs over everyone's head.
"But Kate didn't need salvation; she simply needed out."
I loved both Kate and August, and was cheering for both of them, hoping that Schwab might leave just a little light in the darkness of this novel for each of them to hold onto. Kate in particular was a great character, and one which I will be recommending to teens who are looking for strong female leads. She is the epitome of fierce, flawed and afraid, and she does a lot of learning and growing throughout the novel, which I can't rate highly enough.
August meanwhile is one of the most beautiful characters I have read recently, he is so filled with hope despite all the that world has taught him. There isn't a teen out there who can't identify with his thought that "He was just someone who wanted to be something else, something he wasn't." We all want to be what we are not at one time or another, and learning to embrace who we are is a constant struggle no matter our age.
"…most people want to escape. Get out of their heads. Out of their lives. Stories are the easiest way to do that."
Given the title, it's obvious that music forms a central element to the plot of This Savage Song. What I didn't expect was for the descriptions of music to have quite so much power. They are woven throughout the narrative and give the world both its light and shade, and there is something compelling about using music as a weapon.
"…beat of gunfire and the melody of pain and the world was made of savage music"
I loved this book, and I can't wait to read the sequel. Victoria Schwab's writing is a joy to read, and as she says in this novel; "Nobody gets to stay the same", least of all readers of This Savage Song.
Suitable for ages 13 and up, warnings violence.
Add me as a friend on Goodreads