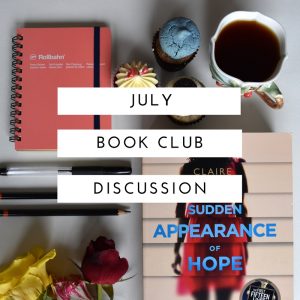 Let's discuss The Sudden Appearance of Hope! Read through my discussion prompts below, then add your thoughts on those or anything else you felt was important to you. If you have written a review please include a link to it, and ask a question for me (or other book club buddies) to answer. And remember to check back to see if people have replied to your comments.
**WARNING** The discussion prompts and comments below will contain spoilers for The Sudden Appearance of Hope. Only continue if you have read the book!
What was your overall impression of the book?
I have very mixed feelings about The Sudden Appearance of Hope. I really wanted to love it, the premise was so interesting, and the style was so unusual. But somehow it still fell a little flat for me. Everything that I loved about the novel had a flip side to it and that's what is leaving me sitting on the fence.
I loved the vivid descriptions of the locations around the world. Some of them I have been to and they came alive supplemented by my memories, while others were places that now feel real to me and I am aching to visit them. But when I reflect on it, I do wonder why there were so many locations. There were almost a dozen major locations throughout the novel, and aside from emphasizing the transient nature of Hope's life it only added to the disjointed feeling of the novel.
I also really loved the program 'Perfection'. It was such an interesting idea to explore an app that has defined what 'perfection' is as a concept and then manipulated people into attempting to attain it. Yet the reality is revealed that for some people that version of perfection will never be attainable, because 'straight, white, rich, male' simply does not apply to the majority of the world. The attempt to attain it therefore becomes an exercise in increasing inequality. There was something every powerful there, and in the assertion that there is a 'digital aristocracy' amongst those with access to the best technologies, but it was woefully under-explored and left me feeling empty.
"a digital aristocracy, and the imperfect of this world are little better than the serfs"
Did you enjoy the writing style?
Once I got into the writing of this book I found it had a strangely addictive cadence, a rhythm of words that draws you in. At times it felt like reading modern poetry, with the short choppy sentences, strange line spacing, inconsistent punctuation and capitalisation. I also enjoyed the addition of the dictionary and wikipedia definitions of things. It felt like being inside Hope's head, which was a very strange place, as she sought knowledge to give herself some kind of permanence. However, I think that these style choices had the overall result of making the book very emotionally detached. I could not feel anything of any of the characters, least of all Hope. The disjointed style left me feeling quite cold about the whole novel.
"Now.
You forget.
Now.
I am real.
Reality: the conjectured state of things as they actually exist." 
How did you feel about the ending of the novel?
The scene on the cliffs with Byron's death really frustrated me, it seemed as though it was the inevitable, and easy, way out and I had been hoping for something more. However I was glad that the novel actually ended with Hope finding a home of sorts, in coming back to her sister, the one person from her past who remembers her. It felt like a moment of absolution, Hope writing her own story, making herself memorable, and becoming part of her sister's story again.
"Remember these, my words.
Now that I am home.
Now that I am, at last, myself.
Now that I am Hope.
Remember me."
What did you think of the novel's representation of the media?
My favourite sections of this novel were the harsh assessments of the conditions created by modern Capitalism and consumer culture, particularly as it is promoted or forwarded by the media. On pages 239-240 of my edition (Chapter 56) there is a scathing and fatalistic breakdown of the impact that a media mogul in pursuit of sensationalism and without regard for greater public good can have on society. An indictment of the needless pain caused by inflammatory words.
"[He] did not print the views of the experts, but rather… printed the screaming. Always, the world screaming, loudly, screaming."
"All those lives destroyed, the suffocation of debate, the raising up of noise over content, the simplification, objectification, the brutal destruction of thought that he committed against all mankind."
Did you enjoy the sci-fi/fantasy elements of the book?
I thought that the premise of someone who is immediately forgotten was a really interesting one. I think that it was explained quite well, but that the impact of it was over-explained. The act of being forgotten became more often the focus than the actual action occurring in the book. It would have been interesting to learn more about the other 'forgotten' people, as if there were two who found eachother I assume there would be more. I can see that North used the 'disappearing' as a way in which to examine what it is to be 'present' and how so much of what we value about ourselves and others is based on the past, but I felt that there was a disconnect between the intent and the execution.
"What matters, therefore, is not hope for things to come, nor regret for things passed, but this action in this moment, these deeds, this now."
Look forward to hearing your thoughts and I hope you'll join me in August as we read Haruki Murakami's 1Q84!