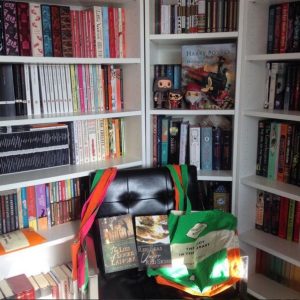 Week 4 – Book IV 'Desperate Improvisation'
Favourite quote:
'Jean' said Locke, 'you are a greater friend than I ever could have imagined before I met you; I owe you my life too many times over to count. I would rather be dead myself than lose you. Not just because you are all that I have left.'
Honourable mention to: 'He was wise enough to know that the women of Camorr could be underestimated only at great peril to one's health.'
Characters introduced:
– Master Ibelius
– Giancana Meraggio
My thoughts:
We made it! 530 pages, 45,000 crowns sunk, 12 religious orders impersonated, 3 Gentleman Bastards murdered, and just 2 remain.
I could talk for days about this book, but the first thing that needs to be said is: is the friendship between Locke and Jean not one of your favourite bro-mances in literature? For me it is up there with Sam and Frodo as a friendship based on respect, love and sacrifice. I am so glad that there are more books to explore it in, because one without the other is not a whole.
My next burning question is: Does Locke learn anything? We all love to see a character grow, and I'm only just convinced that the almost-dead Locke of the final pages has learnt a thing or two since losing his friends. His policy of 'never stop talking' is still one of my favourite parts of the book though, it was endlessly amusing to be tickled with surprise and mirth at Locke's snappy comebacks and wry humour no matter the situation. When Jean asks if Locke has a plan for their final con, to get the clothes they need to attempt to get enough money to leave the city, Locke replies with 'Not the damndest idea. But don't all of my best schemes start like this?' I was torn between laughing at his flippancy and cringing as he set off to do something as ludicrous as talk Giancana Meraggio out of his clothes. Literally. But this set up for another scene that made me snort with laughter, when Locke smoothly embarrasses Meraggio for his (entirely accurate) recognition of his outfit. So despite his continued faith in his ability to talk his way out of everything being undercut again and again, he somehow always manages to have the last word.
The constant interplay between knife-edge tension, violent outburst, and humour was for me the highlight of this book. Yes I enjoyed the world-building, the backstories and history were even more interesting the second time around, but I agree with what a few of you have mentioned, it is quite overwhelming in places, and in some cases not entirely necessary. The simmering tension throughout, broken by bubbles of laughter I couldn't suppress, made this one of the most memorable and entertaining reads in the fantasy genre that I have come across, and very much deserving of its place on my favourites shelf. I hope you all enjoyed reading with me, for the experience even if you didn't love the book, and I can't wait to hear your thoughts below!
Discussion questions:
(Feel free to reply to each other, and to ignore my questions if you have something else to talk about!)
1. Did you have a favourite 'diversion/history of Camorr' moment? (Mine was 'Daughters of Camorr' the uprising of the whores)
2. What was your favourite quote in the final section?
3. Star rating?
4. What were your thoughts on The Lies of Locke Lamora as a whole?
Next: Babbling Book Club
As much as I love these readalongs (you guys are amazing) it's hard for everyone to keep up with the discussions, as everyone reads at their own pace. So, if you are keen to join me, I will continue to host but with monthly discussions rather than weekly, starting from April 1st. Keep an eye out for the April book announcement on instagram, or sign up to the newsletter for an announcement straight to your inbox.
*Update* April Book Club book has been announced: Uprooted by Naomi Novik. Start reading April 1st, updates via newsletter.