#BabblingBooksRA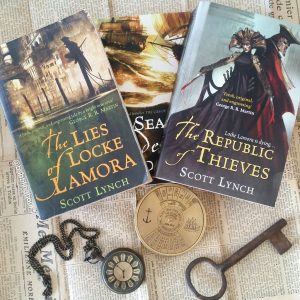 Welcome to the second Babbling Books Read-along! This February we will be reading The Lies of Locke Lamora together. If you haven't signed up yet you can do so via this link.
The first book in the Gentleman Bastard Sequence, The Lies of Lock Lamora has always held a special place in my heart, and the characters burn brightly in my memory though it has been 8 years since I first met them. I hope that you love this novel like I did the first time, and I can't wait to rediscover it as I read along too!
Below you will find a calendar with all the important dates to remember. The novel is divided into 4 'books' of similar length, so we will aim to read one section per week. All the dates are guides for discussion only. Feel free to read at your own pace, and participate in the discussions when you are ready.
Each Monday I will share a blog post with some discussion questions and my thoughts so far, and you can add you own comments below each one (make sure to turn on email alerts for replies, or remember to check back!). All you need is an email address to leave a comment.
Photo Challenge:
To make the month extra exciting each week I have a photo challenge for you. Completing it is optional, but I will feature my favourite photo/s in the weekly discussion posts, so it's a great opportunity to show off your photography skills – and I've seen all your accounts so I know you have great talent! Don't forget to use the tag #BabblingBooksRA on Instagram/Tumblr/Twitter and mention me in the comments so I can see your photos.
Meet & Greet:
At the end of this post is a list of all the Instagram accounts who have signed up for the read-along, check them out and you might find some new friends, these will be your reading buddies for the whole month.
Pre-Reading Discussion: Comment below
Where are you from? (If you joined the first readalong please re-answer this one, so new readers can get to know you)
Have you read The Lies of Lock Lamora before?
What are your expectations of this book? What do you imagine it will be like?
*Note* When commenting, if you mention your instagram account at the end of your post it will make it easier for other readers to find you/connect with you, but it is totally optional.
Reading Calendar:
1st February – Start! Read the Prologue & Book I *Challenge: Show me your copy of The Lies of Locke Lamora #coverlove
8th – Prologue & Book I Discussion
9th – 15th Read Book II *Challenge: Locke and key #bookandkey
15th – Book II Discussion
16th – 22nd Read Book III *Challenge: 'Nice bird, asshole' #bookandbird
22nd – Book III Discussion
23rd – 29th Read Book IV *Challenge: Where do you read The Lies of Locke Lamora? #whereiread
29th – Book IV Discussion
#BabblingBooksRA participants
If your username isn't on this list please sign up via this link, then comment below and I will add you in!