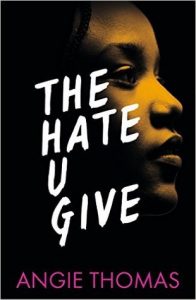 My rating: 5 of 5 stars
Stop reading this review. Instead read this book. The Hate U Give is without doubt the most important YA novel this year, and should be read widely – in every home and every classroom without exception. Angie Thomas has written a masterful story about growing up, finding yourself, and fitting in, but Starr's story is about some much more than just life as a teen.
"people like us in situations like this become hashtags, but they rarely get justice"
Starr divides herself in two. One half is at home in the poor neighbourhood where she was born and raised, and the posh suburb where she goes to school. When she witnesses the fatal shooting of her childhood best friend by a police officer her life becomes even more complicated than before. She struggles with both guilt and grief in the aftermath and is torn about whether to raise her voice and defend her friend when that might risk her family's safety.
"Sometimes you can do everything right and things will still go wrong. The key is to never stop doing right"
THUG critically examines race relations in the US, through the lens of the Black Lives Matter movement. The book highlights the complexity of issues surrounding police brutality, and clearly articulated the simmering rage in communities across America. The history of the civil rights movement is woven throughout the book, as an education for both Starr and readers without being patronising or glorifying the sometimes conflicted perspectives on many of the individuals who lead those movements.
"Holy shit. Who the fuck complains about going to Harry Potter World?… They went to Taipei, the Bahamas… I stayed in the hood and saw a cop kill my friend."
At the same time as dealing with complex and vital social issues the writing is so perfectly teen. Starr's internal dialogue, the way this is different to how she speaks to her parents, her friends at school, and to her siblings gives so much nuance to her character – she leaps off the page and into your heart.
"The Hood Trio, tighter than the inside of Voldemort's nose."
Especially towards the beginning of the book there are many light-hearted moments. I adored the Harry Potter references and the Hogwarts-Houses-as-gangs theory, they never felt tokenistic or an attempt by an adult author to relate to teens – as some pop-culture references that miss their mark can do.
"What's the point of having a voice if you're gonna be silent in those moments you shouldn't be?"
I cannot speak highly enough of this book. It is completely deserving of all the praise, and is so important in shedding light on such serious and complex social issues and doing it with so much heart. Angie Thomas is a treasure, and I hope that this book helps raise voices which are often left unheard.
"…I'll never forget.
I'll never give up.
I'll never be quiet.
I promise"