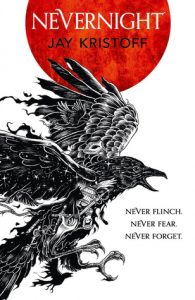 My rating: 5 of 5 stars
Best new fantasy series of 2016. I love this brutal novel with all the darkest corners of my heart. Undeniably compelling, there is something about Nevernight which forces you to keep looking, to never close your eyes for a moment, or pause for a second in turning the page, lest the darkness seep off the edges and onto your fingers.
Nevernight relates the story of Mia Corvere, a teenager hell-bent on revenge against some of the most powerful men in the strange city she calls home. The fantasy world that this story inhabits has three suns, and their discordant rotation results in only a single day of darkness every four years, known as 'truedark'. The story roughly charts her quest to attain the skills needed to execute the revenge she desires. To say any more about the plot is to spoil the joy of discovering for yourself the layers Jay Kristoff has crafted.
There are plenty of novels out there about assassins in the fantasy genre. In YA there are series like Throne of Glass or the Graceling trilogy, both of which are popular tales of female teens who have a professed skill at killing. It's set out clearly in the blubs of both, and in no way spoils them. But if you have read either of those series, or others like them do not expect the same from Nevernight.
This is not a YA novel. It has been tagged as such by many online, perhaps because of Jay's popular series with Amie Kaufman, Illuminae, which is definitely YA. Nevernight touches on some of the same themes, such as friendship, coming of age, family etc. But the violence in Nevernight is visceral. The swearing is not censored. There are multiple sex scenes, one of which goes for three pages. All of these things in no way detract from the story, they are indeed an integral part of it, and are all executed with the maturity of a writer who thinks deeply about his craft. They are however something that readers should consider their comfort with before reading. I'm not one to impose age limits on books, but younger readers should be able to choose what they are and aren't ready for.
One of the things that I loved and most appreciated about this novel is the depth of the characters, and a reality of the violence. There are no excuses for it. No apologies for the actions of our protagonist. She is deeply flawed, and not just in the superficial way that so many fantasy protagonists are; with some mitigating factor, such as coercion, blackmail or a curse, that their moral code ultimately allows them to triumph over. This is not that kind of book. Mia's actions are her own and it was refreshing to read a character who makes decision that I can understand but do not align with my own morals. I know she's not a good person and yet I'm still cheering her on. I suspect Jay is the kind of writer who will take pleasure in never giving her any redemption -though with the sequel yet to be published it is far too early to tell.
In short, if you like your fantasy properly grown-up then Nevernight is for you. If you love delving into darkness and seeing what might rise up out of the shadows Nevernight is for you. If you love fast-paced stories with sassy side-kicks, talking not-cats and plenty of murder then Nevernight is for you. It's the best new fantasy book I've read this year and it will take a lot to shift that.
Add me as a friend on Goodreads