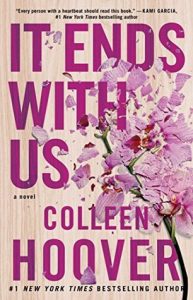 My rating: 4 of 5 stars
It's Ends With Us is an important and powerful novel. It may not be a perfect book, but the way in which domestic violence is addressed is vital to maturing the conversation about the topic in contemporary literature. It is a deeply personal story, filled with raw emotion, but one that is very human, accessible and relate-able.
The novel opens with protagonist Lily Bloom reflecting on the eulogy she has just given, or rather refused to give, at her father's funeral. It sets the tone for the story, being both flippant in some regards and emotionally complex in others. The book charts her life and loves after her father's death, with flashbacks to the past via a series of diary entries. I loved these snippets which were amusingly addressed to Ellen DeGeneres, because the tone was just right as a contrast to adult Lily's maturity.
One of the most powerful things about fiction, is that it gives readers the opportunity to experience something in depth, without having to step outside their own life. With a book like this that deals with the physical and emotional trauma of abuse, the violence, the fear, the hope, the self-loathing and the love, there is something incredibly important about placing that emotional conflict front and centre. Readers experience these feeling from both the perspective of a child and an adult, which is essential in eliciting true empathy for the complexity of both those experiences. It is this that gives the novel its power, and makes it important.
This book is not filled with gratuitous violence, nor does it romanticise the consequences of the few acts of violence that do occur. The ripples created by those acts of violence flow throughout the story, and promote exploration of the impact the memory and fear of violence creates. The focus is firmly on exploring the emotional complexity that comes with power imbalances in relationships, not on simply condemning violence and moving on to 'recovery' as many novels do.
There were a few things that frustrated me about this novel though. The first is perhaps rather minor because the scene carries little import in the scheme of the novel but it is still grating on my nerves after finishing that book. It's the shallow and tokenistic inclusion of a gay character for no other reason than to awkwardly move the plot forward. This is a perfect example of how not to include diversity in a novel. The character appears for a single scene and never reappears, he behaves in the most ludicrous manner, befitting a caricature rather than a person, and his actions and Lily's response were completely out of alignment. Would I let a former work colleague that I hadn't seen in 6 months, specifically because we weren't very close, touch my breasts in an elevator? No. Regardless of their sexuality that's completely inappropriate. Having the same guy then pretend to be her boyfriend to make a love interest jealous is also the height of cliché and was completely unnecessary and demeaning to a character who played no other role in the story.
My other frustration is that we learn so little about Lily outside her role as a victim/survivor. The book focuses so strongly on the ripples that abuse creates in people's lives, which is one of the great strengths of the story, but unfortunately this means we miss discovering all the things that make her relatable. It's clear from the plot progression that she has a passion for flowers and a flair for business, but none of that ever felt real to me. She never seemed to include her work in her decision-making, even though it was stated a number of times that it was important to her. There is an important difference between telling and showing, and when it came to other dimensions of Lily's character I felt that there was a lot more of the shallow 'telling'.
Despite its flaws this is an important novel, that delves into a difficult issue with care and insight. It brings to the surface the deeply complex nature of abuse between intimate partners. I have to applaud Hoover for writing what was obviously a very personal story, and for choosing to end it in the way that she did.
Suitable for readers 17 and up. Trigger warnings for violence & attempted rape.
Add me as a friend on Goodreads
WIN an original watercolour painting of this book cover! Leave a comment below letting me know the most powerful or emotional book you've read and why I should add it to my TBR. Please include your email address in the appropriate box so I can contact you if you win. GIVEAWAY CLOSED