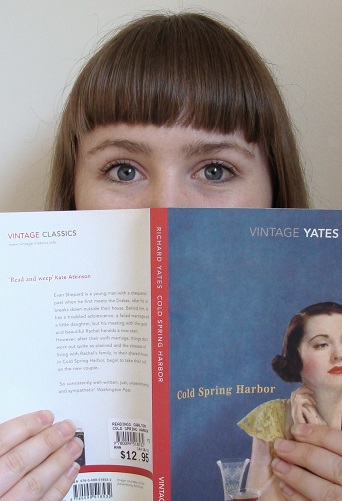 While reading this book I realised that a very large number of the books I have been reading recently have been written in the 1930's. This was certainly not by design, merely by coincidence, but it is still interesting. Though Cold Spring Harbour was published in 1986 it is set throughout the 1930's and 40's, which would have been the time of Richard Yates' childhood (he was born in 1926). The setting is also that of Yates' childhood, and though I didn't realise this until after I finished the whole book, the obvious realism of the setting gives this book much of its 'flavour'.
The story scrolls through the perspectives of a number of characters, but mainly centers around the life of a young man, Evan Shepard. After a troubled adolescence, followed closely by a tumultuous relationship which resulted in a child at an early age, and then divorce, at the beginning of the book Evan is living at home with father and mentally unhinged mother, and works in a menial factory job. From Evan's chance meeting with a lovely lady, Rachel, the novel charts their swift marriage, and their downward spiral into unhappiness.
Despite enjoying the setting and the 'time capsule' feel of the book, overall I didn't really enjoy it very much. The plot is quite vague, consisting of very little more than the above paragraph.. There is something quite depressing about a book in which none of the characters, central or peripheral, are able to achieve anything of note or live to their full potential, almost entirely of their own volition. Without exception the characters are all hopeless in all their pursuits. This sense of hopelessness and entrapment permeates all aspects of the book, and left me with a feeling of sadness. Definitely not a cheerful puff piece to read at the beach this Summer.