I love taking day trips from Melbourne into the countryside. So writing and researching this Book Lover's Guide to Daylesford and Castlemaine was such a joy. I was on the hunt for the best bookshop in Daylesford or Castlemaine, and I found quite a few contenders! All the bookshops in this guide are independently run and staffed by knowledgeable, passionate book sellers. So if you're looking for a literary day trip from Melbourne this is the perfect start to an excellent getaway.
Stoneman's Book Room
101 Mostyn St, Castlemaine VIC 3450
https://www.facebook.com/pages/Stonemans-Book-Room/132148850170872
Stoneman's was the first bookshop we visited in Castlemaine. And it didn't disappoint. Offering a great selection of new books, Stoneman's occupies a beautiful old country building in the centre of Castlemaine. It combines tall, sweeping ceilings, mismatched bookshelves, and a welcoming open-plan layout into a single, complete package. There's a large selection of contemporary fiction, as well as lovely special editions of timeless classics. What really jumped out at me though, was the impressive range of children's and YA books. With a heavy focus on Australian authors and new releases. All up, it's a great independent bookshop in a quirky country setting. I wholeheartedly recommend! Dimitri bought a copy of new release sci fi novel The Wall by John Lanchester for the recommended retail price.
X-Factor: By far the best and widest range of new release fiction in the area.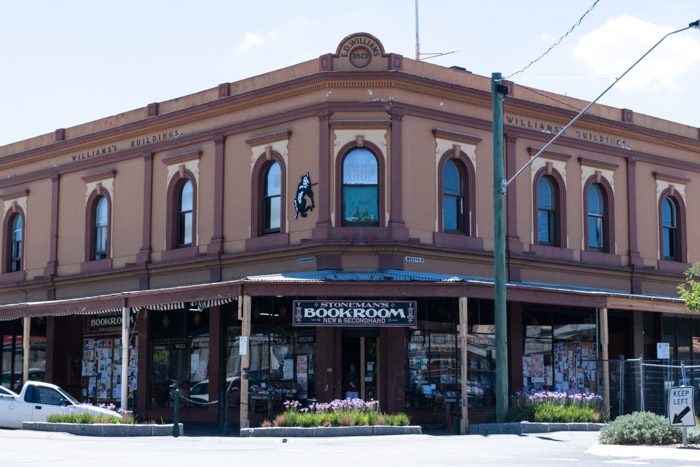 Soldier & Scholar
215 Barker Street, Castlemaine VIC 3450
https://www.abebooks.com/soldier-and-scholar-castlemaine/1863588/sf
It's a testament to the overwhelming nature of this bookshop that I'm still struggling to find the right words to describe Soldier & Scholar. Simply browsing this bookshop was an intense experience. There were books everywhere. Books on top of books, in front of other books, in buckets, and on the floor. Books simply everywhere. Yet, despite the utter chaos of appearance, it was surprisingly well organised. Everything had its logical place. If you couldn't find a particular book you were looking for, the shop's proprietor was more than happy (and able!) to help. We were too overwhelmed to purchase anything, but I did spot a large range of Australian contemporary fiction.
X-Factor: See if you can spy the vault at the back of the bookshop which is filled with… you guessed it, books!
Mount of Alex
273 Barker St, Castlemaine VIC 3450
http://www.mountofalexbookstore.com/
If you could imagine a bookshop that was the total opposite of Soldier & Scholar, that's Mount of Alex. Also, how cool are the names of these bookshops? Soldier & Scholar, Mount of Alex… I love it! Spacious, open, airy, clean and dust-free, Mount of Alex seems to encourage leisurely browsing and exploring. All the books were extremely well-organised. The selection ranged from old leatherbound books, all the way to modern first editions by prominent science fiction and fantasy authors. I even spied a few from popular authors like Haruki Murakami and Patrick Ness! There was also a selection of signed books carefully wrapped in plastic sleeves. Tamsien bought a hardcover UK first edition of Changing Planes by Ursula K Le Guin for $25.
X-Factor: The really amazing decorative bookshelves. They made me feel like I was browsing an old library.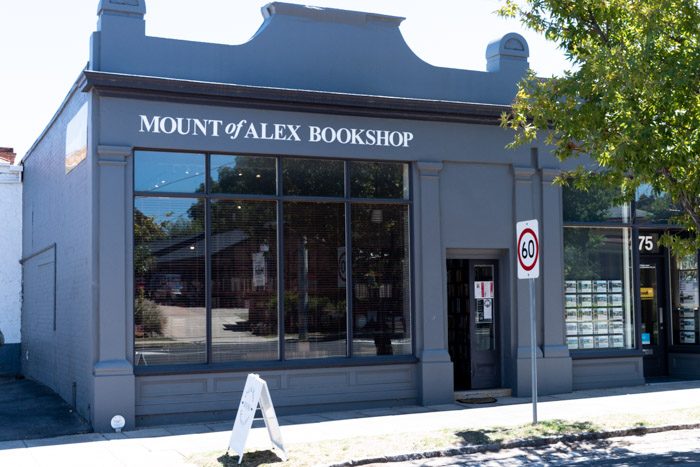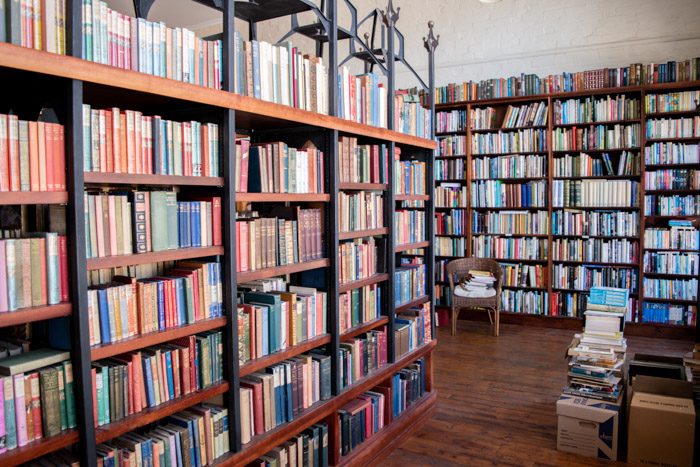 Book Heaven
47 Main Rd, Campbells Creek VIC 3451
https://www.yellowpages.com.au/vic/campbells-creek/book-heaven-12689893-listing.html
Located in a small town just on the outskirts of Castlemaine, Book Heaven is the peak of country second-hand bookshops. Huge and rambling, the books are spread over a series of rooms connected by small passages and doorways. It's crowded, but there's room to browse the shelves without getting in anyone else's way. There are hand painted signs indicating the themes and focus for each room. As you might expect, this led to some interesting combinations. I spotted one sign leading to a room that contained Travel, The Sea, Voyages, Sex, Religions, and Psychology! Topping it all off were the Heinz Beans advertising posters pinned to the ends of shelves. To my delight they had large handwritten lettering declaring 50% off the marked price for all books. Tamsien bought an as-new copy of My Grandmother Send Her Regards & Apologies by Fredrik Backman for $6.
X-Factor: There was a section dedicated to books in foreign languages, including Latin, French, German and Yiddish, which is unusual for a bookshop in country Victoria.
Paradise Bookshop
46 Vincent St, Daylesford VIC 3460
http://paradisebooks.com.au/
Nothing less than a Daylesford institution, Paradise Bookshop is a combined secondhand and new bookshop residing in an old double-storey building. By far the largest bookshop in Daylesford, it has 14 different rooms to explore. The front few rooms are dedicated to new books. There is a nice selection of contemporary fiction, and interesting coffee table and lifestyle books. There's also a large bookcase filled with lovely special edition classics, keep an eye out for it! Further inside are a few more rooms dedicated to children's fiction, such as picture books and YA. The rest of the building is all secondhand books, with a mashup of genres and topics such as aviation, natural history, psychology, and railways. They also have a room upstairs dedicated to humour and comics!
X-Factor: There's a room upstairs with a fireplace, which has a large red velvet reading chair inside. Daylesford bookshops certainly deliver on cosy atmosphere.
Book Barn @ Daylesford
1 Leggatt St, Daylesford VIC 3460
http://www.bookbarndaylesford.com/
Our last stop on this trip was the Book Barn @ Daylesford. It's a small secondhand bookshop on the banks of Lake Daylesford. Though they stocked a small selection of secondhand books, the main drawcard for us was the adjoining cafe, that had a great selection of cakes and other baked goods. If you're visiting the area, then you can't miss Lake Daylesford, and if you're at Lake Daylesford, then you can't miss Book Barn for character!
X-Factor: The area is so tranquil and beautiful. Enjoy a cake at the cafe, then take a leisurely stroll around the lake. It's a relaxed Daylesford bookshop experience.
*Update* During a visit to Daylesford on November 10, 2019, I was able to confirm that this bookshop is unfortunately no longer open. It appears to have closed down and not moved to a new location.
Keen to explore more literary locations in Victoria? Check out my guides to:
Malmsbury
The Macedon Ranges and Trentham
The Melbourne Book Market
Melbourne Bookstores
Never miss a post! Subscribe to my newsletter now.