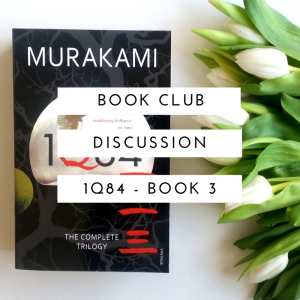 We've made it to the end! How did you go? Did you finish the whole trilogy in a single month? Or are you joining in a little later?
**WARNING** The discussion prompts and comments below will contain spoilers for all 3 books in the 1Q84 trilogy. Only continue if you have finished all 3!)
What was your overall feeling about 1Q84? (And star rating if you give one)
I really enjoyed it, and am giving it 4 stars. However it's not my favourite Murakami novel, and I definitely feel like the final book left a lot to be desired. Aomame and Fuka Eri were such interesting characters, and along with Tamaru they really carried this story for me.
Murakami's style of writing is quite unusual. Was there anything about his writing style that stood out to you?
For me I particularly noticed his emphasis on the minutia of daily life. There are often descriptions of exactly what characters did, especially around food preparation and dining, or exercise and free time. Most authors would omit these, or leave them as 'Tengo prepared and ate a simple dinner' rather than giving a dish-by-dish description of the meal and the cooking process. By book 3 I was a bit sick of this literary device, but in the first book at least I found it a pleasant break from the weird and wonderful happening around the characters.
Do you have a favourite quote? If so, what about it was important to you?
My favourite quote is definitely:
"The unfeeling chunk of rock hung low in the sky as if, having nothing better to do, it was suspended on an invisible thread."
There is something so beautifully atmospheric about this quote. It evokes for me a scene of restless quiet, a detached, ambivalent kind of loneliness. It reminds me of all the best parts of this novel.
As we discussed in Book 1, loneliness and isolation appear throughout 1Q84. But Murakami also seems interested in the unavoidable connections that we all have, regardless of how lonesome we might be. Do you think connection is an essential part of human nature?
I have been thinking a lot about this quote:
"A person's life may be a lonely thing by nature, but it is not isolated."
The distinction between loneliness and isolation is important here. Because both Tengo and Aomame live quite isolated lives, but they both have important elements of connection that prevent them from being totally isolated. They both also in some ways feel lonely, but their memories of eachother and hope to meet sustains them through experiences that others might find to lonely to bear.
Violence against women, and the power dynamics between men and women (especially in terms of sexual desire) is present throughout 1Q84 so far. How do you feel about how these dynamics have been portrayed?
Murakami's novels often seem to have elements which explore sexual desire, and elements of particularly brutal violence, but I think this is the first time I have seen the two in concert in one of his novels. To be honest I found some of the content quite confronting, especially some of the discussions about attitudes towards rape. But perhaps that is the point? A lot of this novel seems to be poking different issues to see what might emerge. I was glad that Aomame as a character acted as a focal point for many of the power struggles, her unflinching viewpoint was refreshing, but I think rather atypical of women in Japanese society.
What else would you like to discuss? Do you have any other thoughts about 1Q84? (If you've written a review you can share a link to it if you like)
**Don't forget in September the Babbling Book Club will be reading The Girl at Midnight. If you're joining in don't forget to tag any posts with #babblingbookclub so I don't miss them, and so you can find your fellow readers! **