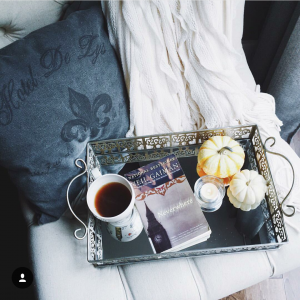 Reminder: There are spoilers for the entire book in the discussion below. You have been fairly and freely warned!
Today's featured photo is by @catebutler who takes incredibly gorgeous photos, so make sure you check out her account. If you haven't already make sure to visit the #babblingbooksRA tag to see everyone's photos, and you might just make a new friend.
I will make a collage of my favourites from the whole readalong once we have read the (optional) short story How the Marquis Got His Coat Back.
So now down to business….
Week 5 – Chapters 16 – 20
Favourite quote:
"I thought I wanted this," said Richard. "I thought I wanted a nice normal life. I mean, maybe I am crazy . I mean, maybe. But if this is all there is, then I don't want to be sane." 
Neverwhere by numbers:
1 lost coat
2 Floating Markets attended
3 entries in Richard's mental diary
18 characters introduced
20 chapters
27 favourite quotes
56 instagram challenge photos
156 blog comments
288 pages
My thoughts:
First and foremost: Thank you, THANK YOU, to all of you who have stuck with me on my very first read-along. It has been a pleasure and an honour to share one of my favourite books with you all. Reading brings me joy, but reading with friends – new and old- brings the more joy than I could ever have expected.
The last few pages brought tears to my eyes, Richard realising what we all knew – that London Below was destined to become his home – was so beautifully executed. I was painfully frustrated at him for wanting his old life back, for slipping back into the regular routine of things. Then we got to watch him realise how shallow his life was 'Above' and just how rich, and right, the life he had left behind was. I felt like my heart would burst for him.
One thing I really enjoyed about this section was the way in which most of the minor characters were able to say goodbye to Richard as he left London Below, the Earl giving him one last ride, Lamia blowing a kiss, Lord Rat Speaker returning his bag, it felt like they were reminding him of how far he had come on his journey. And it really was a journey, in a physical and an emotional sense. At 26 I feel like I am so much more connected to Richard as a character than I was at 16 when I first read it. I understand (and am experiencing) the pull of a 'simple' life the meets expectations, and yet my heart yearns for the path that I used to take for granted as the one I would be going down, the path less traveled. Perhaps I too can find my courage and earn my way onto "some kind of archaic underground honors list" just like Richard did.
On a different note I am fascinated by Gaiman's inclusion of diverse characters throughout Neverwhere. The Marquis & Hunter are people of colour, though their backgrounds not really explored, as are the Black Friars. Meanwhile Hunter's sexuality is clear but not a topic of any particular focus. Did anyone else notice this throughout the novel? In a great blog post Laura Zats says "…literature is both imaginative and representative. It reflects who we are, and who we want to be." and if you are interested in exploring this more I highly recommend you follow this link and have a read. She neatly sums up my thoughts on Gaiman's ability to ensure that "race is just one facet of a person's identity, just as it is in reality. He acknowledges it, but doesn't let it become all a character is." and I would extend this to sexual orientation as well.
For those of you who have not read many of Gaiman's books this might seem like drawing a long conclusion from something which is not a huge deal in the book. But when you look at his body of work as a whole, Neverwhere being just the very first novel he published, and see these themes and approaches are running throughout regardless of genre or subject matter, to me that is the mark of a writer who truly understands just how important literature is in shaping how we see ourselves and how we understand the world. And it makes me glad that he writes, and is so widely read.
I hope that you have enjoyed Neverwhere as much as I have, and if you didn't that you were able to find something of value to take away with you, and I hope you made some new friends along the way, I know I did.
Discussion questions:
(Feel free to reply to each other, and to ignore my questions if you have something else to talk about!)
1. What's your star rating for Neverwhere? (And why?)
2. What was your favourite thing/part/moment of Neverwhere?
3. What was your least favourite?
4. Do you think Richard made the right choice?
5. How was your readalong experience? (If you have 2 mins please fill out my short survey)
Next: BONUS Week 6 – How the Marquis got his coat back (Short Story)
Discussion date: 6th November
Photo Challenge: #bookandoutfit – Show me an outfit inspired by London Below or the Marquis: "[the Marquis] had named himself from a lie in a fairy tale, and created himself – his clothes, his manner, his carriage – as a grand joke"
Babbling Books read-along part 2?
I have had so much fun with this read-along that I am planning to host another one in January. I need a little break over the Christmas period, but if you are keen to be involved please let me know in the comments below (and remember to mention your instagram name so I can tag you). I have another book in mind, a fantasy novel with plenty of sass, intrigue and action. Who's with me?